Hong Kong singer, G.E.M., was on the latest episode of "Cooking Beauties."  This was her second appearance on the show after her first outing in the Ronald Cheng-led edition nine years ago.  In her first appearance, she was awarded the title of "second devilish chef" for her bad cooking.  In the new edition, she redeems herself and even says she has been experimenting with her cooking.  
Fans Upset at G.E.M. for Allegedly Having Fan Club Fees Deposited to Her Boyfriend's Account
G.E.M. Eliminates Machi DiDi in Episode 2 of "The Rap of China"
G.E.M. and Jackson Wang Serenade Fans with Performance of Jay Chou's "Silence"
For her first dish, she cooks duck, but it's not completely cooked.  Guest judge, Carlos Chan (陳家樂), gives her -8 points.   This incites a reaction from G.E.M., but luckily the other judges are satisfied and wins the first round.  
G.E.M. Seeking to Terminate Contract with Management Company
William Chan Tells G.E.M. Not to Trust Men
In the second round, she has to create her own dish.  G.E.M. says no matter what, she will cook tomato with scrambled eggs because this is her specialty dish.  It seems she was telling the truth as the judges felt her dish had a feeling of home.  Because of this dish, she scored a total of 85.27 points, making her the "Beautiful Cooking Goddess" of that episode.  G.E.M. says in these nine years,  she has seen a big improvement in her cooking and is finally prepared to get married.  Compared to her first appearance,  which she received -17.7 points, she has improved by 102.97 points.
G.E.M Shares New Song and Thong in Latest Episode of "Rap of China"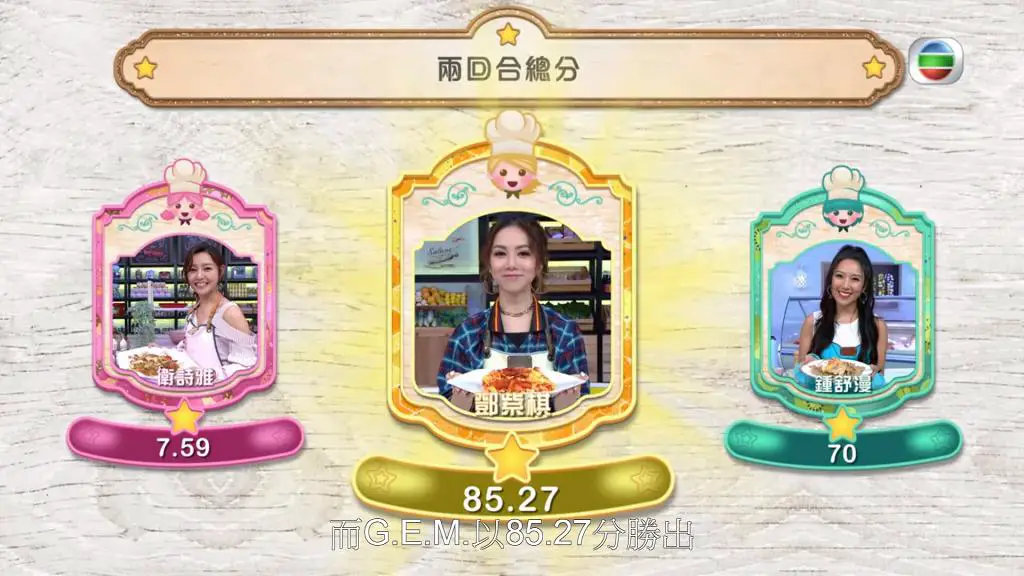 G.E.M.'s boyfriend also had jokes of his own on her winning the competition in that episode.  
Credit: HK ULifestyle, TVB.com