Sammi Cheng Forgives Andy Hui in Statement Addressing the "OnSum Cheating" Scandal
Kenneth Ma Addresses the Media on the "OnSum Cheating" Scandal
The "OnSum Cheating" (安心偷食) scandal continues to take over the Hong Kong headlines today. Many celebrities took to social media to voice their opinions about Andy Hui (許志安) and Jacqueline Wong (黃心穎) cheating scandal. Some were put on the spot and asked about it during events.
Jacqueline Wong Addresses Cheating Scandal with Official Statement
Jacqueline Wong Apologizes to Kenneth Ma
Jacqueline Wong Rumored to be Frozen by TVB, Andy Hui Halting Work Activities
Yutori Kudo (工藤佑采)
While Yutori Kudo is not a celebrity, she was infamous for being the 2018 Hong Kong contestant who drew backlash for her stank face after being eliminated from the pageant. She got into a social media fighting match against Jacqueline Wong when she criticized Yutori Kudo for her unprofessionalism. Yutori Kudo didn't hesitate to throw shade at Jacqueline Wong after the cheating scandal came to light. She went on Instagram and posted the following:
Jennifer Shum Joins Feud between Jacqueline Wong and Yutori Kudo
Yutori Kudo Fan Strikes Again on Jacqueline Wong's Instagram Posts
"Time will prove everything. What goodie two shoes? Pretending to have a moral high ground – all fake. If you're going to fake it, you have to fake it forever. That is why I give up faking it. If you want me to fake it like I am being monitored by CCTV like those goodie two shoes, I think I will die. After all, sweet talking is not my strong point."
Johnson Lee (李思捷)
Comedian and actor, Johnson Lee, was once rumored to be a couple with Jacqueline Wong back in 2015 after working together. There were pictures of Jacqueline Wong sitting in Johnson Lee's 7 seater van going to his home. She was also seen dining with Johnson Lee's mother. Johnson Lee even admitted to bringing Jacqueline Wong home to eat dinner, but later on Jacqueline Wong denied dating each other.
Johnson Lee, who was asked about the scandal at a function responded, "I didn't watch the clip, but after finding out about this situation, I was conflicted. Because both of them are my good friends, I understand that these situations will definitely create a lot of harm for them. In the end, they both put in a lot of hard work for their career. I won't give any opinions. I hope they can find happiness. Friends have also asked me about this, but I truly believe this is their own private matter. Not responding is respecting them. In fact, outsiders won't understand two people's relationship."
When asked if he would check up on them, Johnson Lee said, "I don't think so. They both need time of their own right now. I also won't watch the clip. I'm afraid I'll share the clip, which would be a shitty thing to do." As for his thoughts on Andy Hui's press conference, Johnson Lee taps his chest and says, "Not happy."
Yoyo Chen (陳自瑤) and Vincent Wong (王浩信)
Yoyo Chen, actress and wife of TVB actor, Vincent Wong, didn't directly speak about the cheating scandal, but did like a Weibo post that was shaming Jacqueline Wong for being a third party. Perhaps Yoyo Chen accidentally liked the post as it no longer shows up under her liked posts.
Jacqueline Wong Once Emphasized She Wouldn't Like Married Men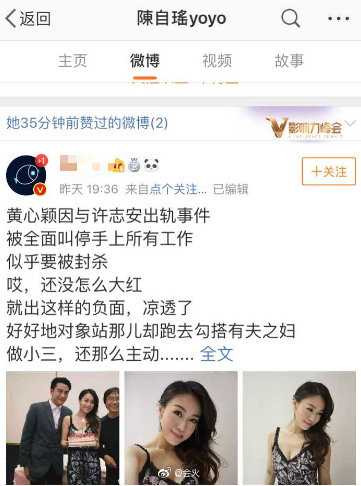 Vincent Wong and Jacqueline Wong were rumored to be getting close with each other while filming "With or Without You" (東坡家事) in 2014. In an audio clip circulating online, an unidentified female cast member claims to have seen Jacqueline Wong and Vincent Wong holding hands and getting close during filming. The person even says Jacqueline Wong likes to play around and says she is only with Kenneth Ma because he seems to be silly and naive.
Listen to the clip here courtesy of hk.on.cc: https://tv.on.cc/hk/index.html?i=OEN190416-14835-1757-M&d=1555410514
Vincent Wong responded to the allegations from the clip and said, "I think this colleague was mistaken. I played a couple with Jacqueline in "With or Without You." Seeing me holding onto her or hanging onto her should have been during filming or rehearsing for the scene. Outside of filming, none of this behavior happened."
Carat Cheung (張名雅)
Carat Cheung, who was the 2012 Miss Hong Kong winner in the same year as Jacqueline Wong, posted an IG story saying, "This world has too many temptation. Everyone knows it's wrong, but still choose to commit the mistake. Mi, you have to add oil, live your life even better."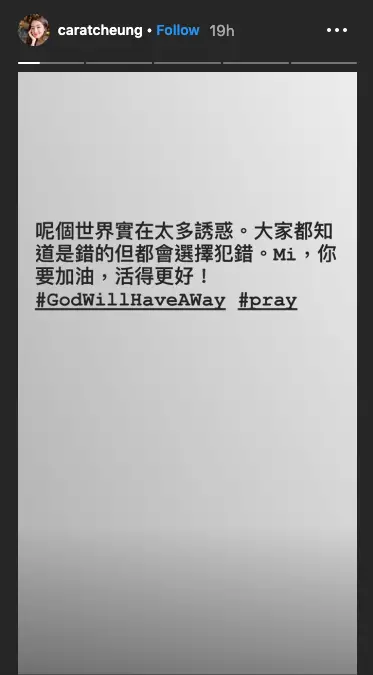 Credit: Yutori Kudo IG, hk.on.cc (1,2), Weibo (1,2), Apple Daily HK, Carat Cheung IG, Yoyo Chen IG, Vincent Wong IG, Jacqueline Wong IG, hk01.com