Even though Roxanne Tong (湯洛雯) and Joey Law (羅天宇) broke up last March after dating for four years, the two remained friends. Roxanne Tong even attended Joey Law's birthday party last year and the two traveled together for show, "Fun Abroad" (3日2夜) this year. After watching their interactions on the show, many netizens felt there were good chances the two could reconcile.
Roxanne Tong and Kenneth Ma Address Pregnancy Rumors and Jacqueline Wong's Blessings
Roxanne Tong got netizens in a frenzy when she posted a caption on her Facebook page saying: "Perhaps, once is already enough." She posted the same picture with three ellipsis on Instagram the day before. On her Instagram story, she also posted "Feeling a bit tired…body and mind." Joey Law commented on her Instagram post with three ellipsis.
Dating Rumors Between Joey Thye and Joey Law Heat Up After They're Seen Hanging Together
Hawick Lau's Team Denies Dating Rumors with Roxanne Tong
Good friend, Lisa Ch'ng (莊思明), commented back and told them "Don't type in Morse code.", hinting the two were jokingly arguing with each other. Roxanne Tong responded back, "He copied me!" Netizens started to get excited at the prospect of them getting back together. They suspect Roxanne Tong was talking about her current relationship status with Joey Law. Many netizens then left comments saying "The second time around requires courage.", "Giving an opportunity to someone else is like giving yourself an opportunity."
Kenneth Ma and Roxanne Tong Announce They're Dating
Joey Law and Roxanne Tong Remain Friends After Breakup
Roxanne Tong quickly shattered netizens's dreams when she clarified the posts had nothing to do with Joey Law on her IG story. She wrote: "I will clarify it one last time. Him and I are just good friends right now. We are really not getting back together and there is no shady business going on, there won't be in the future either. There are some things better left in the past. So I hope everyone won't tie all my posts to relationship matters. Even though I am not feeling that good right now, but it can't be tied to this. I apologize for making everyone misunderstand. I also have to apologize to the netizens who especially love us. What isn't there just isn't there. Thank you everyone for your understanding."
Roxanne Tong Being Overshadowed by Younger Sister with Her Good Looks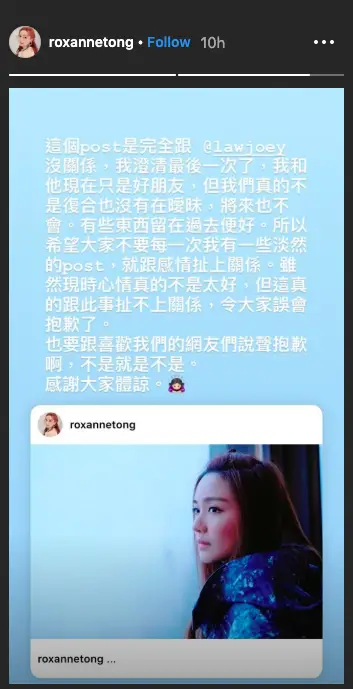 Roxanne Tong Denies Dating Elaine Yiu's Ex-Boyfriend
And cue Taylor Swift's "We Are Never Ever Getting Back Together"
Credit hk01.com, Joey Law IG