When Sulli's death was announced, the world was devastated. Naturally, people all over the world left comments mourning her death on social media platforms. However, there were Chinese netizens that left hate comments and criticized Victoria Song for not posting or showing her grieving about Sulli's death. It was a knee jerk reaction as it was just one day since Sulli's passing. Victoria Song silenced netizens when she quietly flew to Korea to attend Sulli's service. She also canceled an event she was supposed to attend today.
[VIDEO] Victoria Song and Amber Land in Korea to Attend Sulli's Service, Flight Attendant Defends Victoria Song
Shortly afterwards, she even posted on Instagram remembering Sulli:
"Sulli ya, the weather today is very nice. Goodbye, I won't forget. I love you."
Song Weilong and Victoria Song in "Find Yourself" is Giving Everyone Toothaches
Victoria Song Verbally Attacked by C-Netz for not Posting about Sulli's Death
Today, she addressed the hate comments she received for the initial knee jerk reactions from netizens on Weibo. In her post, she said:
"Since when did posting on Weibo, sharing it with our Friends' Circle on WeChat, posting on Instagram become a ruler? That it can measure someone's morals, relationships. Measure your happiness, anger, sorrow, joy. Measure anything you want to measure.
Aaron Yan Pens Heartfelt Post on Cyber Bullying Stemming from Sulli's Passing
Public platforms are used to share with everyone. When did it become a place for people to show off? You want to post, post. Don't want to post, don't post. If you want to show off, vent your anger, make up rumors, please do so. There's not much I'm great at. Instead of being fake, I rather live truthfully."
Victoria Song Posts Swimsuit Pictures After Getting Criticisms for Her Ensemble at the 13th China Golden Eagle TV Art Festival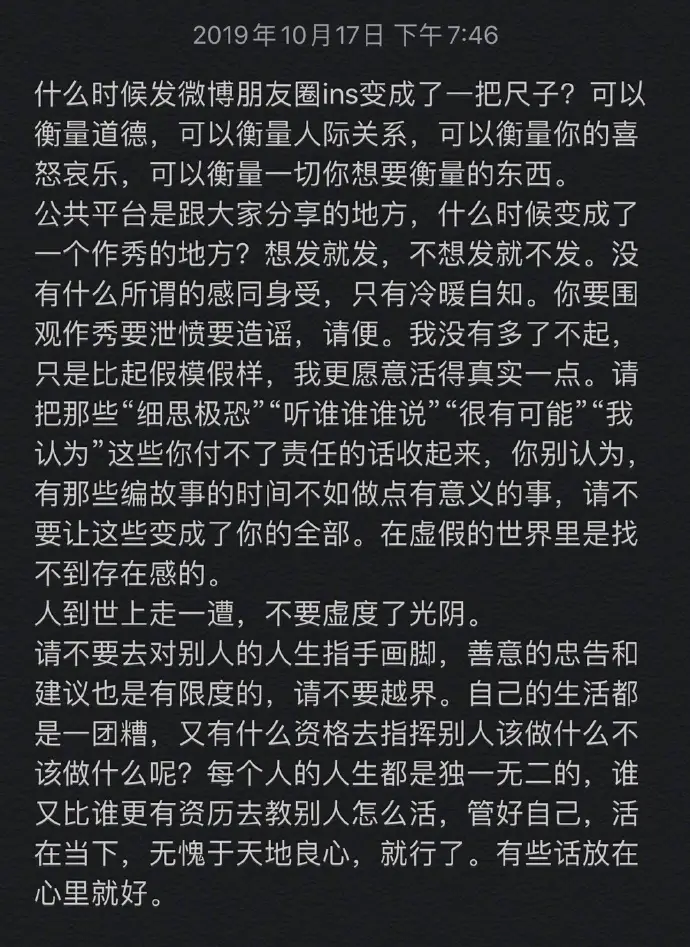 Victoria Song Pens Long Post Seemingly to Fans Complaining about Her Studio's "Mistreatment"
Please take back these words like "I heard so and so say", "I feel that", "It's very possible", that you won't be able to bear the responsibility for. Don't you think your time used to make up stories would be better used to do something meaningful? Please don't make this into your whole world. You won't find existence in this shallow world.
Rainie Yang Asks Victoria Song if She Has Been Single for Over 3 Years
Please don't point fingers at others. There is a limit to well intended advice and words. Don't cross the line. Your own life is already a mess. What qualifies you to dictate what someone should or shouldn't be doing? Everyone's life is unique. Who is more qualified to teach someone how they should live their life? Worry about yourself, live in the moment, have a conscience and live honestly, thats already enough. Some words are better kept inside."