Louis Koo (古天樂), Jessica Hsuan (宣萱), Philip Keung (姜皓文), and others were in Kowloon yesterday to attend the Hong Kong premiere for their movie, "A Witness Out of the Blue" (犯罪現場). As it was Louis Koo's 49th birthday on October 21, the organizers also prepared a birthday cake for him and Philip Keung, who is also celebrating his birthday on October 26.
Carmen Lee Reveals Why She and Louis Koo aren't a Couple
When asked about his birthday wishes, Louis Koo just wished for good health and revealed he only had dinner with family and friends. As he was worried about transportation and commuting, he didn't celebrate his birthday with fans this year. Jessica Hsuan was asked if she gave any birthday presents to Louis Koo, she responded, "Yes, but it's up to him if he wants to disclose it. I won't say it. He likes to keep it a secret, but I am sure I gave him something he likes." She disclosed she would always remember to send birthday texts to friends. Louis Koo jokingly says he also remembered Jessica Hsuan's birthday, but she exposed him and said, "But it was a day late. I will remember forever."
Louis Koo and Jessica Hsuan Asked if There is Possibility for Them to Become a Real Life Couple
Jessica Hsuan Says Louis Koo Doesn't Treat Her Like a Woman
Jessica Hsuan was also asked if she would expect any gifts or special requests if the box office results were good. She revealed Louis Koo normally treats everyone too much and tells him to stop treating. She says it has gotten to a point where she finds it a bit ridiculous. When asked if she would treat Louis Koo in return, she said, "Have I treated you before? I don't think so. He doesn't let people treat. I am very willing to treat."
Manager Clarifies Louis Koo's "Engagement" Announcement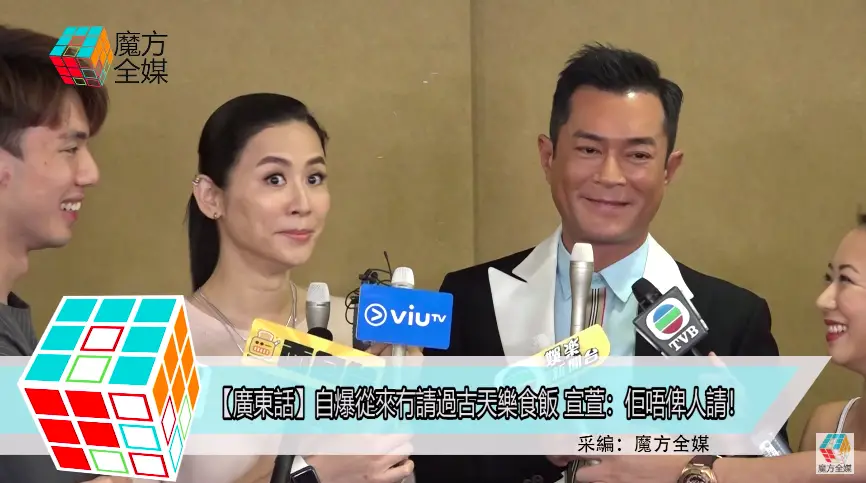 What is Louis Koo's Solely Acknowledged Ex-Girlfriend, Natalie Wong, Up to Nowadays?
There was a slight disturbance during the event. A rabid fan kept screaming, "I am Louis Koo's wife." in Mandarin. When she was held back by security, she claimed they were hitting him. However, Louis Koo was unfazed and remained calm.
She starts screaming at 0:16 in the video:
Louis Koo Makes Up Birthday Celebration for Jessica Hsuan
Credit: hk.on.cc, More Forms Youtube, Louis Koo Weibo