Louis Koo (古天樂) and Jessica Hsuan (宣萱) sat down with Apple Daily HK recently to promote their new movie, "A Witness out of the Blue" (犯罪現場). Aside from talking about the new movie, the two reminisced about the old times when they used to film at TVB.
Carmen Lee Reveals Why She and Louis Koo aren't a Couple
This movie is Louis Koo and Jessica Hsuan's first cooperation in 17 years. Jessica Hsuan expressed she was full of expectations filming this movie. She expressed how she witnessed Louis Koo matured a lot. She said, "I saw him enter the industry, saw him evolve. Our first series was "Happy Harmony" (餐餐有宋家). In the beginning he didn't speak, was very quiet. I would always bother him to talk. He would only say one or two sentences. Now it's completely different. He slowly evolved."
Fan Screams "I am Louis Koo's Wife" at "A Witness Out of the Blue" Premiere
Louis Koo and Jessica Hsuan Asked if There is Possibility for Them to Become a Real Life Couple
Louis Koo expressed Jessica Hsuan didn't change much. He said, "Really don't think she changed much. Not talking about her appearance. It's her personality, it's very rare. Because when you work in this industry, you might lose your own personality. Being able to keep your own personality and exist is very hard."
Louis Koo Makes Up Birthday Celebration for Jessica Hsuan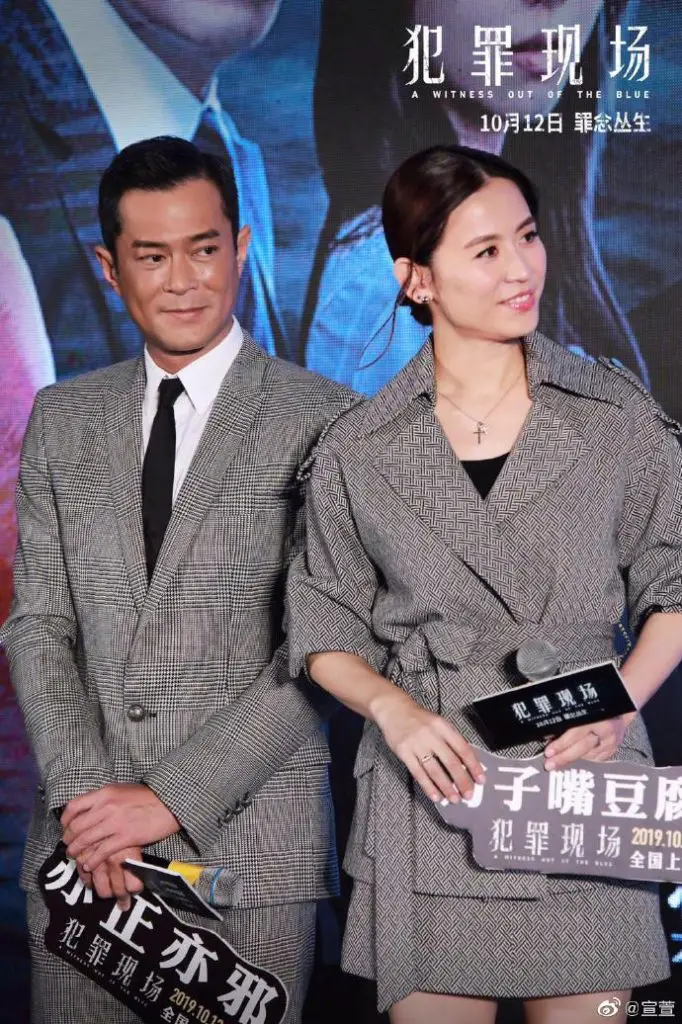 Manager Clarifies Louis Koo's "Engagement" Announcement
The two also reminisced about the old days when they used to film together. Jessica Hsuan said, "We were much crazier back then. He didn't treat me like a woman. I didn't treat him like a man either. He treats me like a man more than I treat him like a woman. Just like when I am sitting on a chair in an office. All of sudden he just keeps on kicking me all the way out."
What is Louis Koo's Solely Acknowledged Ex-Girlfriend, Natalie Wong, Up to Nowadays?
Manager Responds to Louis Koo's Marriage Rumors with Jessica Hsuan
When asked how Louis Koo can treat girls like this, he explained, "You know how girls who just came back from overseas are like. Girls who just returned from overseas are usually very easy to get along with. She's a very loud and boisterous person, doesn't sweat the small stuff. So sometimes it'll be easier to interact with each other." Jessica Hsuan interrupts him and says, "When he sees me, he can't control himself and wants to kick me." Louis Koo continues saying, "I won't differentiate between man or woman. There are a lot of other girls from the cast, but it's not like this with them. It's just her. Probably because she grew up overseas. Nowadays, there's not much time to play."
Jessica Hsuan Gave Up Chance to Marry into Wealthy Family for Career
Enjoy this video of Louis Koo and Jessica Hsuan taking jabs at each other.
Credit: Apple Daily HK, Weibo (1, 2, 3)