Due to Xiao Zhan's (肖战) popularity, he is constantly the center of attention, whether he likes it or not. With this new elevated status, there will be people wanting to get close to him whether for personal or commercial reasons. There was an incident today at the Beijing Capital International Airport when Xiao Zhan and his staff member were blocked from boarding their flight, causing delays to the plane taking off. Because of this incident, Xiao Zhan's studio issued an apology today addressing the delays and explained what happened.
Yu Zheng Praises Zhu Yilong and Xiao Zhan for Being "Yu Zheng-esque" Caliber Actors
Xiao Zhan's studio stated:
"On the night of October 23, around 10:20, Mr. Xiao Zhan and his staff member arrived at the Beijing Capital International Airport to board a 11:25 flight from Beijing to Wuyang. Mr Xiao Zhan and his staff member went through the VIP passageway arranged by the airport to board the flight.
Chinese Actor, Xia Fan, Makes Mysterious Post Attacking Xiao Zhan
What is regrettable is that there were some individuals impacting the boarding process, which led to Mr. Xiao Zhan being blocked from boarding and leading to delays in the flight taking off. Mr. Xiao Zhan had immediately expressed to his staff member that he wanted to personally apologize to each passenger for the flight delays. After careful consideration, to avoid a second occurrence in causing flight delays, Mr. Xiao Zhan asked his staff member to represent him in expressing regret and apologies to the passengers.
Xiao Zhan Reacts to Being Perceived as Fake and Reading Comments about Himself
Regardless of the reason, it was not Mr. Xiao Zhan's intent to impact other people's travels. For this, we once again express our deepest apologies to the passengers on the same flight.
Xiao Zhan Wants His Fans to First Focus on Living Their Life Well
Maintaining public order is one of the basic duties of each citizen. From now on, we will increase and strictly enforce public order. Mr. Xiao Zhan and his staff member solemnly state, we won't support or advocate any form of sending off or picking up activity at the airport. Please don't interfere with other people's normal travels because of your own personal behavior."
Xiao Zhan: I'm Still the Same Xiao Zhan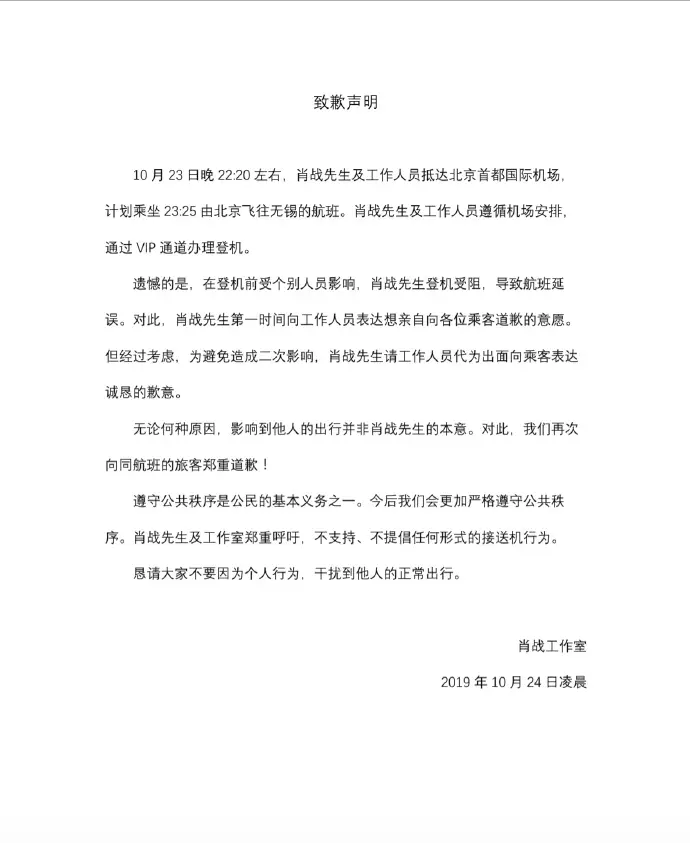 Xiao Zhan Would Announce His Relationship if He was Dating
After the statement was issued, many fans left comments expressing anger at the behavior of what is believed to be either sasaeng fans and people hired to take pictures (代拍) for scalpers and marketing blogger accounts. Fans left comments under the studio's apology stating the real reason why the flight was delayed was due to the people hired to take pictures (代拍) were not following the rules and wouldn't listen to the airport workers' instructions. A netizen says the studio's apology was for the adverse effects created by the people hired to take pictures and that Xiao Zhan wasn't late. She also says he took a red eye flight from Beijing to Wuyang so that he could resume filming on time.
Xiao Zhan Reminds Himself Not to Let Fame Get to His Head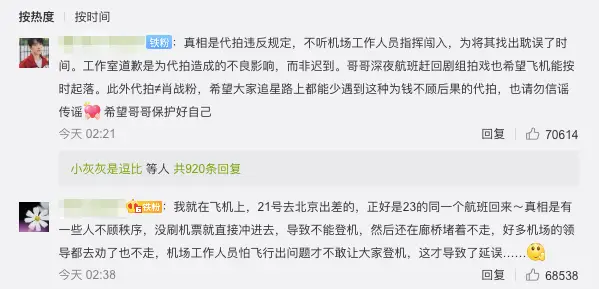 Screenwriter Throws Shade at Xiao Zhan, Says Leads are Only There to Attract Box Office Traffic
Another netizen claims she was on the same flight as Xiao Zhan and shared that there were a bunch of people who just rushed onto the plane without having their boarding passes checked. As a result, passengers couldn't board. She says these people wouldn't leave the corridor even after the urging of many airport workers. Airport staff were afraid there would be problems with the flight taking off, which is why they wouldn't let people board the flight, causing the delays.