Puff Kuo (郭雪芙) and Jiro Wang (汪東城) recently wrapped up their new Taiwanese series, "Because I Like You" (direct translation from 因為我喜歡你). Before filming started, she had taken some Taekwondo courses. However, she admitted she isn't good at sports and that her head would be all sweaty during warm up exercises. She said, "I can now understand how exhausting it is for athletes." This is Puff Kuo and Jiro Wang's first time working together. Puff Kuo revealed, "Jiro-ge will say some corny jokes sometimes and all of us would be quiet." Jiro Wang jokingly said he knows when to stop.
Puff Kuo Taking Hiatus from Filming Due to Recurring Health Condition
In the series, Puff Kuo plays a Taekwondo master who has training for the Olympics since young. Because of the recurrence of an old injury, her career as an athlete is in jeopardy of ending early. Just when she is at this crossroad, she meets Jiro Wang's character and changes each other's story.
Jiro Wang Says Puff Kuo Initiated Most of the Intimate Scenes while Filming "Falling Into You"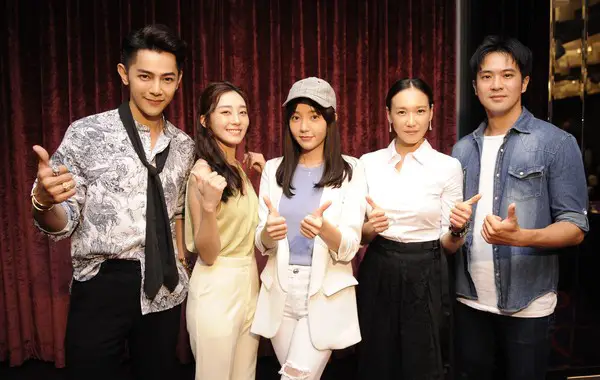 Wu Zun Says Everyone is Overthinking into the Rumors of Aaron Yan Being in Love with Jiro Wang
Jiro Wang plays a young CEO who has hemophobia as a result of a childhood trauma. This led him to follow the characters' moods and was unhappy at times during filming. However, after filming wrapped up, Jiro Wang said he returned to being his cheerful and positive self again. As Puff Kuo is an expert at Taekwondo, she often appears whenever Jiro Wang is in danger to save him. However, after filming completed, Puff Kuo said, "I am extremely happy filming wrapped because this character suffers a lot in terms of Taekwondo!"
Jiro Wang Says Puff Kuo Initiated Most of the Intimate Scenes while Filming "Falling Into You"
Singaporean actor, Desmond Tan (陳泂江), is also in the series. Actress Jessie Chang (張本渝) complimented on Desmond Tan's body and said, "If Jiro Wang's body is 90 points, then Desmond's is 99 points!" Jiro Wang humbly respond, "If there is a successor, then I don't need to reveal my muscles anymore."
Steven Sun Sorta Confirms His Relationship with Puff Kuo
Jasper Liu Complained about Puff Kuo Getting Too Close to His Private Parts while Filming "Before We Get Married"
Jessie Chang and Desmond Tan will have an intimate scene in the series and she reveals that everyone at the scene were mesmerized by him. She jokingly says, "Everyone was fighting to help Desmond Tan put body oil on his chest for that scene. There were even people inquiring whether he had a girlfriend or not."
Steven Sun and Puff Kuo Spotted Together After Declaring "Wanting a "Stable Relationship" a Few Days Ago
Credit: CTWant