Dilraba (迪丽热巴) graced the red carpet recently at the 32nd Golden Rooster Awards in a long strapless ensemble. Her evening gown was immediately trending on Weibo that day. Because the dress was strapless and probably heavy, it seemed to be dragging down as Dilraba was seen adjusting her dress when she was taking pictures. Ming Dao (明道), who was walking with next to her on the red carpet, came to the rescue.
Bodies of Ming Dao's Brother, Wife, and Child Found in Apparent Murder-Suicide
Yang Mi and Dilraba are Friendship Goals
On the day of the award show, Dilraba, Ming Dao, Yu Haoming (俞灏明) and Reyizha (热依扎) were walking on the red carpet as a group. Ming Dao was constantly seen exhibiting his gentleman like behavior towards Dilraba who seemed to be worried about her dress falling. From fancams and pictures, Ming Dao was seen hovering his arm around Dilraba's waist area trying to shield her. Then, there was one point where he switched sides so Dilraba wouldn't be blocked from the cameras.
Ming Dao Tears Up Talking about Waning Popularity and Reveals He Only Acted in One Scene This Year
Ming Dao and Joe Chen Revisit "The Prince Who Turns into a Frog" 15 Years Later
Lastly, Ming Dao might have suspected something was wrong as he was seen moving in front of Dilraba and blocking her view while she was adjusting her dress. Yu Haoming and Rezhiya weren't aware of what was going on at first, so they were moving to the side a bit so there would be enough room for everyone to pose for the camera. However, they quickly realized what was going on.
Dilraba Turned Heads in White Dress Showing Off Her Figure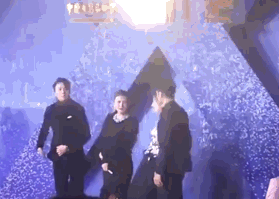 Ming Dao is Married and a Father to a Baby Boy
Full clip showing Ming Dao and Yu Haoming helping Dilraba: http://t.cn/AidepIc8?m=4442552344393880&u=5742828143
Dilraba Broke Down in Tears on "Feel the World" Because of One Person
After the video went viral, many of Dilraba's fans and netizens praised Ming Dao for his warm gesture. They left comments saying, "Ming Dao is really gentleman-like.", "It warmed me. He's still the Prince Ming Dao in my heart.", "Feels like a prince shielding a princess.", "Such small details really highlights his character.". A lot of fans also expressed their thanks to Ming Dao for protecting her.