A few months back, Kayee Tam's English song, "Can You Hear", was a big hit when TVB series, "Big White Duel" was airing. The song had garnered over 1 million views at the time and already has over 6 million views. It was so popular, she recorded a Cantonese version of the song with Kenneth Ma and filmed the music video together.
Netizens are Upset at Kenneth Ma's Kiss Scene with Kayee Tam in Her New Music Video
Kenneth Ma Wants Both Natalie Tong and Ali Lee
There was a lot of interest at the time because of a kiss scene in the MV between Kayee Tam and Kenneth Ma. There were also some netizens who felt Kenneth Ma's singing chops might not be up to par. The music video for the Cantonese version, "願留住你" came out on December 16. However, the video has only garnered over 32,000 views, which are substantially lower than its predecessor. Since the series has been over for months, the momentum is already gone.
What Happened to "Kennis" in the "Big White Duel" Ending?
Kenneth Ma Wanted More Intimate Scenes with Natalie Tong in "Big White Duel"
Kayee Tam and Kenneth Ma went full on couple mode in the music video. There are a few "bed scenes" and of course the long awaited kiss scene. Kayee Tam spoke with hk01.com and revealed everyone has been asking her when the MV would come out since July. As it turns out, the song will be included in her new album. However, she expressed, "I don't dare to watch the video because it was really awkward filming at the time. I had to kiss a male god and it was added by the director last minute. Completely didn't know there would be a kiss scene before we filmed."
Will "Big White Duel" Finally Help Kenneth Ma Win Best Male Actor?
Ali Lee Wants to See Kenneth Ma's Chocolate Abs
She also expressed she was very shy and nervous during filming. Her face would get red and her heart was beating 100 times faster. When asked if she was confident the song would win the "Most Popular Drama Theme Song" award at the TVB anniversary awards, Kayee Tam revealed, "I don't dare to think about it, but I am already very lucky to have encountered so many good songs. This is the most important. Hearing listeners say they like my song, I am already very satisfied."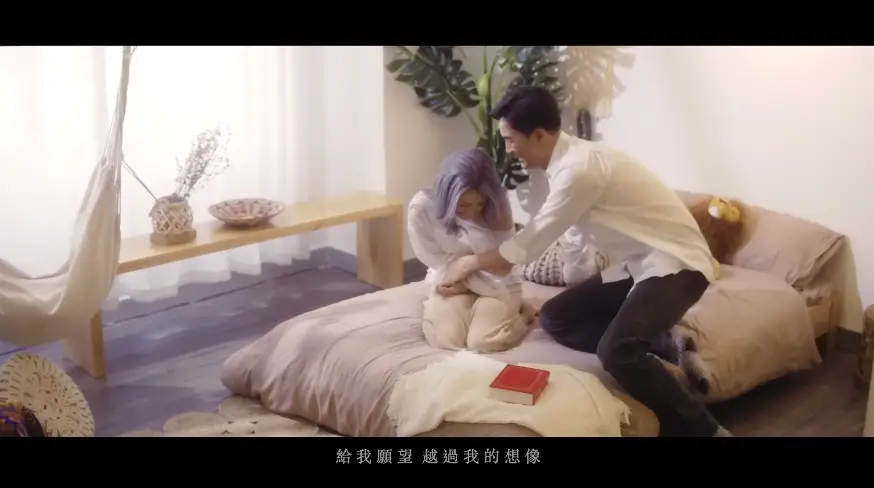 When talking about this year's Best Actor nominees, Kayee Tam has her pick set on Kenneth Ma. She expressed, "I have full confidence in him and totally support him. I think he's a really nice person, good looking, his acting is good. He's even singing now. I hope he can quickly debut and be the music industry's Best Newcomer."