It was Huang Zitao's (黄子韬) 27th birthday on May 2nd. He listed his three birthday wishes on Weibo.
Huang Zitao Sparks Backlash for Promoting "CHUANG 2020" Trainee, Xu Yiyang, on His Social Media Accounts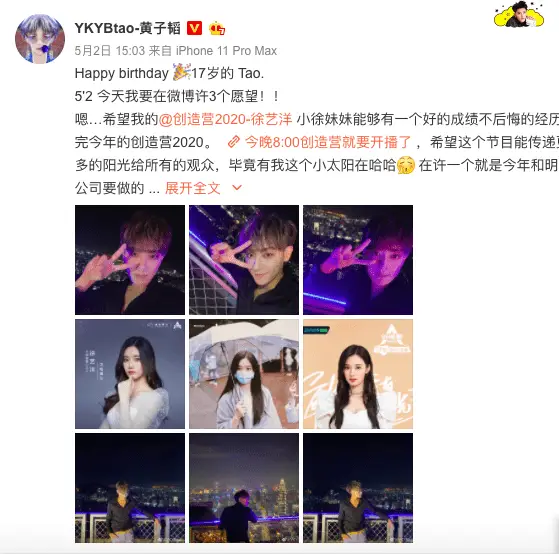 Touching Story Behind Huang Zitao Learning Sign Language Revealed
His post read:
"Happy Birthday, 17 year old Tao.

5/2 I must make 3 wishes on Weibo today!
Kris Wu, Luhan, and Huang Zitao Reminisce about Their Days As Trainees on "CHUANG 2020"
I hope my little Xu-meimei (referring to Xu Yiyang) has good results and won't have any regrets in this year's Chuang 2020. Tonight at 8:00, Chuang will air. I hope this show can deliver even more sunshine to all the viewers. After all, there is me, the little sunshine, haha. Another wish is to have the company's projects for this year and next year to proceed smoothly. It also has to be very good, haha. Movies, series, variety shows, and my own documentary, and other things, everything can be seen, just have to wait.
Huang Zitao Tells Fans Not to Call Him Husband
Huang Zitao Dreams of Openly Dating in Public
My last wish is I hope the person I like also likes me and we can be together, hahahahahahahaha

Lastly, thank you to my Hailangs (his fans). I hope you guys can be like me, become the person you want to be. Live life happily. Go to work, go to school happily. If you like me then don't be unhappy. Don't get sick, don't have worries. Even if you have them, once you're done worrying about it, throw it away. Understand? Love you guys, muah muah. You guys will love each song to death this year! From 17 year old Tao…hope every wish can come true, and then one comes true and find this Weibo to redeem another wish, hahaha."