Tencent held a live press conference with the 101 trainees and the four coaches/instructors for the upcoming premiere of "CHUANG 2020" (创造营2020), also known as "Produce Camp 2020". During one of the segments, the coaches played something similar to "The Whisper Challenge", where they have to guess the word the other person is saying while wearing headphones and have the last person give the answer.
Huang Zitao's Father, Huang Zhongdong, Passes Away at 52
When it came to Huang Zitao's (黄子韬) turn to guess what Mao Buyi (毛不易) was saying, netizens noticed Huang Zitao had used sign language. Throughout the whole segment, Huang Zitao was able to guess each phrase relatively easily, seemingly because he knows sign language and was able to read lips.
Huang Zitao Dreams of Openly Dating in Public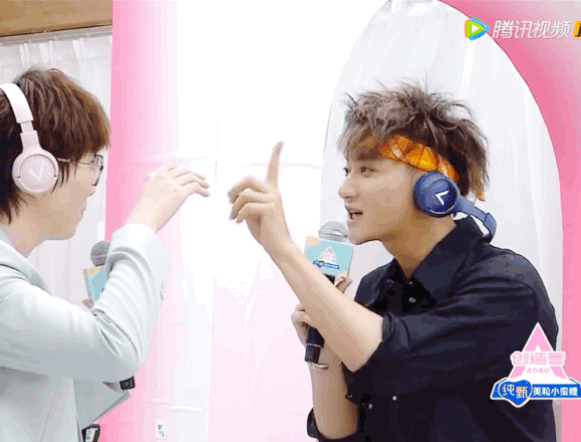 Huang Zitao's Three Wishes for His "17th" Birthday
Huang Zitao Puts Media on Blast for Falsely Reporting Him Bringing Two Women Back to a Hotel
So why would Huang Zitao know sign language? A netizen saw him using sign language on the show and brought up the story of him learning sign language again. As it turns out, Huang Zitao had a childhood friend called Chen Chen (晨晨), who is deaf, so in order to communicate with him he learned sign language. He had wrote about this in his diary and even said, "Chen Chen really isn't that different from other people. Gave me a lot of strength. Huang Zitao must make a lot of money and be successful! Must look after Chen Chen for a lifetime."
Sasaeng Fans' Conversation with Huang Zitao and Kris Wu When They Were Still EXO Members Leaked
Huang Zitao was Mistaken for a BTS Member
Before leaving for Korea to become a trainee, Huang Zitao had once told Chen Chen, "I am going to be a celebrity. We might not see each other for a long time, but don't worry. If I am successful one day, I will definitely let you be by my side. No matter what you're doing, I will definitely help you."
Kris Wu, Luhan, and Huang Zitao Reminisce about Their Days As Trainees on "CHUANG 2020"
Huang Zitao also mentioned this on a show saying, "I told him if I returned and became a celebrity, I would definitely have him by my side. Because for deaf people, people might look down on him or it would be hard for him to find a suitable job, but I feel like I can help him a lot."
Huang Zitao Frightened His Fans with Two Weibo Posts
Huang Zitao Sparks Backlash for Promoting "CHUANG 2020" Trainee, Xu Yiyang, on His Social Media Accounts
After Huang Zitao returned, he kept his word. He let Chen Chen work as his assistant. He looked after Huang Zitao's dog, cleaned up and did chores. Huang Zitao had explained that if Chen Chen was looking for work outside, a lot of corporations might find it inconvenient to communicate with a deaf person, but with him, there aren't any of those concerns. It's reported with the help of Huang Zitao, Chen Chen was able to open his own coffee shop.
Huang Zitao Comes Face to Face with "Rap For Youth" Contestant, Ty, who Made Diss Track about Him 5 Years Ago
Huang Zitao's Declaration in "No Longer a 0, I am 1" After Following Xu Yiyang on Weibo Creates Laughter Among Netizens
On a variety show last year, Huang Zitao mentioned the year (2015) he returned to China was the biggest blow to him in his 26 years of living. He was "hated on by the entire internet". When he could've used this story about him and Chen Chen to help him improve his image, he refused to do it. Only a small amount of fans had known about it. When the media found out, Huang Zitao rejected the show's request to film Chen Chen. Huang Zitao explained, "He is an ordinary person after all. I hope he can have his own personal life. I don't hope for others to see him."
Huang Zitao Denies Love Confession for Anime Character was for "CHUANG 2020" Trainee, Xu Yiyang