Roy Chiu (邱澤) made headlines last September when he publicly professed he was in the midst of pursuing Janine Chang (張鈞甯). It became awkward when Janine Chang hinted that Roy Chiu's advances were one sided and shut down any romantic developments. They were reminded of the awkwardness again when they promoted their series, "Detective Chinatown" (唐人街探案), in January. A reporter asked Janine Chang, "This is the second time Roy Chiu and Janine Chang appeared together after the dating news. How has it developed so far?" She didn't directly answer the question and before more could be asked, a staff member had instructed to proceed with the next question.
Janine Chang and Roy Chiu Asked about Relationship Status at Press Conference
Janine Chang Talks Relationship with Roy Chiu and Clarifies Rumored Remarks Her Mother Made about Him
Janine Chang was at a charity event on May 27 and reporters took the opportunity to ask her if she and rumored boyfriend, Roy Chiu, had the chance to meet up. She was filming her series, "Who's By Your Side" (誰在你身邊), while Roy Chiu was filming "Alpha Girlz" (她們創業的那些鳥事) with Ruby Lin in Taichung. Janine Chang expressed that after the "Detective Chinatown" promotions, they haven't seen each other. As for classifying their relationship, she said, "It's very normal. It's just like other friends, usually won't have much special contact."
Roy Chiu Didn't Consult with Janine Chang Before Confirming Relationship + Janine Chang Responds to Roy Chiu's "Love Confirmation"
A Look at Roy Chiu's Dating History and Why Netizens aren't Thrilled about Him Dating Janine Chang
As for her love life, Janine Chang said she doesn't have any new progress, but she doesn't rule out having an international romance. She expressed, "I look very calm on the surface, but I am quite anxious inside." Janine Chang, who is 38 this year, said she isn't young anymore. Working with mentally disabled children this time, Janine Chang felt very touched. In addition to that and her mother's concerns, she has recently re-considered freezing her eggs. She expressed, "I hope to do some things I won't regret in the future."
Staff Member Denies Hans Zhang and Janine Chang Marriage Rumors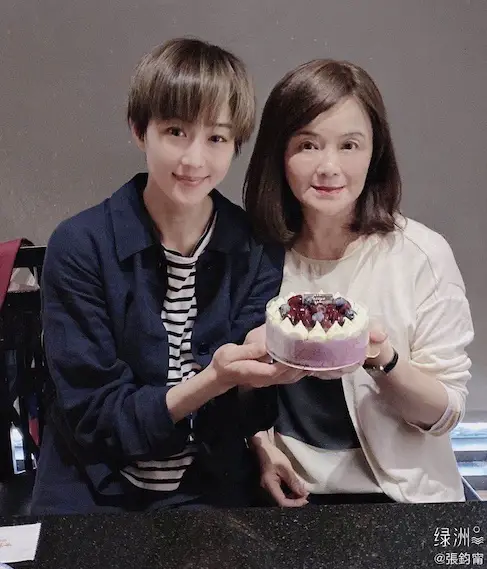 Joseph Cheng Recounts Kiss Scenes with Ariel Lin and Janine Chang
Janine Chang also addressed the rumors she had a falling out with BFF, Ivy Chen (陳意涵), also her co-star in "By Her Side". She explained that her new short hairdo cannot be revealed so whenever she meets with Ivy Chen, she can't take pictures and post it on social media.