Taiwanese series, "Someday or One Day" (想見你), became an instant hit with viewers across the world. It brought popularity to the three leads, Greg Hsu (許光漢), Alice Ko (柯佳嬿), and Patrick Shih (施柏宇), especially the two male actors who are actively promoting in China. Even though the series ended in February of this year, there are already rumors China is remaking the series.
Fans Upset at Greg Hsu's Ex-Girlfriend for not Deleting Old Pics of Them on Instagram
Netizens Can't Get Enough of Greg Hsu and His Series, "Someday or One Day"
The rumors have been circulating that iQiyi will be remaking the series. The new series name is rumored to be "Time Machine" (lit. 时光机) and will start filming in August. Chen Linong (陳立農) will be starring as Greg Hsu's role, "Li Ziwei", and Zhou Jieqiong (周洁琼) as Alice Ko's "Huang Yu Hsuan".
Cai Xukun's Work Studio Denies Dating Rumor with Zhou Jieqiong
Zhou Jieqiong Responds to Lawsuit Brought by PLEDIS Entertainment for Breach of Contract
However, some netizens have raised questions on how the series' time travel theme will be able to bypass one of the 20 new radio and television guidelines issued by the NRTA, which states that there must be "reasonable scientific explanation".
Chen Linong Sheds Tears Talking about His Father's Whereabouts on NINE PERCENT's "More Than Forever"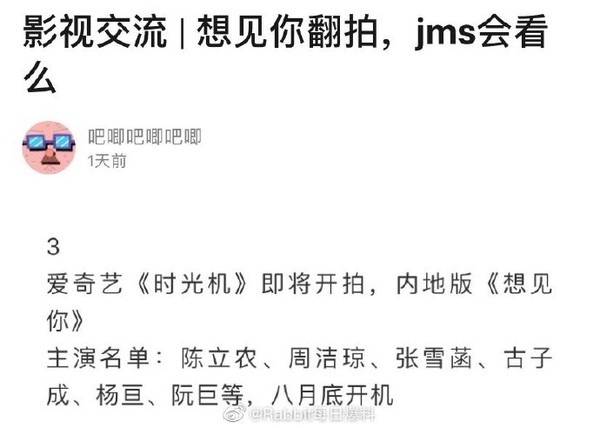 Patrick Shih's Recent Instagram Posts Got Fans Alarmed and Worried about Him
Aside from those questions, many fans of the series have opposed to a remake especially only a few months after the original ended. Many people felt it was too soon, including Alice Ko, when she heard about the news. Fans also felt that no one would be able to surpass the original and produce the same flavor. Alice Ko was asked about the rumors and relayed a message through her manager to ETtoday, saying, "It's very easy for remakes to be compared. There will be a lot of stress."
Greg Hsu on Being Thankful for the 7 Years He was Unknown and Staying True to Himself After Gaining Fame
Alice Ko Touched by Greg Hsu Coming to Her Rescue When Asked about Ex-Boyfriend, Wang Po-chieh, Presenting Award to Her
Patrick Shih, who played "Mo Jun Jie", was at an event and responded, "I've heard about it, can look forward to it." As for netizens' debate about the rumored cast, Patrick Shih said, "Still need to look at the feeling of the two people matching up together" and that just by looking at their pictures, it might seem unsuitable.