Rumors were spreading on October 23 that Ruby Lin (林心如) and Wallace Huo (霍建華) got into an argument in public. It was reported Wallace Huo yelled at Ruby Lin, which led to her crying. The two of them then parted ways and went home separately. Ruby Lin was later asked about the rumors of them arguing, which she clarified was just a discussion and voices got loud due to differing opinions. She explained they left separately as she wanted to take a walk to let her food digest so Wallace Huo went home first.
Ruby Lin Dispels Rumors She was Crying over a Public Quarrel with Husband, Wallace Huo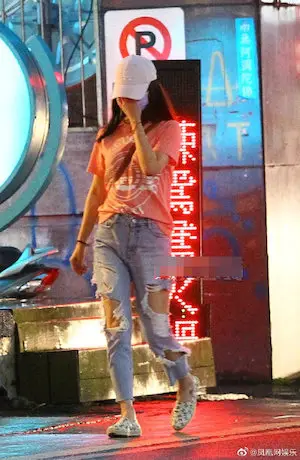 Ruby Lin in Tears while Video Chatting with Daughter on "The Inn 3"
Netizens started speculating if there was trouble in their relationship as they noticed Ruby Lin had deleted pictures of her and Wallace Huo and one of Ruby Lin and their daughter's hands that she posted on Instagram on October 6. However, some netizens claim Ruby Lin had long deleted those pictures before the "quarrel" incident happened. It's speculated the pictures attracted too much attention and the couple wanted to keep a low profile.
Ruby Lin Reveals How She Almost Lost Her Role in "My Fair Princess"
Jimmy Lin Reveals Reason for Break Up with Ruby Lin 20 Years Later
On October 26, Sina Entertainment reached out to Ruby Lin's manager about the deleted pictures. They responded, "There's really nothing. There's no need for everyone to have too much thoughts about it." There have been divorce and pregnancy rumors surrounding the couple recently. Ruby Lin dispelled these rumors last month saying, "This is so conflicting. [If we're] divorced, how can we get pregnant? If so, it should be about 3 months already. We are very normal. There might be some friends and relatives who aren't as familiar that are concerned. We just laugh at the news."
Yang Mi and Wallace Huo Go From Brothers to Lovers in "The Great Craftsman"