Lai Kuanlin (賴冠霖) was trending on November 24 after he went viral for a video showing him smoking and spitting in public. He issued an apology for his behavior and accepted the criticisms from netizens. However, shortly after, he was trending again when former fans alleged he was in a relationship and called him out for his past behavior, including gifting fan gifts to his rumored girlfriend.
Lai Kuanlin Apologizes for Smoking and Spitting in Public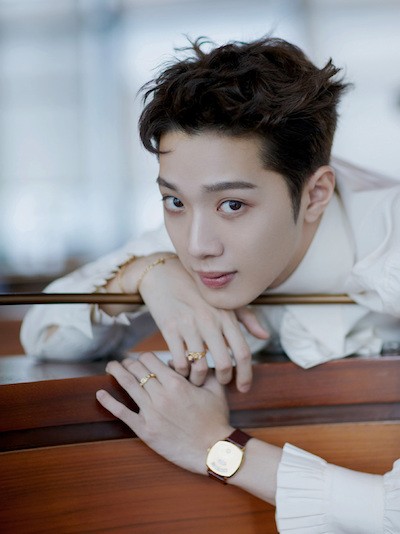 Lai Kuanlin Claps Back at Anti-fan Attacking Him in Dance Video with R1SE's Yao Chen
One of his former fansites also said she wasn't surprised he was filmed smoking as this wasn't the first time and said she knew he wasn't civilized when he allegedly cursed at them saying, "f*ck your mother". His fans started attacking her, in which she responded, "Don't yell at me anymore. I know way more than you guys. Be careful that you won't be able to handle it and have to deal with the consequences." She also made allegations that he asked her to buy him Drew House clothing, but told other people that it wasn't enough. Some fans have accused her of being a sasaeng fan, which she denied.
Lai Kuanlin Protects R1SE's Yao Chen After Anti-fan Strikes Again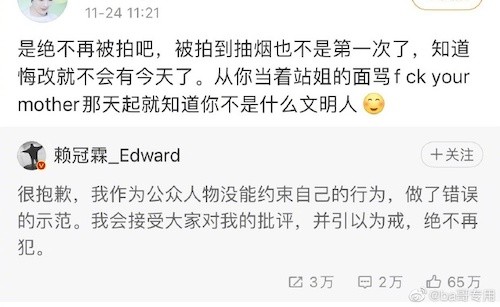 Lai Kuanlin Vents His Frustration at Fans Picking Him Up at the Airport
She claims to have discovered Lai Kuanlin and this girl's secondary accounts and alleged that they were together based on "similarities" in the pictures. When Lai Kuanlin posted a picture of him at a cat cafe back in April, the former fansite owner said he actually went with his girlfriend as she had posted a similar picture. She also claimed he stopped posting pictures from his daily life after that because he was afraid people would go to that cafe and asked who was with him at the time.
Aaron Yan and Lai Kuanlin Show Brotherly Love to Wu Zun
This former fan says she gifted him a hat on his birthday. She really loved the design of the hat and had bought out the last two left in the world, which she confirmed with the official store. After finding out about the rumored girlfriend from the former fansite, she discovered Lai Kuanlin gifted the hat to this girl, which left her heartbroken and decided to quit stanning him. She mentioned having to restrict her lifestyle in order to save money to buy the hat. She said the money she spent on him was enough to build a Hope Primary School.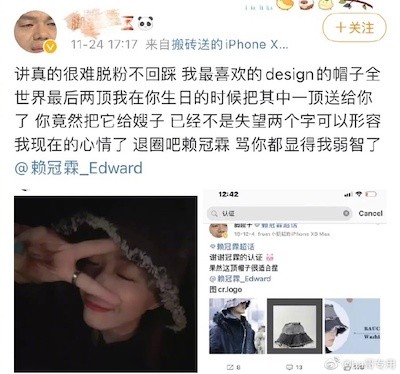 Lai Kuanlin's camp issued a statement apologizing for his "improper behavior that had harmful impact to society". They said Lai Kuanlin has already taken the initiative with the local law enforcements where the spitting took place for relevant education and follow up. As for the rumors circulating about his private life, his team denied the validity of the claims and said they are false.
Lai Kuanlin followed up with a handwritten apology letter after the follow up rumors about his personal life. He wrote:
"Hello everyone, I am Lai Kuanlin. In order to reflect myself better, I will use proper punctuation in this article.

I deeply apologize for everything that happened today, which created scars for the groups of people who love me. I should also demand to have high standards for myself for areas where it can't be seen. For committing such inappropriate behavior is where I need to improve on. I will keep this in mind and will repent. I want to say sorry here to all the fans who love me and my family.
As for my personal life, if there is good news, I will definitely tell everyone at once. However, at this moment, I still want to focus on my career and work hard and hustle.
I will reflect well on everything that happened today."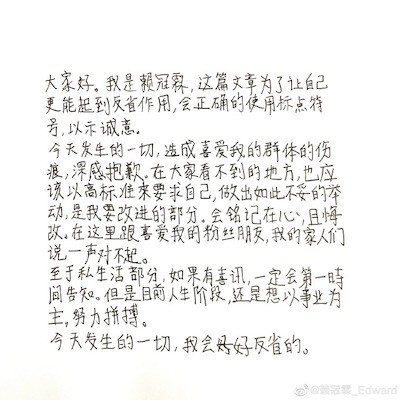 Netizens were ruthless with his apology letter with some correcting his grammatical, punctuation, and character stroke mistakes. Some netizens pointed out his use of "good news" (喜讯) was misused as it's typically used for marriage and pregnancy announcements. The comments from his apology post ranged from: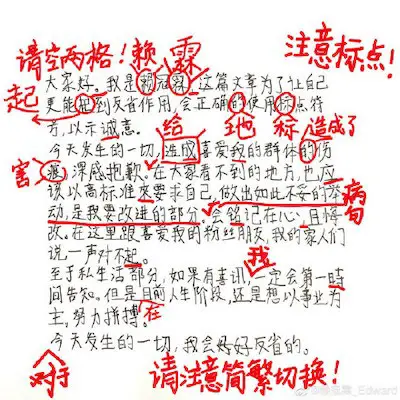 "It's best you go to school."
"What good news? Had a son?"
"Lai Kuanlin, do you still want your fans? The fans who were worried and cried for you in the beginning of the year look like jokes now. Your so-called difficulties is hugging your girlfriend, right? Your previous statements were probably also for her. Did you always have her by your side? It seems like there traces all along. I was so naive to think that you were just too shy to express your love for fans. It turns out you really hate us. It doesn't matter. The freedom you've yearned for has begun. Congratulations."
"Do you know how many [fans] left today? Do you know those who left today are fans who have followed you for so many years? Can you wake up? Are you worthy of us? I am the same age as you. I've liked you since high school to college. You've always been the light in my life. Honestly speaking, I can accept anything. You don't have any sense of ambitions. I really don't know how to continue on. Cherish the fans who are still by your side. Regain your original intentions. This is my last blessing to you."
"So, the dating is real, just not getting married yet?
"I don't know anymore. I am giving up on you. I don't think you've placed your career at the top."
"What is that girl's relation to you? Can you speak clearly? Give fans an explanation!"