Huang Zitao (黄子韬) released a new song called "Moments" on November 30. The Chinese name of the song is "朋友圈" (lit. friend circle), which refers to the "Moments" function in the Chinese social messaging app, WeChat. The function lets users share updates with their friends/contact list. Luhan and Kris Wu also helped promote his song.
Huang Zitao Releases Emotional Song, "Don't Leave Me", Dedicated to His Parents
Huang Zitao Lashes Out at Keyboard Warriors Accusing Him of Clout Chasing with Recent Weibo Posts
In order to promote the song, Huang Zitao said he would share all the content from his "Moments" from 2013-2020 with everyone, including certain posts that were hidden from his own friends, after people listen to his song and transfer 0 yuan.
Netizens Think Huang Zitao's "Love Confession" was for Korean Singer, IU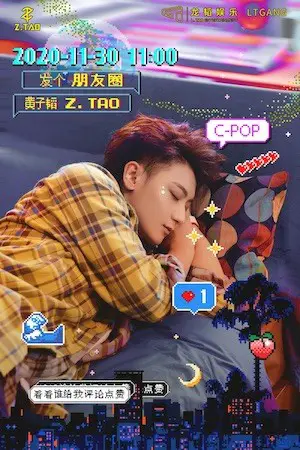 Huang Zitao Says He Has Finally Found "The Right Person" for Him
A few hours later, Huang Zitao kept his word and released an over 3 minute long compilation video of his "Moments". Huang Zitao said people won't be able to add his WeChat account and he would be deleting the video the next day and told people to cherish it. Sharp-eyed fans and netizens noticed there were some old posts of when he was still promoting as an EXO member still available.
Huang Zitao and Xu Yiyang Address Their Dating Rumors Together for the First Time
November 22nd post: "Last MAMA award, waited until the end and finally…"
November 26th post: "I will never forget this big award in my lifetime."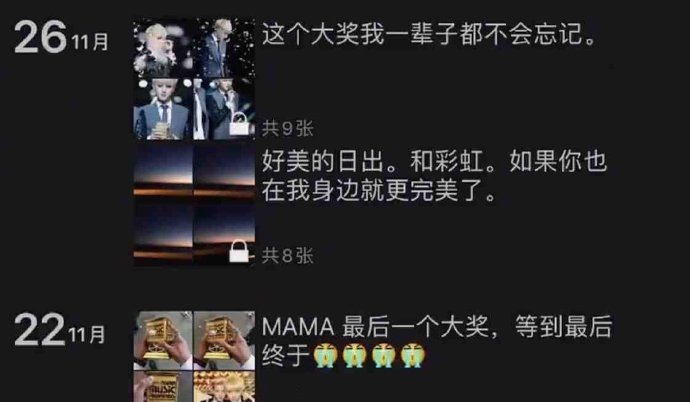 Huang Zitao Stopped Watching "CHUANG 2021" and "Youth With You 3" After One Episode
Top post is a picture with Luhan when they went to eat hotpot. He wrote, "Was forced to come here. Rather comply than respectfully decline. Hotpot, I actually love you."

"Missing the days when we promoted our songs, it was very tiring, but very enriching. I don't know from here on out whether it'll be like then. Will just really miss it. I don't want to leave…"

Lay Zhang Proudly Shows Off EXO to Other Contestants on "CZR II"
Huang Zitao was a member of EXO from 2012 to 2015 before returning to China to develop his career. There were quite a few posts during that period, including pictures with Luhan and Sehun and posts when he was promoting as an EXO member. The post from November 4, 2014 showed a picture of a sea of EXO-Ls (EXO fandom name) holding up the fandom color in the audience and he wrote, "EXO's ocean will keep getting brighter." However, all posts from around 2015 were locked for his own viewing only.
EXO's Sehun Cried Watching C-Drama, "Nothing But Thirty"