Huang Zitao (黄子韬) did another live stream on November 21 where he dropped some interesting information and piqued the interest of fans. At one point, he started talking about a girl from another country who he really loved. He said, "I really have a girl I love a lot. I really love. If she is willing, if she agrees to [be with me] tomorrow, then I will reveal her to the world tomorrow. I will immediately marry her right here. Really, I love this girl too much. I can watch her things nonstop all day, but not as a fan. I really think…she could be my girlfriend. But I can't see her."
Huang Zitao and Xu Yiyang Address Their Dating Rumors Together for the First Time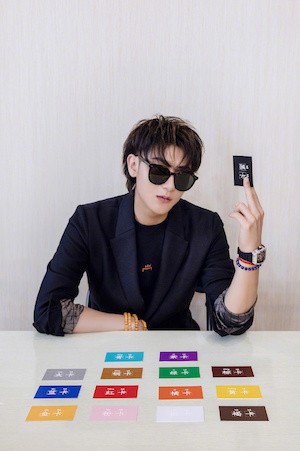 Huang Zitao Denies Love Confession for Anime Character was for "CHUANG 2020" Trainee, Xu Yiyang
Huang Zitao lets out a big sigh and continues saying, "We are not in the same country. I sent her DMs, but in the end, she didn't respond to me. So embarrassing! But I wouldn't look at my DMs on Instagram either. If it weren't for…I can't say too much. If I say too much, you guys will check it. It's overseas, but there's no way."
Huang Zitao Wouldn't Block His Company's Artists from Dating
Huang Zitao's Declaration in "No Longer a 0, I am 1" After Following Xu Yiyang on Weibo Creates Laughter Among Netizens
Fans were immediately leaving comments saying it was a Korean girl during the livestream. Netizens started speculating the girl Huang Zitao was talking about is Korean singer, IU, much to the chagrin of Huang Zitao's and IU's fans. Since he didn't mention which country the girl was from, many fans felt people were reaching and didn't want to be dragged into it.
Huang Zitao Dreams of Openly Dating in Public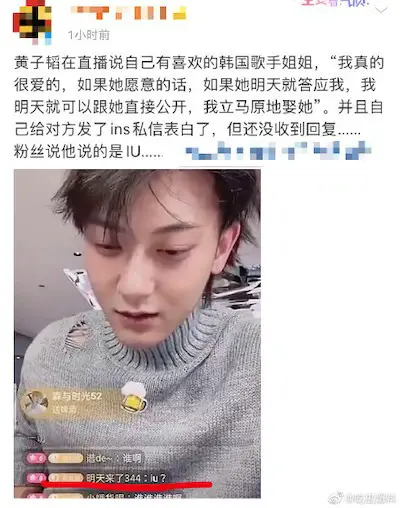 Huang Zitao Explains Why He Still Live Streams and Stays Happy in the Wake of His Father's Passing
However, later that night, Huang Zitao had uploaded a post with two pictures, one of himself and another of IU. He had edited the post two times and removed IU's picture in the final version.
Huang Zitao Dedicates Post to Cheer On Xu Xiyang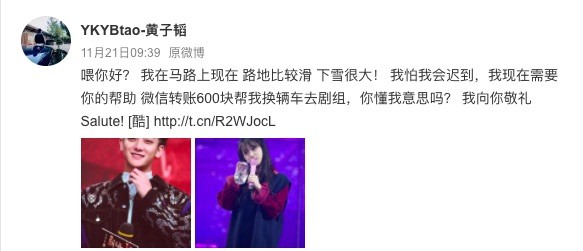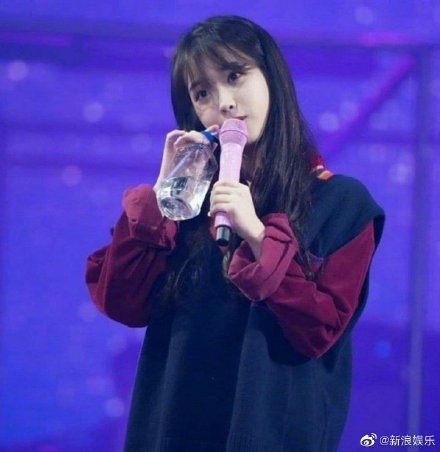 Huang Zitao Sparks Backlash for Promoting "CHUANG 2020" Trainee, Xu Yiyang, on His Social Media Accounts
The post read: "Hello? I am the big celebrity, Huang Zitao. I am on the road right now. The road is pretty slippery and it's snowing a lot! I'm afraid I will be late. I need your help right now in transferring 600 RMB from WeChat to help me change the car to get to the film crew. Do you understand me? I salute you! Salute!" This seemed to be a punchline that Huang Zitao had constantly used before.
Huang Zitao Pens Post Remembering His Late Father, Huang Zhongdong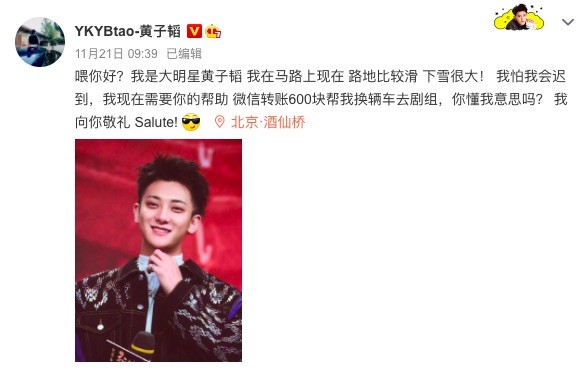 Huang Zitao Comes Face to Face with "Rap For Youth" Contestant, Ty, who Made Diss Track about Him 5 Years Ago
Aside from this, the clues point to IU as Huang Zitao only follows three people on Instagram, his two artists, Xu Yiyang and Shi Xitong, and Korean singer, IU.
Huang Zitao was Mistaken for a BTS Member
Huang Zitao made another post addressing fans saying he was merely just chasing a celebrity he liked. He wrote: "I am not chasing after a celebrity!!! This is a form of love. You guys don't understand…There are times you don't need to expose it." It seemed like he was trolling his fans even more.
Huang Zitao Stopped Watching "CHUANG 2021" and "Youth With You 3" After One Episode

Old EXO Posts Found in Huang Zitao's Reveal of His 7 Years Worth of WeChat "Moments"
He wrote in the comments, "Ah ah, looking at all your faces in the comments. Just looking at it, it seems like I've been delivering big blows and pouring cold water on you guys too much. Now the tables have turned and you guys are starting to ridicule me. This was the idea I understood. Having so much fun! Not saluting today, saluted already!" In a separate comment, he said, "Don't take what I teach you guys to come and tackle me! Even teaching me how to cut it off."
Huang Zitao Cherishes Memory of His Father with New Song, "You"

Huang Zitao Says He Has Finally Found "The Right Person" for Him
When someone responded, "Okay, celebrity chaser." He responded with a bunch of "???????". Despite Huang Zitao's comments saying he is not chasing after a celebrity, his fans are adamant in saying he is just a celebrity chaser.