The saga between Qu Chuxiao (屈楚萧) and a netizen claiming to be his girlfriend continues after she made more accusations against him on January 6. Last December, a netizen made allegations that she was being abused by Qu Chuxiao. She claims she suffered a miscarriage from abuse by the hands of Qu Chuxiao and his friends and had severe depression and suicidal tendencies. Qu Chuxiao issued a legal statement denying all the allegations made by this person. She subsequently deleted all the posts, retracted her statements made against Qu Chuxiao and apologized for making those allegations.
Qu Chuxiao Issues Legal Statement Denying Domestic Violence Accusations from Someone Claiming to be His Girlfriend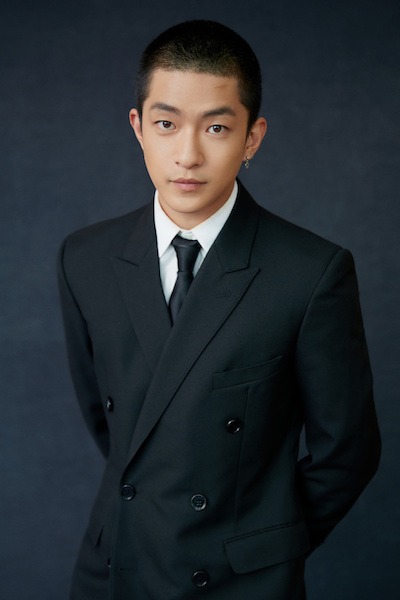 Netizen Claiming to be Qu Chuxiao's Girlfriend Retracts Domestic Violence Allegations and Apologizes
Everything seemed to come to an end until January 6 when this person released an alleged voice recording between her and who she claims is Qu Chuxiao's manager. She said she deleted all those posts because she was allegedly threatened by his manager that they could ruin her and her family. The woman in the recording claimed they could find her and her family's information and make it difficult for her in the future to find a job or even date. Qu Chuxiao's lawyer issued a statement denying the allegations once again and says this woman had blackmailed him for money unsuccessfully and claims the recording was maliciously edited.
Ex-Girlfriend Suspected of Lying about Her Exposé on Qu Chuxiao's Fetishes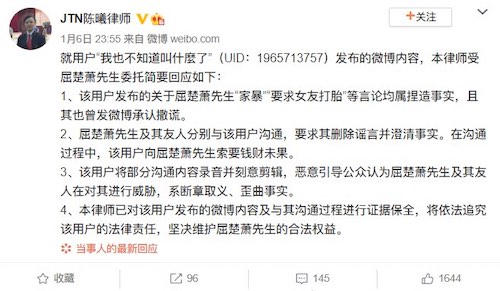 Actress, Wan Zilin, Hints at Getting Dumped After Rumored Boyfriend, Qu Chuxiao, Denies Dating Rumors
A day later, she named Qu Chuxiao's friend, Zhao Xiaokun (赵晓坤), who is also an actor, as the person who assaulted her last October after she and Qu Chuxiao had an argument. She claims Zhao Xiaokun hit her after Qu Chuxiao told her "She wants to die." and threatened her with a knife. She said Qu Chuxiao tried to stop him, but couldn't hold him back. When she tried to call the police, Qu Chuxiao allegedly stopped her saying it would destroy his career. She didn't call the police. She was about to call the police again the next day after not getting an apology from Zhao Xiaokun, but she said Qu Chuxiao stopped her again. Qu Chuxiao allegedly talked to Zhao Xiaokun, which resulted in his apology to her through WeChat. He allegedly said, "Sorry, drank too much and was impulsive."
Netizen Claiming to be Qu Chuxiao's Ex-Girlfriend Exposes His Alleged Fetishes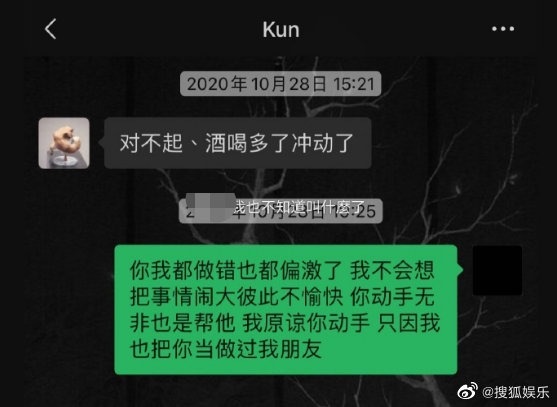 Qu Chuxiao Denies Domestic Abuse Allegations Once Again
A blogger reportedly contacted Zhao Xiaokun asking if these allegations were true. He responded, "The road to the entertainment industry is not easy. How could I destroy my own future?" When the blogger says he heard that the netizen told her about it herself and said there was a recording, Zhao Xiaokun said, "Just a newcomer. I don't have the ability to say anything." The blogger then asks, "Is this fake?" Zhao Xiaokun responds, "I'll have to endure everything. I have no other way."
On January 7, Qu Chuxiao's legal team issued a statement that they had already submitted prosecution materials to file a lawsuit with the courts against the netizen, surname He. They will no longer respond to the discussions about this matter. They also reserve the right to pursue legal action against He if she continues to infringe on his rights.