Dilraba (迪丽热巴) might be one of the celebrities with the most proposals from her fans. Last June, a crazed fan rushed on stage to propose to Dilraba during a live event. On January 7, a netizen filmed a man making a spectacle of himself in his marriage proposal to Dilraba who was not present. The man is standing in front of a Maserati with two guys holding a banner that says, "Dilraba, marry me. Yuwen Binbin (宇文斌斌) loves you." He is seen saying to the camera, "Dilraba I love you, I gift you a Lamborghini and a Ferrari."
Yang Yang and Dilraba Exchange Gifts to Celebrate Wrapping Up Filming for "You Are My Glory"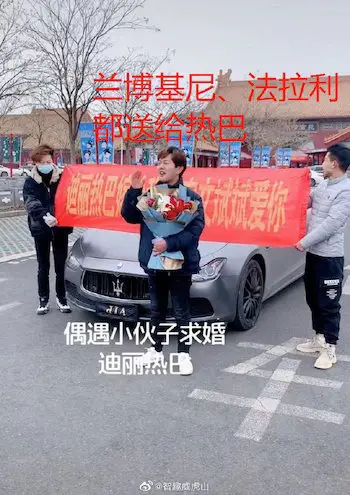 Fans Clarify Rumors Johnny Huang Jingyu Visited Dilraba on "You Are My Glory" Film Set
Afterwards, the man goes down on bended knee with a bouquet of flowers. The two guys in the back change the banner, which now says, "Drove myself to Xinjiang to propose to Dilraba." Netizens started searching up this guy, "Yuwen Binbin", and found out he is an internet celebrity with over 1 million followers on a social media app. His profile shows that he is an actor who has participated in three series, "The King's Woman", "The Journey of Flower", and "Fu Yao". He has reportedly made countless proposals to Dilraba in the past 9 months and once camped out where she was filming for over 10 days.
Dilraba Corrects Host After Complimenting Her Beauty in Pictures and Videos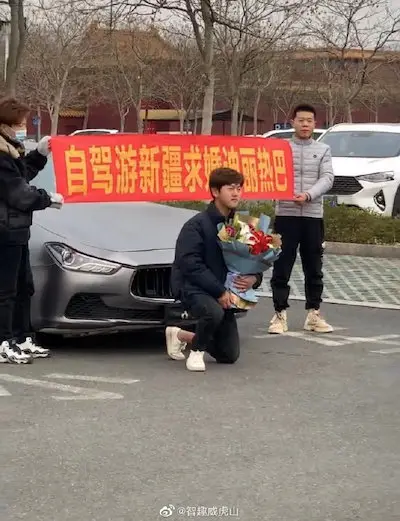 Dilraba Doesn't Think She is That Beautiful
He has pulled similar stunts in the past with different luxury cars. Back in 2017, he showed up to Hengdian in a Bentley with human props holding signs again and attempted to propose to Dilraba. He wore a shirt that read, "Yuwen Binbin loves Raba". He once filmed a clip and said to the camera saying, "A lot of people say I am not good enough for Dilraba. I believe love still exists in this world." Before amassing over 1 million followers, his profile once said, "Once proposed to a celebrity and the media from the whole world reported about it."
Yang Yang was Asked about Filming Kiss Scenes with Dilraba and Working with Her on "You Are My Glory"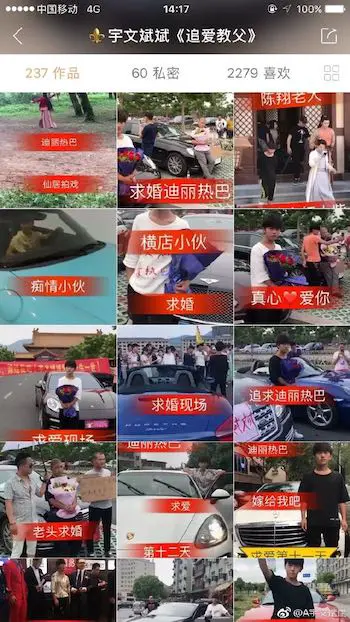 Dilraba Says Her Selfies Can't Be Shown Because They Don't "Look Good"
Even though these are supposed to be proposals, Dilraba is never seen in the videos. It seems like "Yuwen Binbin" is using Dilraba for publicity stunts, which may have worked since he went from having over 16,000 thousand followers to over a million.