After Kris Wu's (吴亦凡) arrest was officially authorized by the Beijing Chaoyang District People's Procuratorate on August 16, Du Meizhu (都美竹) liked the official announcement and shared her joy and gratitude for the Beijing Police in her fans group chat. On the same day, Du Meizhu's fake cousin, Li En (李恩), revealed her Weibo posting functions had been restored after she was blocked on August 2.
Li En was reportedly blocked for her comments and posts about the scandal and continuing to pose as Du Meizhu's cousin when she had repeatedly asked her to stop. On August 3, Li En shared a bunch of notes on another social media platform admitting she wasn't Du Meizhu's cousin and revealed she was getting attacked after Du Meizhu's interview with NetEase Entertainment. Li En claims she helped Du Meizhu to expose Kris Wu and contact other people to join the effort only after she approached her one night. She also said Du Meizhu referred her as her cousin in earlier posts so she wasn't just impersonating to be her cousin for clout.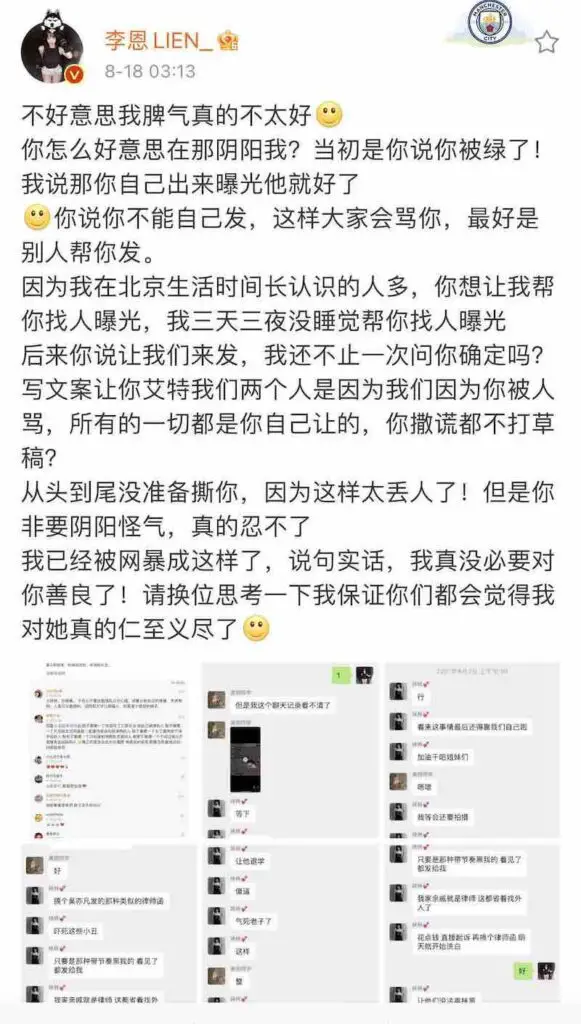 On August 17, Li En re-posted those screenshots from August 3 and said she was attacked by Du Meizhu's fans for half a month, but she didn't appear once during that time to help her. She revealed Du Meizhu blocked her on Douyin and deleted her replies to Li En after her August 3 posts. On August 8, Li En says she received screenshots of people posting ugly pictures in the comments of Du Meizhu's Weibo posts. She replied that those pictures were of Li En. When Li En contacted her, she said Du Meizhu blocked her on Weibo. In order to prove her innocence, Li En also said she no longer needed to hide some posts that Du Meizhu asked her to hide.
Li En said Du Meizhu only showed up after she published the August 3 posts. Du Meizhu reportedly said to her, "Didn't you delete it already? Lying b*tch".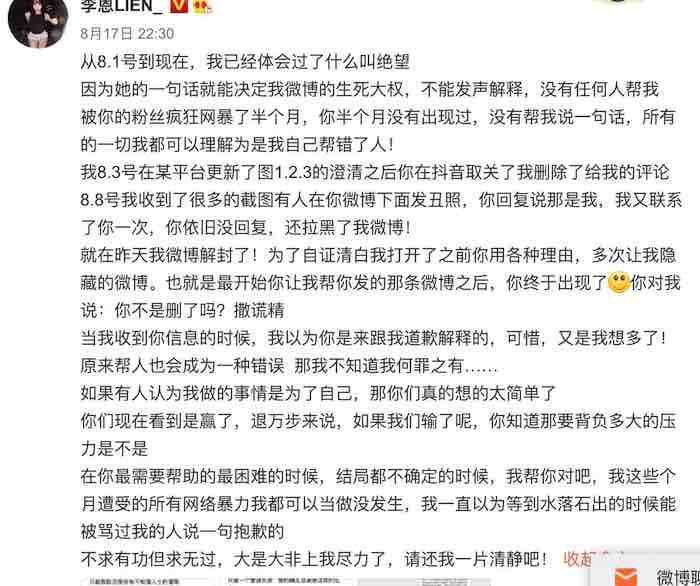 Li En continued posting on August 18. This time, she said, "You have the nerve to be two faced to me? You were the one who said you were being cheated on at the time! I told you to come forward and expose him. You said you couldn't publish it yourself. Everyone would yell at you. It would be best if someone else posted it." Li En explained Du Meizhu wanted her to help find someone expose him because she knew a lot more people in Beijing. Li said she spent 3 whole days and nights to look for people. Du Meizhu told them to post it (June 2 posts accusing Kris Wu of cheating on Du Meizhu). She tagged Li En and her other friend, Liu Meili, on her June 3 post because they were getting attacked because of Du Meizhu. Li En claims she didn't plan on ripping Du Meizhu apart, but because of her two-faced attitude and attacks from netizens, she said there is no need for her to be kind.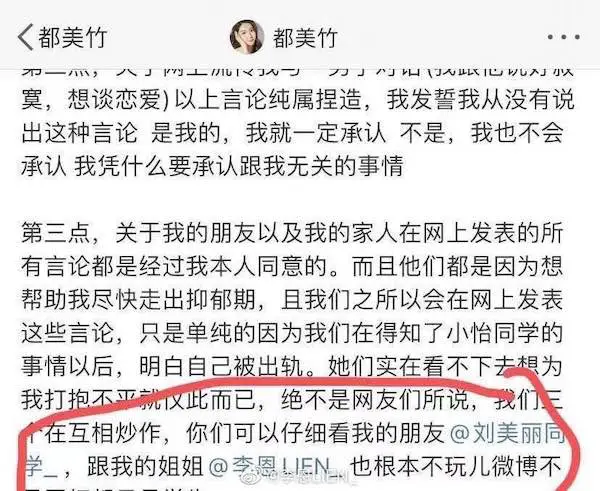 Li En showed a screenshot of Du Meizhu responding to a netizen who told her to look at Li En's post. Du Meizhu claimed Li En only met her twice and kept trying to gain clout by saying she was very close with her and would do anything for publicity. She also said she didn't need someone (Li En) that kept using her to find resources and revealed her weight on a livestream without her approval.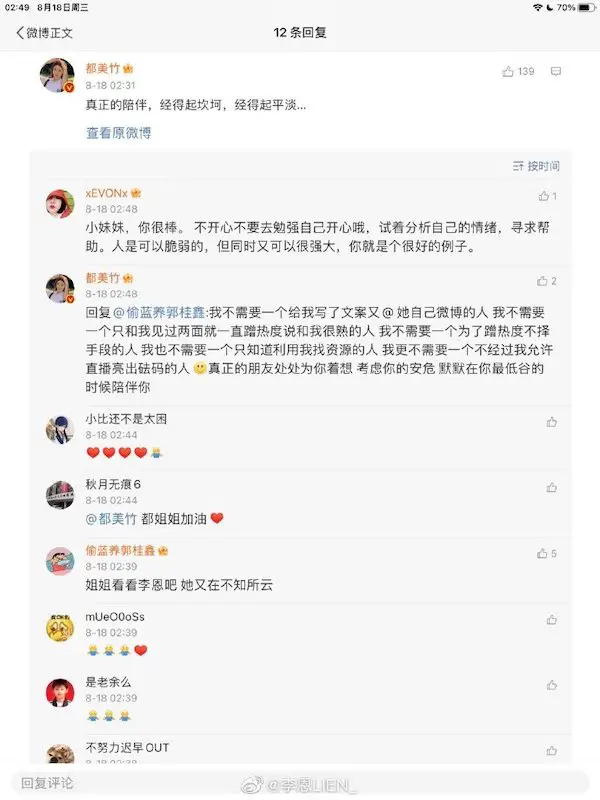 Li En also showed a chat group with Du Meizhu, Liu Meili, and herself talking on June 1, a day before they released the posts about Du Meizhu exposing her relationship with Kris Wu and how he stopped contacting her in April because he was cheating on her. The chat allegedly shows the three of them talking about getting ready to publish the posts to expose Kris Wu. At one point, Du Meizhu tells them to take screenshots of the accounts attacking them. She said she would get her relative who is a lawyer to issue a lawyer's letter similar to the one Kris Wu issued, sue them directly, and start the whitewashing process.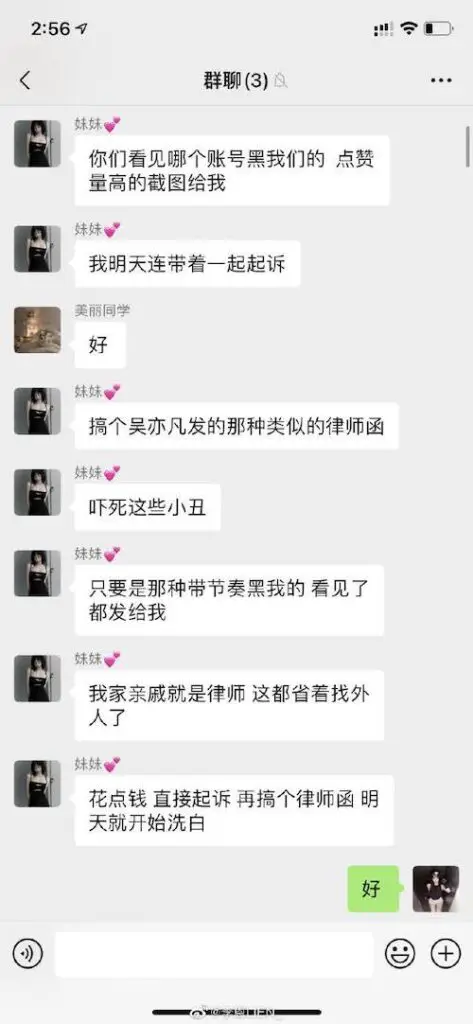 At 11:36 am on the same day, Li En posted again and this time it was in response to Du Meizhu posting in her fans group chat shading her again. Li En wrote, "No need to be so bothersome. I'm not as green tea as you, I will post it myself. I am just a little stupid and a little foolish. I am not like you who knows how to put on a persona. Helping you is the most regretful thing in my life, nothing comes close!"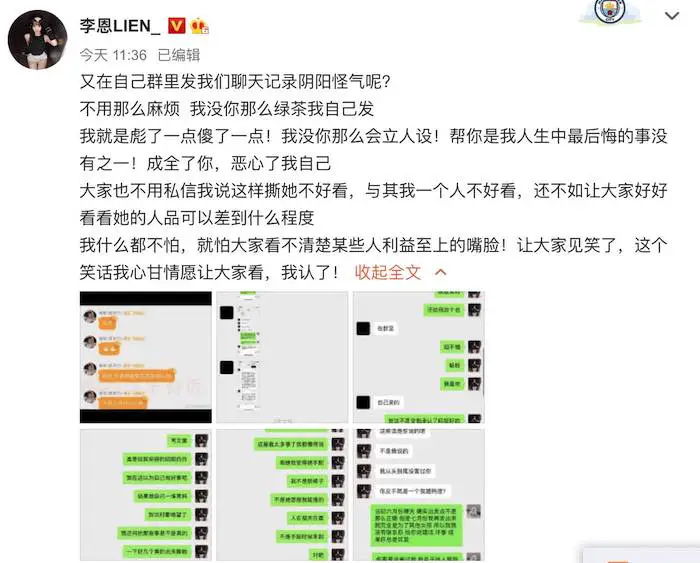 In the fans group chat, Du Meizhu said: "Haha, everyone, don't let your mood be affected by dirty things.", seemingly responding to Li En's posts.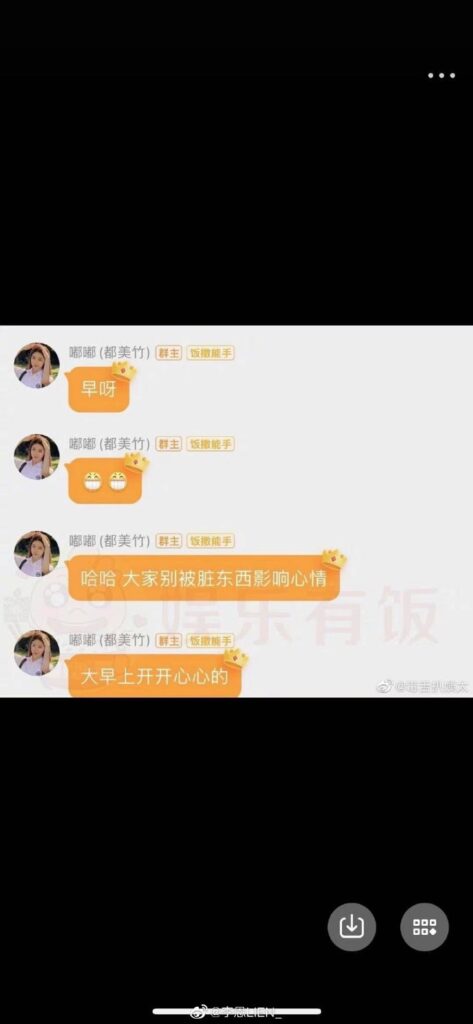 Li En showed messages someone sent her about Du Meizhu talking bad about her. She also said when those men released "dirt" about Du Meizhu's past in the midst of her exposing Kris Wu, she already had a boyfriend at the time. However, Li En doesn't explain the relevance of Du Meizhu having a boyfriend.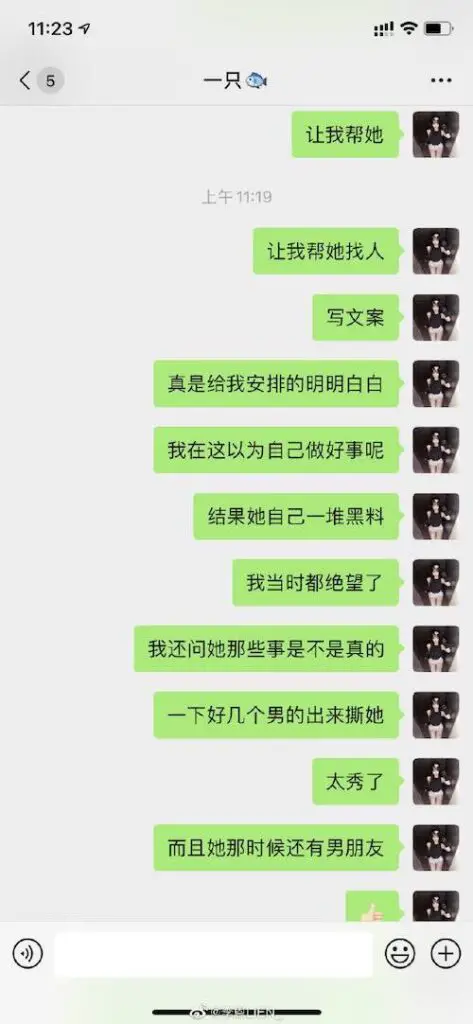 One of the screenshots show a conversation between Li En and a person named, "Li Ting", who is believed to be Du Meizhu. Li En confronts Du Meizhu saying some words were said by Du Meizhu, not her, then questioned how Du Meizhu can say she was trying to gain clout. "Li Ting" said the motive for releasing the June posts were not exactly proper, but said the July posts were done for the other girls. She didn't contact Li En as she was afraid she would say the wrong thing and ruin everything, "In the end, you played me. If you don't harm me, I wouldn't need to find someone (NetEase Entertainment) to help me clarify." Li En responded to her that they discussed the whole plan together, but the chat ends there.