Ruco Chan (陳展鵬) and Phoebe Sin (單文柔) attended the "2019 TVB Sales Presentation" today.  The reporters keep asking Phoebe Sin the same questions like if there has been any change since getting married.  Phoebe Sin gives the same answer and says, "There hasn't been much change.  Sometimes it still feels like we're boyfriend and girlfriend.  I forget I am married sometimes."
Crystal Fung and Rosina Lam Fight for Ruco Chan in New Series
Nancy Wu Denies Turning Down Series Because Ruco Chan is the Male Lead
Will "Justice Bao: The First Year" Be Nancy Wu's Last TVB Series?
When the reporters ask about Nancy Wu (胡定欣), Ruco Chan quickly jumps in to answer the questions.  The reporters mention there didn't seem to be any interaction between Nancy Wu and Ruco Chan.  He responds, "There's so many colleagues, it's hard to have interaction.   We're all doing our own thing."  Ruco says they did talk about what they were doing recently.  He also says, "I didn't have much interaction with Shaun Tam either."
Ruco Chan and Phoebe Sin Announce Pregnancy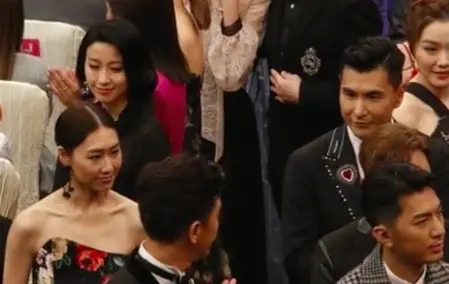 Reporters Won't Leave Nancy Wu Alone Regarding Ruco Chan
Phoebe Sin added, "I saw Nancy Wu backstage before.  She was very passionate and said hi to me.  She had already congratulated me before."  Ruco Chan quickly interrupts Phoebe Sin and says, "The audience understands.  Don't need to respond so much."  It seems Ruco Chan didn't want Phoebe Sin to reveal too much.  
Nancy Wu Explains Why She Wasn't Present at Ruco Chan and Phoebe Sin's Wedding, Addresses Discord Rumors with Alice Chan
Reporters also mentioned how Nancy Wu and Ruco Chan were standing close to each other and didn't have any interaction.  Nancy Wu, who was being interviewed with Alice Chan (陳煒) at the sales presentation, says, "This is not a question.  I don't know how to answer.  I did see him and greeted him like other colleagues.  I already congratulated him on his marriage previously.  Actually, you guys don't need to ask this every time you see me."  A reporter tells her to quickly bring her significant other out, which prompts Nancy Wu to hold Alice Chan's hand. 
Nancy Wu Quits "Forensic Heroes IV" Amidst Rumors of Discord with Alice Chan
Credit: hk.on.cc (1, 2, 3), TVBUSA Official Youtube