Renowned Chinese pianist, Lang Lang (郎朗), got married last year to his equally talented wife, Gina Alice Redlinger. Since the two got married, they have been raking in the cash as a power couple in China. The two have been going on a lot of variety shows as a couple. Gina Alice, referred to as "吉娜" (Gina) in China, gained a lot of attention for her tiny waist when she wore a qipao on a show. She showed off her tiny waist once again on the most recent episode of "Day Day Up" (天天向上).
Lang Lang Marries 24 Year Old Pianist in France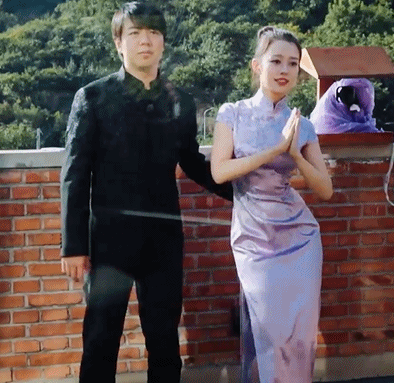 Cast and Air Date Announced for "Viva La Romance" Season 4
Gina Alice was invited as a guest along with a few other foreign wives on this week's episode of "Day Day Up". Known for her tiny waist, Gina Alice demonstrated wrapping her waist with the opposite arm, which she did without a problem. Out of the other hosts, Wang Yibo was the only one who could do it.
Watch the clip here: https://www.weibo.com/tv/v/4470193997676584?fid=1034:4470193997676584
"Day Day Up Brothers" Share Their Thoughts on Wang Yibo Achieving Success at a Young Age
Lang Lang and Gina Alice Redlinger Expecting Their First Child
The show also took the opportunity to have Gina Alice measure her waist. Before measuring it, Gina Alice makes everyone feel bad by saying she drank a cup of milk tea earlier that day and that she's afraid to measure her waist. After finding out her waist was only 53 cm (~21 in), everyone is in shock.
Wang Han Reacts to Jin Xing Saying She Wouldn't Know Wang Yibo Had it Not Been for "Day Day Up"
Compliments on Lang Lang's Wife, Gina Alice Redlinger's Pregnant Body Sparks Backlash
Wang Han (汪涵), took the liberty of measuring the other "Day Day Up" brothers' heads. The first victim was Oscar Qian (钱枫), whose head measured at 60 cm (~24 in) and the biggest among the group. Wang Yibo (王一博), Da Zhang Wei (大张伟), and Wang Han's heads all measured at 58 cm (~23 in) wide.
Watch the clip here: https://www.weibo.com/tv/v/Its3y9VCn?fid=1034:4470192848175129
Lang Lang Tells Public Not to Focus on Gina Alice's Pregnant Figure Anymore