After a tearful break up with her doctor boyfriend, Martin, of four years, TVB actress, Crystal Fung (馮盈盈), was rumored to be dating her "Young And Restless" (#後生仔傾吓偈) co-host, Leonard Cheng (鄭衍峰), a Canadian native. Crystal Fung had even once mentioned in an interview that Leonard Cheng fit all her criteria in an ideal partner. The two were reportedly spotted together by the media on New Year's Eve, but have never formally addressed their relationship.
Crystal Fung and Doctor Boyfriend Split Up
Jeannie Chan is Afraid of Dating Second Generation Wealthy Heirs Now
However, Crystal Fung and Kaman Kong (江嘉敏) were recently spotted on a yacht party with friends, including second gen heir to the Ho family, Arnaldo Ho (何猷亨). Dating rumors started circulating between the two. Arnaldo Ho was once rumored to be dating TVB actress, Moon Lau. He also dated TVB actress, Jeannie Chan, for about a half a year.
Former Miss Hong Kong Crystal Fung Says "Girls Marrying into Wealth are Public Restrooms"
Crystal Fung and Rosina Lam Fight for Ruco Chan in New Series
Crystal Fung spoke with Oriental Daily News about dating Arnaldo Ho. She said, "I must clarify that we are absolutely not in the process of developing further. Kaman Kong was actually also there that day. Arnaldo and I met through Kaman Kong's introduction. We are purely just friends. No need to think too much." (Are you guys in the process of getting to know each other?) "Absolutely not. In the pictures, I didn't even look at him, it's just the angle. Everyone guessed wrong."
Crystal Fung Clears the Air with Mat Yeung, Wants to Work with Lisa Ch'ng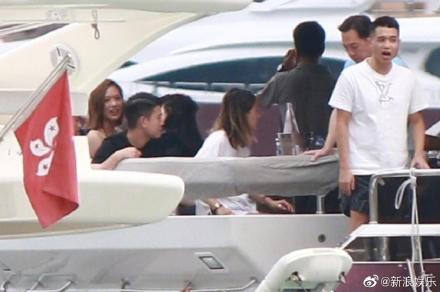 Jeannie Chan and Ex-Boyfriend, Arnaldo Ho, Fuel Reconciliation Rumors After Being Spotted Together
As for Leonard Cheng, he spoke with Oriental Daily News as well and revealed Crystal Fung had already "reported" to him ahead of time. He said, "Yes, Crystal already told me Kaman Kong had asked her to go on a boat trip. Afterwards, Crystal mentioned Kaman Kong introduced Arnaldo Ho and other friends to her on the boat trip. It's very normal to go in the water in the summer. I am friends with Crystal Fung."
Ali Lee and Crystal Fung to Fight Over FAMA's Luk Wing in his First Time Being Male Lead in "AI Rhapsody"
Rumored Boyfriend, Leonard Cheng, Says Crystal Fung's Derriere Needs More Work
Crystal Fung also clarified the rumors once again in an IG story of her wake surfing from that day. She wrote, "We are just friends. #notsilentlyapproving #itsmoresodenying Please don't think too much. Don't want to add anymore gossip rumors."
Crystal Fung Reveals Secrets about TVB Artists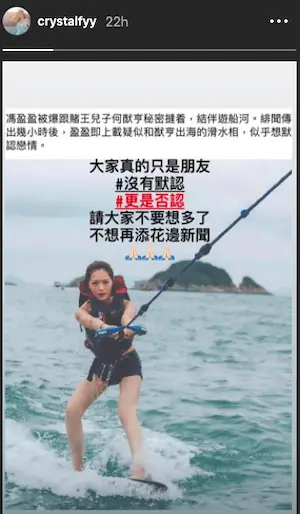 Credit: hk.on.cc, Crystal Fung IG