Benjamin Yuen (袁偉豪) and Bowie Cheung (張寶兒) have been dating since 2017. Since then, there have been countless rumors and speculations of the two heading for the alter, especially after the couple bought property together in May. At the time, they denied it was for their wedding abode and said it was purely for investment purposes. Four months later, Benjamin Yuen and Bowie Cheung reveal they got engaged last year!
Are Wedding Bells in the Air for Benjamin Yuen and Bowie Cheung After Buying Multi-Million Dollar Property Together?
Niki Chow Asks Benjamin Yuen Why He Didn't Pursue Her Twenty Years Ago
On September 17, Benjamin Yuen and Bowie Cheung uploaded a video of the proposal, which actually took place exactly a year ago from today. The couple were vacationing in Niagara Falls, Canada. Bowie Cheung explains Benjamin Yuen woke up at 6 AM for an early run. She decided to join him as she was awake with jet lag. Bowie Cheung saw Benjamin Yuen put down his camera on the ground thinking he was going to film them stretching for their workout. When she saw him kneel, her initial reaction was that he wanted to do leg presses and film their couple workout, but it was actually him proposing.
Benjamin Yuen Ready to Propose, but Bowie Cheung is Focused on Her Career
Benjamin Yuen Always Angers Bowie Cheung When He Mentions This, Also Reveals Her Nickname
As for Benjamin Yuen's account of the proposal, he explains there were no friends present, no lavish venue or elaborate planning. He said, "When you thought we were taking a picture to leave a memory, I made a major decision in my life. Without any planned dialogue, just a simple, 'Will you marry me? Be my wife!'."
Benjamin Yuen was Happy about Tony Hung and Natalie Tong's Break Up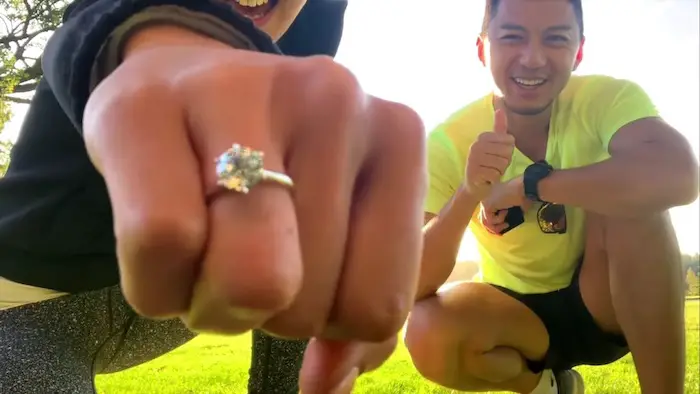 Shiga Lin Has to Seduce Benjamin Yuen in "Line Walker 3"
Bowie Cheung spoke with Oriental Daily News and when asked if she was satisfied with Benjamin Yuen's proposal, she said, "I really didn't rehearse this scene in my mind, but when it really happened at the time, I couldn't control it, including my reaction and emotions. I didn't know what to do, but to me, this arrangement was really, really, really good. It was just the two of us, in our own world, without any outside pressure, not pretentious. Also, there was no planning. When he got up for his morning run, he naturally did that thing. The weather was really nice that day. The environment was very comfortable. It's like nature was our witness."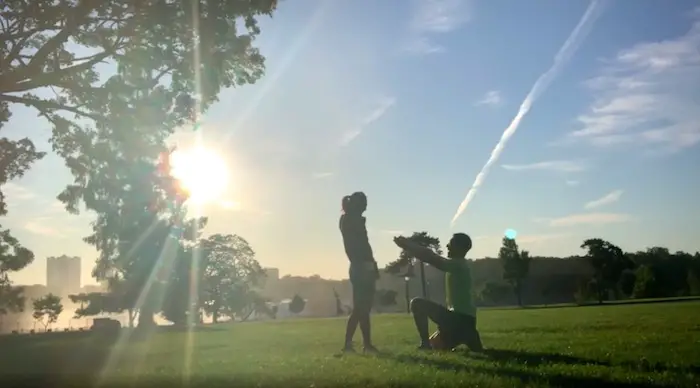 Benjamin Yuen joined TVB in 2007 after winning the Mr. Hong Kong competition. He dated theatre actress, Cissa Ma (馬沛詩), from 2010 to 2013. Afterwards, he started dating Jennifer Shum (岑杏賢) in 2013, who was Miss Photogenic at the 2012 Miss Hong Kong pageant. Benjamin Yuen had once revealed that Jennifer Shum was his ideal marriage partner, but the relationship ended in November 2016 with Jennifer Shum citing she felt insecure in the relationship. In August 2017, he revealed he was dating Bowie Cheung, who was the 2016 Miss Congeniality. Finally, on September 17, 2019, the then 38 year old proposed to Bowie Cheung, who was 27 at the time.