Many celebrities attended Alien Huang's (黃鴻升) public viewing at the mourning hall since September 19. Some stayed for hours, including Alien Huang's girlfriend, Qun, who stayed for over 10 hours and had to be escorted away. What came as a surprise was when Show Luo (羅志祥) uploaded an IG story in the wee hours of September 20, expressing he had went to the public viewing.
Taiwanese Artist, Alien Huang, Passes Away at 36
Rainie Yang Pens Post Mourning Death of First Love, Alien Huang
On September 20, Show Luo wrote, "I came to see you. I said a lot of words to you. I hope you can hear it. Have a good journey." When news of Alien Huang's death was reported, Show Luo had also uploaded an IG story saying, "Why would this happen?". As Show Luo reportedly went to the viewing late at night, so there were no pictures of his attendance.
Alien Huang's Cause of Death Determined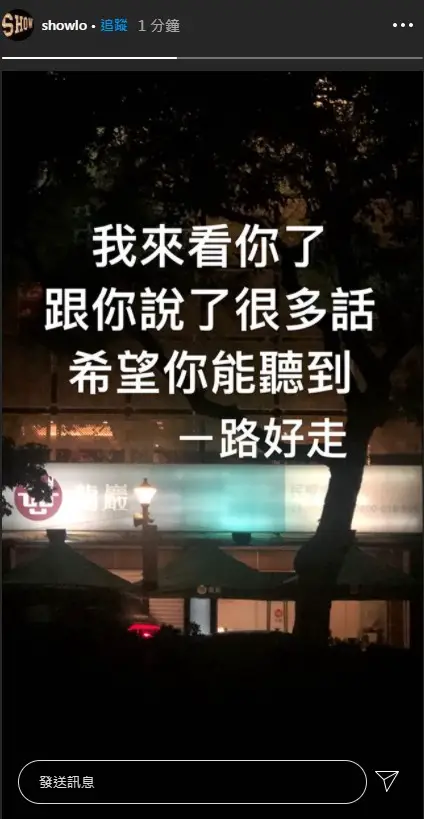 Alien Huang's Girlfriend, Qun, Reveals Something He Said to Her That Sounded Like He Foreshadowed His Death
There had been rumors Alien Huang and Show Luo had a falling out ever since Alien Huang left "100% Entertainment" (娛樂百分百) in 2016. While the both of them denied any rumors they were at odds, after Alien Huang left the show, their interactions had substantially decreased. The two used to be really good friends and even hung out together. When Show Luo and Linda Chien won the best hosts award at the Golden Bell awards, Alien Huang congratulated them on Facebook.
Show Luo's Rumored Side Chick, Linda "Butterfly-jiejie" Chien, Apologizes to Grace Chow + Prior Signs Hinting at Their DL Relationship
Show Luo Publicly Apologizes to Grace Chow for Damage Control While She Exposes His Celebrity Side Chick
A netizen had shared an encounter he had with Alien Huang in the past. He had once drank with Alien Huang because of work relations. He daringly asked Alien Huang, "Is it true you and Show had a falling out? Or is it just hype for publicity?" According to the netizen, he said Alien Huang responded to him, "It was real, but it's okay now." The netizen also revealed Alien Huang didn't like using these topics to create rumors and even thanked Show Luo for his support.
Grace Chow Calls Out Show Luo's Infidelity as Reason for Break Up