After being exposed for being a cheater and holding orgy parties by his ex-girlfriend, Grace Chow (周揚青), Show Luo (羅志祥) is trying to do major damage control. Since Grace Chow called him out for being a scumbag, plenty of rumors surfaced about Show Luo's past relationships. There was a rumor that he already had a new internet celebrity girlfriend. All this completely damaged Show Luo's filial image that he has tried to uphold throughout his career.
Show Luo's Rumored Side Chick, Linda "Butterfly-jiejie" Chien, Apologizes to Grace Chow + Prior Signs Hinting at Their DL Relationship
In his first response to Grace Chow, Show Luo's message was short and didn't admit guilt or express his apologies. After the break up news went viral, there are rumors he is being dropped from Tencent's girl group survival show, "CHUANG 2020" (创造营2020) also known as "Produce Camp 2020", and "Go Fighting!" (极限挑战), due to public outcry for him to step down. It's reported both Weibo accounts have deleted most of their posts related to Show Luo.
Grace Chow Calls Out Show Luo's Infidelity as Reason for Break Up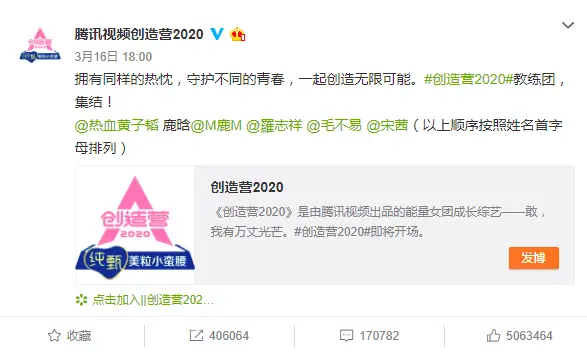 Show Luo Partied with Busty Females Amidst Break Up Rumors with Girlfriend, Grace Chow
This might've prompted Show Luo to issue a public apology at around 5am on April 24, addressed to Grace Chow. He posted this on Instagram and Weibo.
Show Luo Wants to Collaborate with Super Junior's Lee Teuk
Show Luo's New MV, "No Joke," Featuring Kinjaz, Reaches 2 Million Views After 48 Hours
In a much more sincere tone, he wrote: "In regards to this relationship, I must sincerely apologize to Ms. @gracechowwwww. Sorry, I was wrong! In these 9 years, you sacrificed it all for me. It was me who didn't know how to cherish this relationship. Didn't know how to cherish a person who loved me the most. I lied to you, hurt you, made you sad, time after time with my wishful thinking and immaturity. Indeed, I did commit a lot of mistakes. I must also apologize to all the women I cheated on and disrespected before. Sorry, I will take responsibility for all the consequences."
Celebrity Manager Alleges Show Luo Blacklisted His Artist After She Rejected His Advances + Comments about Jay Chou's Singing
While on the other hand, Grace Chow uploaded the same letter she wrote on her IG Stories and tagged Show Luo. She also wrote, "I finally don't have to type in traditional Chinese for you to understand anymore." In another IG story, she wrote, "I can finally say out loud, I AM SINGLE AND AVAILABLE".
Show Luo Gets Raw on Past Relationship with Grace Chow and Apologizes Once Again on "I Love You Day"
Taiwanese Artist, Alien Huang, Passes Away at 36
Someone had left a comment on her latest post seriously urging her to get a STD test. She responded back, "I immediately went to get tested after the break up. I don't have any."
Show Luo Attended Alien Huang's Public Viewing, Shattering Years Long Rumors of Discord
In a separate response to a netizen asking if she was referring to Linda Chien (愷樂) as the female artist in Show Luo's company, she said, "Are you referring to Butterfly (蝴蝶) to go get tested?". Butterfly was Linda Chien's old stage name.
It doesn't stop there. Another netizen asked who Butterfly was and asked for her IG account. Grace Chow responded back, "I'll help you." and tagged Butterfly's IG account.
It's no wonder she was posting a bunch of butterfly pictures lately…
It seems her latest clothing collection is also butterfly-themed.
Here is Butterfly/Linda Chien with Show Luo on their Taiwanese variety show, "100% Entertainment" (娛樂百分百).