Boy'z member, Steven Cheung (張致恒) surprised the industry yesterday when he announced he was getting married to his 28 year old girlfriend, who happens to be his fan. He also announced at the same time he was already a father to his son who had his 100 day old banquet last month. Steven Cheung has been notorious for his love life and it's no secret that he has cheated on his ex-girlfriends before. However, it seems he might not have broken off things with one of his ex-girlfriends, April Leung (梁皓恩), who was completely blindsided by his marriage news and claims they saw each other a few days ago.
Steven Cheung Reportedly Working as a Chef to Make Ends Meet
Steven Cheung's Wife Reveals Why She Looked Unhappy on Their Wedding Day
April Leung Shares Her Side of the Story on Relationship with Steven Cheung
Steven Cheung Addresses Rumors His Fiancee Used Their Baby to Threaten Him
Once the news broke out, April Leung left cryptic messages that exuded to suicidal thoughts on her Instagram. She even posted a picture of what looks to be Steven Cheung's back saying, "What is happening?" with the hashtag "I'm afraid I can't live pass tonight." According to Oriental Daily News, a few of her friends are with her now and seems to be stable. Her friends stayed with her overnight, but they claim April Leung wanted to return to her and Steven Cheung's love nest. When Oriental Daily News reached out to April Leung about Steven Cheung's sudden marriage and baby announcements, she replied back, "We were still together two days ago. I also want to know what happened. Are you guys able to find him? The problem is I still haven't been able to find him and don't know what's going on! It's so scary!"
Steven Cheung Issues Apology and Vows to Be a Better Man
Steven Cheung Borrowed Money from Kenny Kwan and Yumiko Cheng to Repay Ex-Girlfriends
April Leung also revealed she and Steven Cheng were broken up this year, but got back together recently. She expressed, "The last time we saw each other was the day before yesterday in the early morning. After he left for Thailand to film with Kenny, we still contacted each other through texts." (Do you know he already had a baby with someone else? Do you know the woman?) "I completely don't know what's going on. I don't know her. I only found out today." (So Steven cheated behind your back?) "No matter how you see it, yes. We were still doing fine last year. All our friends knew." (How do you feel about Steven announcing his marriage and being a father?) "It's all too sudden. It's too chaotic, but still haven't contacted me. I really don't know what's going on. Truthfully, I still can't believe what I am seeing, absolutely unbelievable."
Steven Cheung was Still Clinging to Ex-Girlfriend #2, Moon, when His Baby was Born
Shortly after Steven Cheung posted a picture of his new family, April Leung posted an IG story with the hashtag: "I'm afraid I can't live pass tonight." She also left a comment on Steven Cheung's post saying, "What about me? Do you think you have something to say to me? How long do you want to avoid it? You can't even make one phone call to me? All your clothes and shoes are still at my place. What about all the messages you said about loving me? There were still some from a few days ago. You still owe me a lot of money, right? If you don't call me, see you at the hospital."
Another Ex-Girlfriend Spills the Tea on Steven Cheung Cheating on Her and How His Fiancee Threatened Him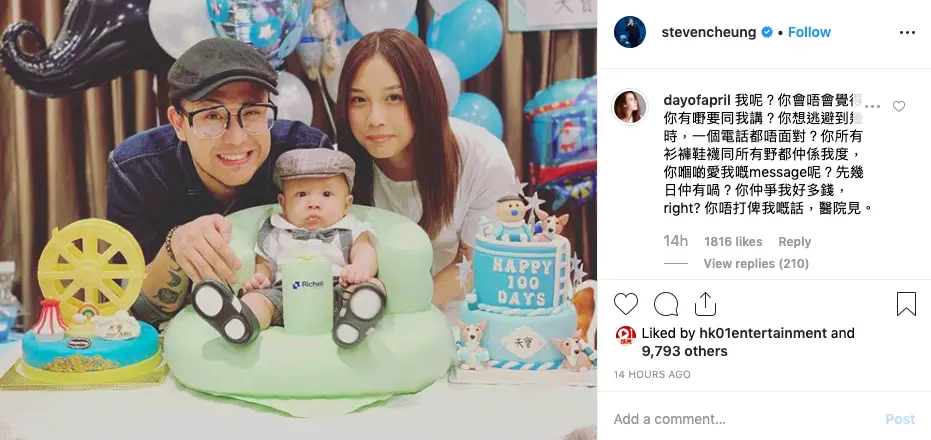 One netizen replied back to April Leung's comment saying tabloid magazines had pictures of Steven Cheung and April Leung together in April and now July he already has a baby and a fiancee.
Credit: hk.on.cc, Apple Daily HK (1, 2), Steven Cheung IG (1, 2), April Leung IG