Chinese idol group, TFBOYS, had their 6th anniversary concert in Shenzhen yesterday. All was going well until someone started shooting laser pointers at the members. Based on the amount of fan pictures shared, it seemed the perpetrator shot at Karry Wung Junkai (王俊凯) multiple times, with one really big pointer aimed near his eyes. Netizens suspect the perpetrator was primarily targeting Karry Wang Junkai.
Sasaeng Fan Suspected of Using Tracking Device to Follow TNT Member, Liu Yaowen
Karry Wang Junkai Holds Back Tears Talking about His Father's Sacrifices Before He Became a Celebrity
There is a post of a netizen who claimed she brought laser pointers to the concert. Her post said: "At the TFBoys concert. My laser pointer was stolen, so I bought a small one and brought it to the concert. Even though it wasn't as big as the previous one, but I can still manage to use it. If one of Wang Junkai's eye doesn't go blind, then I lose."
TFBOYS' Junior Label Mates, Typhoon Teens, Debut Again as Seven Member Group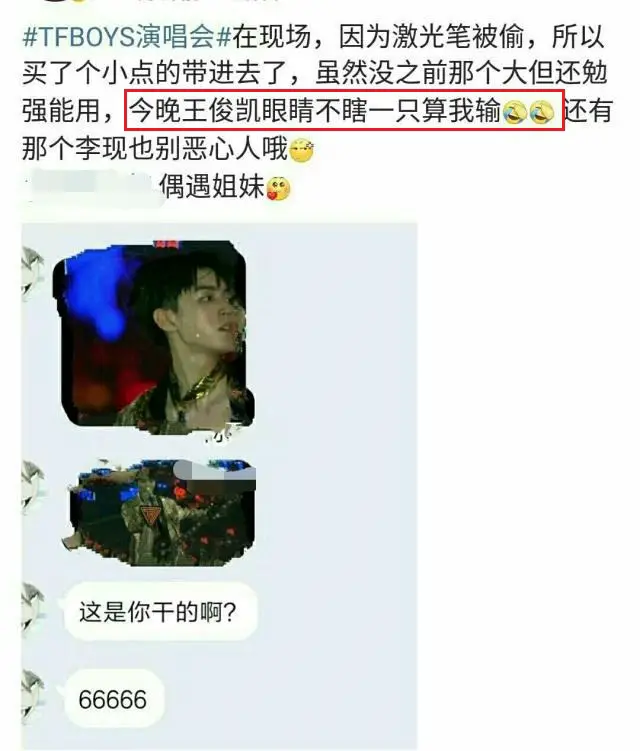 Nana Ouyang Addresses Dating Rumors with TFBOYS' Roy Wang Yuan
However, there were also pictures of lasers shot at Roy Wang Yuan (王源) and Jackson Yi (易烊千玺) during yesterday's concert.
TFBOYS' Roy Wang Yuan Caught Smoking and Fans Aren't Happy
TFBOYS' Jackson Yi Reveals Four Qualities He Looks for in a Girlfriend
Thankfully, the security guards caught the perpetrator and escorted her out immediately. It seemed to be the action of one woman. While she was being escorted out, she put up a struggle and screamed, "What are you doing?!"
Sasaeng Fans Secretly Filmed TFBOYS' Jackson Yi Changing
Watch the video of her getting arrested: http://t.cn/AiT8aLlr
This wouldn't be the first time laser pointers were shot at TFBoys either. Something similar happened at their 5th anniversary concert last year. Karry Wang Junkai was performing on stage and couldn't open his eyes. It turns out there were laser pointers shooting directly at his eyes. He had no choice, but to continue the performance with his eyes closed.
Karry Wang Junkai Defends His Fans After Being Scolded by Traveler at Airport