Jiangsu TV announced a new variety show today called, "Chase Me" (追我吧) with a stellar cast that includes, William Chan (陳偉霆), Johnny Huang Jingyu (黄景瑜), Fan Chengcheng (范丞丞), Lareina Song Zuer (宋祖儿), Jam Hsiao (蕭敬騰), Elaine Zhong Chuxi (钟楚曦), and host Hua Shao (华少). The show is said to be a real life version of playing "cat and mouse". It's reported there will be two teams consisting of cast members, celebrity guests, and normal people. There are three segments to the game, first is a time battle, second is racing against each other on the track field, and lastly, reaching the top. Filming will take place in the central business districts of different cities. The show will air sometime in Q4.
Godfrey Gao Passes Away at Age 35 while Filming Variety Show "Chase Me"
The cast already started promoting the show with the cast members tagging each other.
William Chan tagged Johnny Huang Jingyu saying, "Chase me."
William Chan and Gulinazha are Oozing with Couple Feels in "Dancing in the Storm"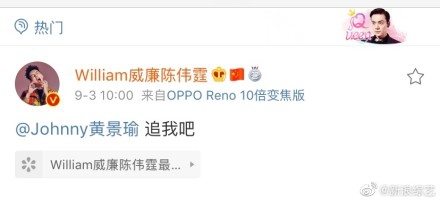 William Chan's Rumored Brazilian Girlfriend, Bruna Marth, Has Moved On to a Basketball Player
Johnny Huang Jingyu responded back to William Chan, "Come, the battle starts now."

Simon Yam Returns to Work and Reunites with His "Son", Johnny Huang Jingyu, in "Feel The World"
Jam Hsiao tags Fan Chengcheng saying, "Chase me." Fan Chengcheng responded back to Jam Hsiao, "I have to bring back all the big rain I've missed out all these years." There was an ongoing joke that it would rain wherever Jam Hsiao went, especially during the weeks where there was heavy rain and typhoons.
Johnny Huang Jingyu Issues Statement Refuting Domestic Abuse Allegations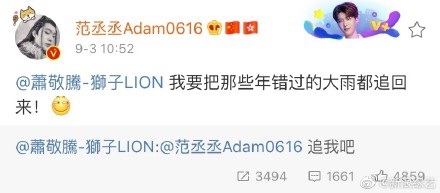 Fan Chengcheng Claps Back at Sasaeng Fans
Lareina Song Zuer tags Elane Zhong Chuxi saying, "Chase me. Run slowly, please."

Fan Chengcheng's Co-Stars Tell Him Why He's Still Single
Elaine Zhong Chuxi responded to Lareina Song Zuer, "You're so cute. I will consider it."

Are Ethan Ruan and Lareina Song Zuer Dating?