Ever since the "OnSum Cheating" scandal came to light, Jacqueline Wong (黃心穎) fled Hong Kong and was last rumored to have left for Los Angeles, California. It was reported she was there to take some courses that were already planned prior to the scandal. Most recently, Jacqueline Wong's sister, Scarlett Wong (黃心美), spoke to the media and was asked about her sister. However, she didn't reveal much and wouldn't divulge on her whereabouts.
Jacqueline Wong Updates Instagram for the First Time Since "OnSum Cheating" Scandal
Scarlett Wong Reacts to Rumors about Jacqueline Wong Becoming a Real Estate Agent
Jacqueline Wong's "The Offliners" and "The Maid Alliance" Set to Air in Malaysia, Netizens aren't Excited
It was initially reported Jacqueline Wong had asked for Kenneth Ma's (馬國明) forgiveness at the time of the scandal. She would contact him everyday, but half a month later, Kenneth Ma supposedly initiated the break up. It's rumored this was the last straw that made her decide not to come back to Hong Kong, to avoid being ridiculed and pointed the finger at by netizens and also to not have her family implicated in the mess.
Could "Finding Her Own Voice" Turn Out to be a Surprise Hit?
Scarlett Wong Talks about Jacqueline Wong's Current Condition and Her Own Relationship Status
There were some hopes that she might be making a comeback as her series, "Finding Her Voice" (牛下女高音), that was previously taken off the schedule, is now going to be aired on October 7, during the TVB anniversary series golden period. However, when the producer of the series contacted her about the air date, she didn't respond. Today, there is a rumor circulating that Jacqueline Wong is quitting showbiz for good and becoming a real estate agent in Canada, catering especially to foreigners. Another version of the story says she is staying in Los Angeles. It's reported she also changed her English name to "Rachel" in hopes of starting anew.
Is Kenneth Ma Still Hung Up on Jacqueline Wong?
Owen Cheung Still Friends with Jacqueline Wong, Doesn't Blame Her for Series Not Airing
Scarlett Wong uploaded an IG story today as she was bombarded with comments and questions about her sister's rumors. She simply said: "To everything 'No comment. Thank you for your concern.'"
Jacqueline Wong Rumored to be Declaring Bankruptcy to Pay Off Debts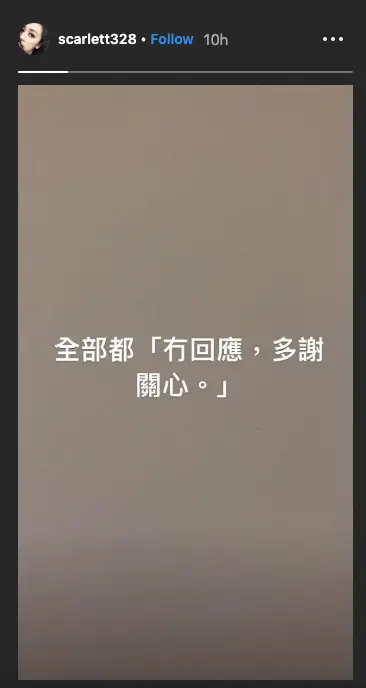 Kenneth Ma Reveals His Current Relationship with Jacqueline Wong
She also made a post yesterday saying: "Hey, I don't know in your mouths how many versions of me exist. Anyway, you'll still say what you're going to say. I will live my life."
Scarlett Wong's Boyfriend Finally Revealed
Credit: Apple Daily HK, hk.on.cc, hk01 (1, 2), Jacqueline Wong IG