Back in June, it was rumored Raymond Lam (林峯)had proposed to his model girlfriend, Carina Zhang (張馨月). He never admitted to it and when his cousin, Rosina Lam (林夏薇), was asked about it, she also kept mum and said it was best to ask him. It seems those rumors are true as it's reported today that Raymond Lam and Carina Zhang had already applied for their marriage license on September 26.
Raymond Lam Posts First Ever Picture with Soon to be Wife, Carina Zhang, Since They Started Dating
A Look at Raymond Lam's Dating History
The sharp eyed Hong Kong reporters discovered a "Notice of Intended Marriage" belonging to Raymond Lam and Zhang Xinyue, Carina Zhang's Chinese name. The listed birthdates show the couple's 11 year age difference. The place of residence was listed as Pok Fu Lam for both, so it seems Carina Zhang has already moved in with Raymond Lam. It was previously rumored that December 8th, Raymond Lam's birthday, would be the day of their wedding banquet. However, it turns out to be his fan club party.
Karena Ng Says She's Single, Still Friends with Raymond Lam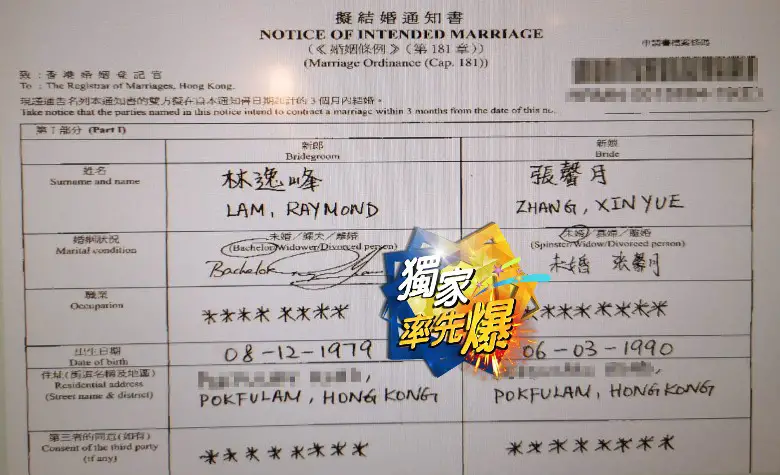 Raymond Lam Meets Girlfriend's Parents
Near the end of 2017, Raymond Lam and Karena Ng's (吳千語) relationship was said to be on the rocks. Later on, it was rumored Raymond Lam's father arranged a matchmaking date between him and Carina Zhang. Then in March 2018, it was rumored Raymond Lam and Carina Zhang were getting to know each other. Shortly after, Raymond Lam had admitted him and Karena Ng had broke up for some time already.
Raymond Lam kept his relationship with Carina Zhang very private, a contrast from Karena Ng. Even though he would often bring Carina Zhang to dinners with friends and industry colleagues, they never post pictures of just them two on social media. Things started getting serious when Carina Zhang brought Raymond Lam to her brother's wedding in China last September. Then in January, Raymond Lam brought Carina Zhang back to his ancestral home in Xiamen to pay his respects to his ancestors and see his elders.
Miss Chinese International, Serene Lim, Rumored to Have Been Handpicked by Raymond Lam to Star in "Line Walker 3"
Tavia Yeung Admits to Meeting Raymond Lam's Girlfriend
Raymond Lam replied to Apple Daily HK through text and confirmed the news, "Thank you everyone for your blessings. Hope everyone gives us some space. Thank you!". Raymond Lam's manager, Ronnie, also confirmed the marriage news saying, "The official marriage date is not certain, but thank you everyone for your blessings! Hope everyone gives them more space."
Kenneth Ma Tries to Out "Chok" Raymond Lam in "Line Walker 3"
Good friends, Bosco Wong and Ron Ng, were asked if they knew about Raymond Lam's marriage. Both expressed they didn't know and were shocked to find out. They did say they met her before at gatherings.
Credit: Apple Daily HK, hk.on.cc (1, 2), Weibo (1, 2)