Jacqueline Wong (黃心穎) left Hong Kong in April after her cheating scandal with Andy Hui (許志安) was exposed. Since then, she has kept a low profile and laid low in the US until recently when her series, "Finding Her Voice", surprisingly became one of TVB's anniversary series. She had finally updated her Instagram to express her thoughts about the series finally airing. There were several rumors about her relationship with Kenneth Ma, changing her name, switching fields, etc. She finally returned to Hong Kong in the early hours of December 14 after an 8 month absence.
Is TVB Paving the Way for Jacqueline Wong's Comeback?
Jacqueline Wong's "The Offliners" and "The Maid Alliance" Set to Air in Malaysia, Netizens aren't Excited
Upon landing, the media was already waiting for Jacqueline Wong. She kindly stopped to let them take pictures. She looked nervous and started to tear up while the reporters snapped their cameras. Later on, she addressed the media while in tears, saying:
Andy Hui Makes First Public Appearance Since "OnSum Cheating" Scandal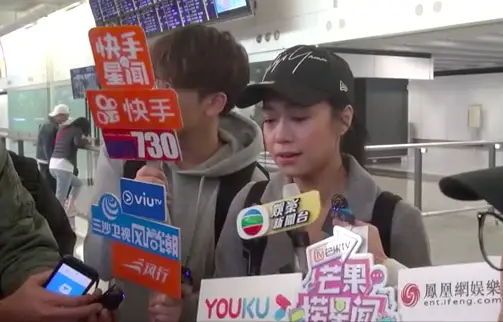 Jacqueline Wong Updates Instagram for the First Time Since "OnSum Cheating" Scandal
"Hello everyone. Long time no see. I am very happy because I can finally return home. I really want to use this opportunity to thank some people, a lot of friends, a lot of colleagues, especially my family. It's been hard on them. Even some people that I don't really know, they also sent me messages and left comments. They gave me a lot of energy that allowed me to stand here today.

In these past 8 months, I was trying really hard to live. Even though I heard a lot of speculations from the outside world, but I am just trying really hard to live. I made a mistake, and I try really hard to live with it, to learn from it. But at the same time, I do feel I must move on. I also want to continue walking forward, looking forward.
No matter what I want to say or what I must say, whether privately or publicly, I've already said it. So with regards to this matter, I won't have any more responses about it. As for coming back this time, it's primarily to be with my family because I haven't seen them in a really long time. I hope everyone can give us more space. Thank you everyone for your support during this time. It's been hard!"
Jacqueline Wong Reportedly Quitting Showbiz to Become a Real Estate Agent
Andy Hui and Jacqueline Wong Caught Being Intimate in Taxi Cab
Jacqueline Wong ends her statement, but reporters continue chasing after her. They ask if she would be apologizing to Sammi Cheng or contacting Andy Hui. She explained she won't be responding to the incident anymore. When asked if she had contacted Kenneth Ma, she doesn't respond. A reporter then asks her about the rumors she became a real estate agent, Jacqueline Wong responds, "Firstly, I didn't change my name nor did I switch industries." On whether she spent this time cultivating herself, Jacqueline Wong says, "Just trying hard to live."
Jacqueline Wong Rumored to be Dating RubberBand Drummer, Lai Man
Jacqueline Wong Rumored to be Declaring Bankruptcy to Pay Off Debts
A reporter then asks her if she is having any financial troubles. She laughs a bit and says, "There are a lot of rumors about this. I won't respond to it anymore." Another reporter asks her if she came back to film for TVB because she is having financial difficulties. Jacqueline Wong responds, "I haven't heard anything about work." The same reporter presses on and asks her about the rumor of one of properties that had to be foreclosed because she didn't pay it off. Jacqueline Wong responds, "The apartment and stuff has already been completed." As to how long she plans on staying this time, Jacqueline Wong doesn't respond and says she needs to see her family first and apologizes.
Credit: Apple Daily HK, Jacqueline Wong IG