Miss Hong Kong 2020 contestant, Jessica Liu (廖慧儀), has been in the news lately starting from when her now ex-boyfriend, Sam Cheung, called out TVB artist, Danny Hung (孔德賢), for getting too close to her. Shortly after, Sam Cheung revealed in a now deleted IG post that Jessica Liu left him because she entered the industry. On October 20, Jessica Liu posted a series of IG stories revealing someone had been hacking into her social media accounts, stalking, threatening, and sexually harassing her. While she didn't name anyone, Sam Cheung was speculated to be the culprit.
Boyfriend of Miss Hong Kong 2020 Contestant, Jessica Liu, Tells TVB Artist, Danny Hung, to Stop Looking for Her
Miss Hong Kong 2020 Contestant, Jessica Liu, Dumps Boyfriend Days After He Accused TVB Artist for Getting Too Close to Her
Jessica Liu said, "It's no use however many times I change my password. [He's] been stealing my email for his own use all along. Stalking, threatening, intimidation, sexual harassment, stealing my phone in public, camping out when I get off class, exploding my WhatsApp, cursing at me and yelling at me for not seeing you, calling me a few hundred times a day until my phone ran out of battery. You made a post saying, 'Didn't I say I wanted the world to judge me?', I don't care if I get yelled at. These people and I don't know each other. They don't even know the ins and outs of this issue, but don't tell me you didn't post it after everything came out and that your account was hacked and blamed it on your friend. Pretending like it's not your fault, pretending to be your younger sister and friend to find me, saying you're going to jump off the building everyday. You need to know, these things are not an expression of love."
Miss Hong Kong 2020: Why the Hot Favorites Didn't Win
2020 Miss Hong Kong Winners List
In addition to that, Jessica Liu says she could've called the police to handle the matter. She had already deleted all the pictures to resolve everything like he asked, and asked him not to disturb her or her family and friends anymore.
16 Local Miss Hong Kong 2020 Contestants Finalized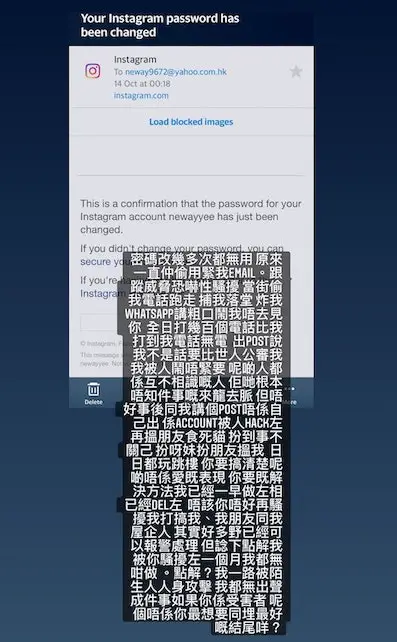 Ex-Boyfriend of Miss Hong Kong 2020 Contestant, Jessica Liu, Passes Away from Suicide
Sam Cheung responded to the claims in a long post of his own. Apple Daily also reached out to him about the claims Jessica Liu made. He denied all the stalking, threatening, and sexual harassment allegations. He expressed that after the break up, they reconciled for a day or two and then broke up again. He tried to sweet talk Jessica Liu in hopes of getting back together and claims it wasn't sexual harassment.
Sam Cheung Left Suicide Note Detailing His Struggles Post Break Up with Miss Hong Kong 2020 Contestant, Jessica Liu
As for Jessica Liu's social media accounts constantly being hacked into and the changed passwords, Sam Cheung claims he only wanted to take care of some things from the shared Youtube channel they opened together. This is why he logged into her email and that yesterday was the first time he logged in.
Sam Cheung's Younger Sister Reveals Jessica Liu's Response to Her Brother's Suicide Note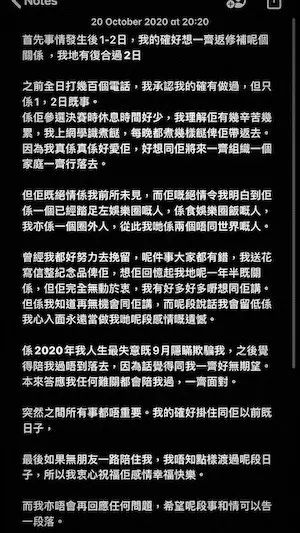 Sam Cheung Blamed Himself for Not Treating Miss Hong Kong Ex-Girlfriend, Jessica Liu, Better and Regretted Letting Her Go
As for the "stalking" allegations, Sam Cheung said after they broke up, there was one day where Jessica Liu said a lot of things to him, making him think that there would be hope to rekindle their relationship. He decided to get changed and reserved a table for dinner. He wanted to surprise Jessica Liu by picking her up to and from her yoga class. He says he already notified her beforehand and was not camping out to wait for her. He ended up going to the wrong place so he called her to look for her.
Miss Hong Kong 2020 Contestant, Jessica Liu, Rumored to be Secretly Dating Danny Hung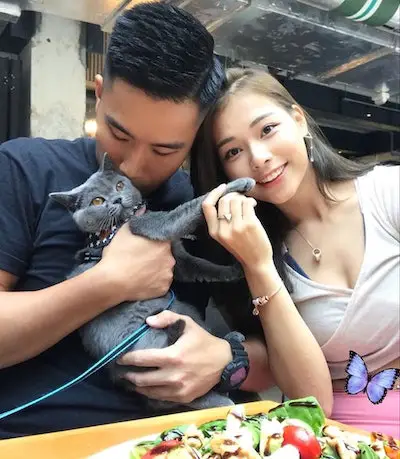 Danny Hung Admits to Dining with Miss Hong Kong 2020 Contestant, Jessica Liu, But Denies Dating Each Other
When talking about the countless calls, Sam Cheung admits to calling her a few hundred times, "but that only lasted a day or two", because he really missed her and really wanted to get back together. Seeing Jessica Liu's heartless attitude, he felt hurt and it made him realize "she is already a person who has stepped into the entertainment industry." Since she blocked his number from everything, he used his younger sister and friend's phones to contact her as he had a lot of things he wanted to say to her.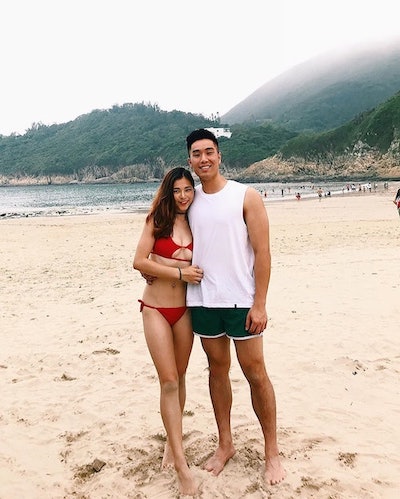 He also admits that after breaking up, he had an emotional breakdown and had thoughts about suicide, but claims he didn't use it to threaten Jessica Liu. He also says they lived together for a year and a half and up until the day of the incident, Jessica Liu said she really missed him. However, Sam Cheung claims later that night, she lied and went to hang out, watch a movie, and take pictures at the beach with Danny Hung.
Credit: Apple Daily, Jessica Liu IG