The crew are on their way back to The Inn, but they start taking pictures by the forrest.  Kido Ma (馬思超) starts snapping pictures of Philip Wu (武藝) by a tree.  Philip Wu starts to make funny poses, causing everyone to say he is "greasy."  Kido Ma and Shen Yue (沈月) compete against each other to take the best picture of Philip Wu.  In the end, everyone chooses Shen Yue's picture.  Philip Wu asks her to send him the picture.  Shen Yue says, "Okay, use it for your next album cover."  Dylan Wang (王鶴棣) then says, "The album will be called "Little Yue." 
"The Inn 2" Episode 11 Highlights: Caesar Wu Reunites with Dylan Wang and Shen Yue
"The Inn 2" Episode 10 Highlights: Surprise Birthday Party for Wang Ke and Philip Wu, Shen Yue and Dylan Wang Cry Together
"The Inn 2" Episode 7 Highlights: Dylan Wang Gets Emotional Talking About His Mother
"The Inn 2" Episode 5 Highlights: Philip Wu Gets Mistaken for Karry Wang Junkai
"The Inn 2" Episode 4 Highlights: Shen Yue Arrives at The Inn, Dylan Wang Makes Philip Wu Jealous
"The Inn 2" Episode 3 Highlights – Part 1: Chen Xiang Returns to The Inn
"The Inn 2" Episode 3 Highlights – Part 2: Kido Ma Breaks into Tears, Shen Yue Arrives in Next Week's Episode
"The Inn 2" Episode 2 Highlights: Philip Wu Gets Red Talking About Shen Yue, Myolie Wu Comes to Volunteer
"The Inn 2" Episode 1 Highlights: Dylan Wang Wants to Introduce Shen Yue to Philip Wu
Chinese Heartthrob Dylan Wang's Rise to Stardom as "Dao Ming Si"
Later at dinner, Wang Ke (王珂) announces Shen Yue is their official employee after four days of work.  The next day, the new guest worker arrives and it is none other than actress Jiang Zixin (姜梓新), who portrayed "Mingyu" in this year's hit series, "Story of Yanxi Palace."  Jiang Zixin, Shen Yue, Dylan Wang, and Philip Wu later help Liu Tao (劉濤) cook dinner.  Philip Wu discovers he can toss the pan so he decides to show off to Dylan Wang, which he responds, "It's doable."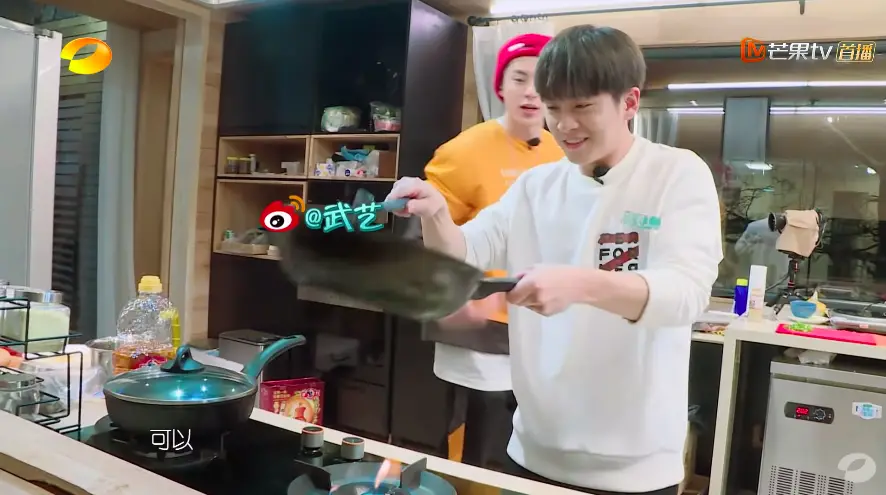 During dinner, one of the guests presents a drawing he did of everyone at The Inn.  At first glance, Dylan Wang makes fun of Shen Yue's height saying, "Wow. Shen Yue's legs are very long."  Shen Yue wanted to attack him, but luckily Philip Wu was in the middle.  
Liu Tao proceeds to go through each of the person in the drawing.  When it comes to Shen Yue's turn, Dylan Wang once again says, "Wow, her legs are so long."  Shen Yue wants to attack Dylan Wang, but Philip Wu is in the way, so she tells him to hit Dylan Wang for her and she'll give him $10 RMB.  Philip Wu lightly smacks Dylan Wang's shoulder, eliciting a shocked response from him.  Philp Wu asks Shen Yue to give him the money.  Shen Yue, looking all satisfied, said she'll give it to him later.  Dylan Wang turns to Philip Wu and says, "For $10, you…, I know the real you now!"  
Before they retreat for the night, the yoga teacher announces they are starting the session at 5:30AM, shocking everyone.  Kido Ma asks if they can start the session half an hour later.  The next morning, the inn helpers and Jiang Zixin are doing yoga at 6AM.  The yoga teacher is teaching everyone some exercises, but it is making everyone even more tired.  At one point, Dylan Wang falls asleep and is snoring.  
Credit: HunanTV Official Youtube Channel