It's Wang Ke and Philip Wu's birthday.  The gang prepare a surprise birthday party for the two birthday boys.  Shen Yue, Dylan Wang, and Kido Ma are inflating the balloons, but Shen Yue is having trouble tying the balloons.  Dylan Wang pops the letter "B" so the "Birthday" is missing the character "B".  Meanwhile, Liu Tao, Wang Ke, Philip Wu, and this week's guest, Angelica Lee, are out in the woods taking a stroll and pictures while the party is being prepared.  
Dylan Wang and Darren Chen are the Most Loved Asian Male Artists by Women in Japan
"The Inn 2" Episode 11 Highlights: Caesar Wu Reunites with Dylan Wang and Shen Yue
"The Inn 2" Episode 8 Highlights: Dylan Wang Makes Fun of Shen Yue's Height
"The Inn 2" Episode 7 Highlights: Dylan Wang Gets Emotional Talking About His Mother
"The Inn 2" Episode 5 Highlights: Philip Wu Gets Mistaken for Karry Wang Junkai
"The Inn 2" Episode 4 Highlights: Shen Yue Arrives at The Inn, Dylan Wang Makes Philip Wu Jealous
"The Inn 2" Episode 3 Highlights – Part 1: Chen Xiang Returns to The Inn
"The Inn 2" Episode 3 Highlights – Part 2: Kido Ma Breaks into Tears, Shen Yue Arrives in Next Week's Episode
"The Inn 2" Episode 2 Highlights: Philip Wu Gets Red Talking About Shen Yue, Myolie Wu Comes to Volunteer
"The Inn 2" Episode 1 Highlights: Dylan Wang Wants to Introduce Shen Yue to Philip Wu
Chinese Heartthrob Dylan Wang's Rise to Stardom as "Dao Ming Si"

During dinner, Philip Wu prepares his birthday present for Wang Ke.  It turns out to be a painting of Wang Ke and Liu Tao drawn by Philip Wu to commemorate their 11th wedding anniversary.  Dylan Wang gives each of the birthday boys a custom pair of sneakers with hand drawn paintings.  As for Kido Ma, he gave Wang Ke a hand made credit card wallet.  Shen Yue gave Philip Wu a hand made reindeer ornament.  She says, "Brother Wu Yi, he is the cutest, kindest, and most interesting boy I've ever met." 
Wang Ke tells Philip Wu to return the compliment.  Philip Wu gets red and says, "She's just like I imagined.  Not girly or delicate at all.  She integrated with us easily.  She said she was going to play soccer and she really did, but she also has the characteristics of a good wife –."  Philip Wu was about to say a Chinese four letter idiom that characterizes a woman as being a "good wife and loving mother" (賢妻良母) before correcting himself and saying Shen Yue can cook.  However, it was too late as Dylan Wang heard it and asked him, "You were about to say that four letter idiom..that four letter idiom.. good what?"  Philip Wu says, "good and kind."  Shen Yue adds in her two cents and says "virtuous and understanding."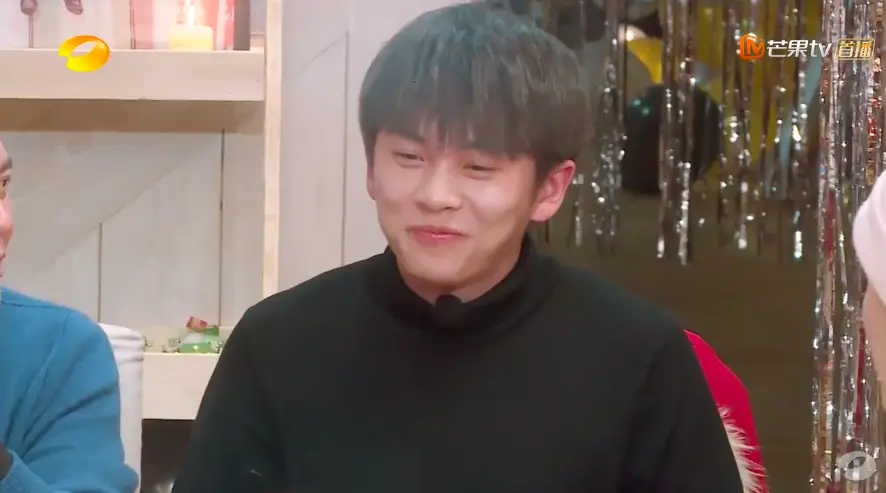 Kido Ma then gifts Philip Wu with a bluetooth speaker in the form of a grenade and says, "I wish Brother Wu Yi's music career path will get more explosive like this grenade."  Shen Yue gifts Wang Ke a light bulb.  
Wang Ke and Liu Tao also decide to gift everyone with presents since it's near Christmas.  When it came to Dylan Wang's turn, Wang Ke gave him an autographed Lebron James jersey, which got the young idol bursting into tears.  He says, "I don't know why I'm crying, it's not even me."  Dylan Wang shares that Lebron James has been his idol since young as he admires his vigor and presence on court.  He views him as a role model and someone to emulate.  Dylan Wang thanks Wang Ke and says, "This is the best present I've ever received in this lifetime." 
Wang Ke and Liu Tao also exchanged gifts with each other.  Liu Tao gave Wang Ke a custom book detailing their lives and past Weibo posts.  It got him all teary eyed, but he returned the favor when he showed a video of Liu Tao with her grandmother and gifted her with her last ring.  This got everyone bawling tears.  Shen Yue, who is crying, says, "I only get to go home maybe once a year now.  My grandmother is already 70 something years old.  If she lives until 80 something, then I'll only be able to see her 10 more times in this lifetime."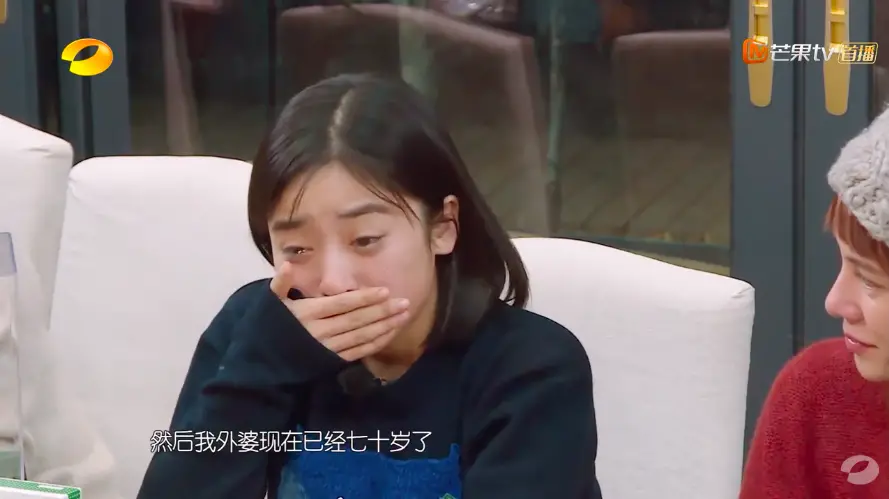 It's Dylan Wang's turn and he says, "I also miss my grandmother a lot.  Her living expenses are about $600-700 RMB a month.  But every time she sees me, she would give me about half of her living expenses.  I was still small at the time.  I didn't understand it and I would just use the money she gave me.  When I grew up and started to understand more, she had dementia.  When I went to school in Chengdu and returned home, my mom jokingly asked my grandmother if she knew who I was.  My grandmother didn't recognize me at that time.  After filming one day, my mom called me and said my grandmother passed away."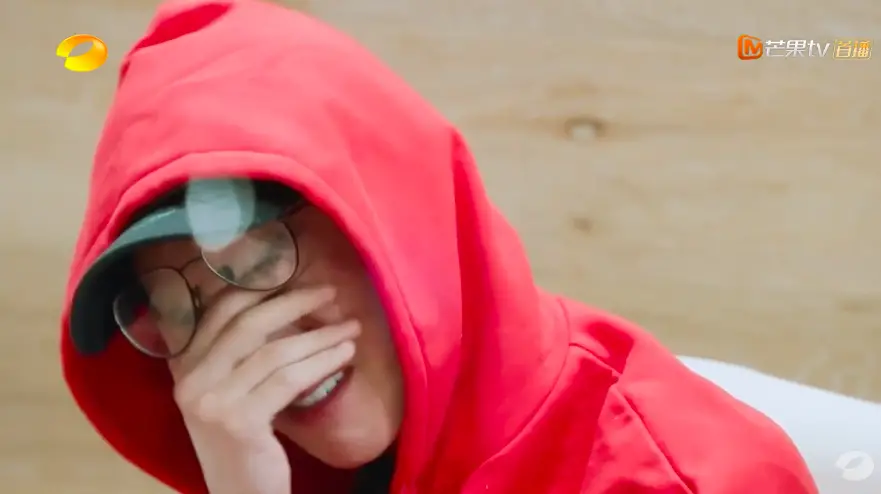 After everyone talks about their sob story, the two birthday boys make a wish and blow the candles.  In next week's episode, Wang Ke and Liu Tao let the four young workers run the Inn while they're away to see if they can handle it.  What hilarity will ensue without the two adults supervising?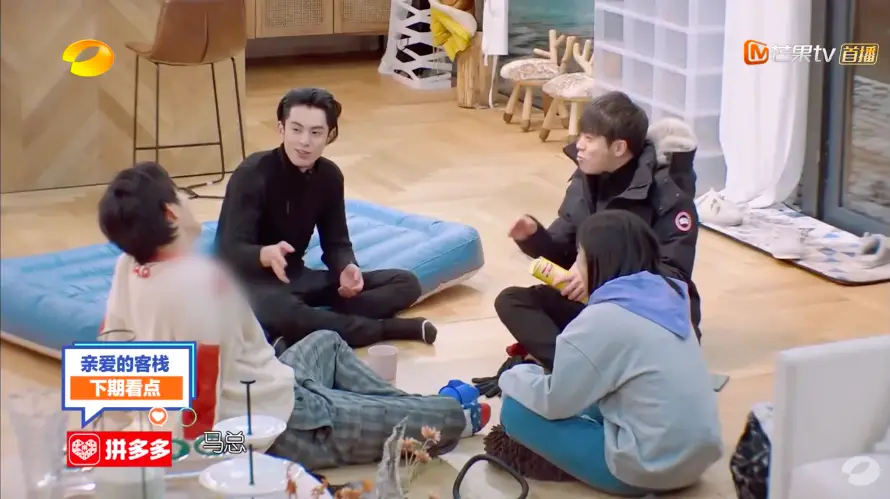 Credit: HunanTV Official Youtube Channel