It's idol survival show season in China right now. iQiyi's "Youth With You 2020" is already in its fifth week and about to go through the first batch of eliminations. Youku has announced their male idol group survival show, which is this season's only survival show featuring male trainees. They plan to reach overseas audiences as they have already set up official Twitter, Youtube, and Instagram accounts. This leaves the media giant, Tencent, which never fails to amaze viewers. Their third season of the PD101 series, "Produce Camp 2020", is competing against "Youth With You" and has already filmed its first episode.
"Produce Camp 2020" Trainee, Winnie Zhong Feifei, Suffers Racial Abuse on Weibo for Her Chinese-Congolese Heritage
Tencent's first season was called "Produce 101 China", which featured female trainees. For the second season, they featured male trainees and had to change the name to "Produce Camp 2019" due to government restrictions on anything related to idols. The show lived up to its name as the boys were living bootcamp style and were giving camping gear. There were no separate dorm rooms, just one big hall and rows of bunk beds.
"Produce Camp 2020" Trainee, Liu Meng, Calls Her Fans "Mama"
["CHUANG 2020"] Joyce Chu Explains Why She Left Abruptly After Chen Zhuoxuan Called Her Out
For the third season of "Produce Camp 2020", the show runners spared no expense and continued to flaunt the amount of money people are willing to throw at them. Netizens were all shocked and amazed when Tencent shared pictures of the stage and the dorm castle the female trainees are living in. Tencent rubbed it in by including this caption: The gate to the fantasy castle is already opened. Welcome Produce Camp 2020 students to check in."
Kris Wu, Luhan, and Huang Zitao Reminisce about Their Days As Trainees on "CHUANG 2020"
Chen Zhuoxuan Calls Out "CHUANG 2020" Sponsors for Not Using Her in Commercials
The accommodations were a stark contrast to last year's bunks as the trainees are living in a literal castle with wonderland surroundings. A blogger also released pictures of the rooms and surrounding landscape. It's reported the mentors and trainees are staying here. It seems like Tencent have provided a vacation resort for the trainees.
"CHUANG 2020" Trainee, Jiang Zhenyu, Updates on Her Injury Condition After Suspending Filming
"CHUANG 2020" Trainee, Jiang Zhenyu, Told By Doctors She Might Never Dance Again After Injury
Netizens also noticed the differences between the two. Naturally, some of the male trainees from "Produce Camp 2019" also weighed in. Male trainee, Leon Zhu (朱微之), from "Produce Camp 2019", posted this comparison of the dorms and said, "For myself, who worked hard to build this castle in one year and the other 100 factory workers, give a like. I didn't eat lemons. I am not bitter at all."
"CHUANG 2020" Debuts 7 Member Girl Group, BonBon Girls 303
Other 2019 trainees also left comments under Tencent Video's post announcing the castle: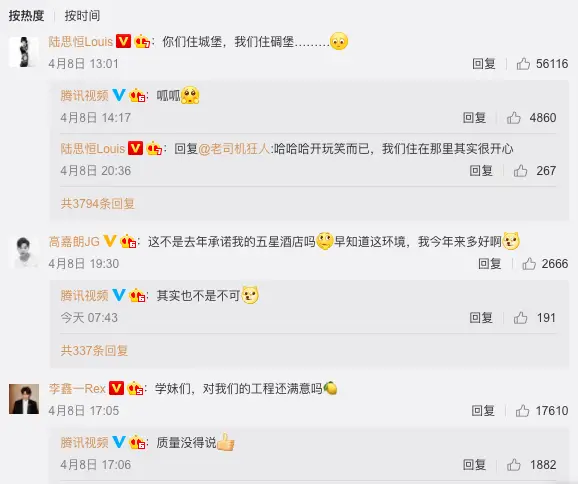 Louis Lu Siheng (陆思恒): "You guys live in a castle. We lived in a bunker."
Tencent Video: "Gua gua"
Louis Li Siheng to fan: "Haha, just kidding. It was actually very happy where we lived."
Gao Jialang (高嘉朗): "Isn't this the 5 star hotel promised to me last year? Had I known about this sooner, it would've been better if I came this year."
Tencent Video: "Actually, it's not impossible".

Rex Li (李鑫一): "Xuemeimen" (junior female classmates), are you guys satisfied with our construction?
Tencent Video: "Quality is excellent."