Even though Jackson Wang (王嘉尔) is back in South Korea to promote, he didn't hesitate to stay in touch with his Chinese fans. Jackson Wang posted the same set of pictures on Instagram and Weibo. On October 30, Jackson Wang asked fans, "What should I wear?"
Jing Boran Disbands "Wang Fu Jing" After Jackson Wang Forgets Their Group Name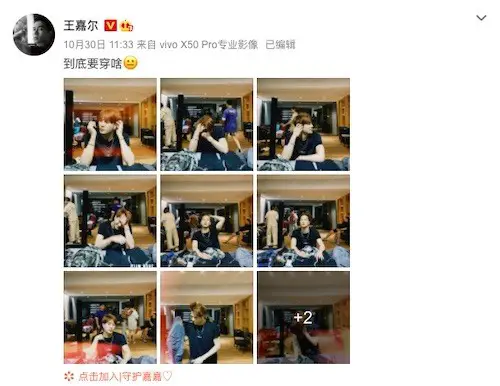 Bai Jingting Regrets Saying He Doesn't Think He's Handsome
His cheeky fans left a sea of comments saying, "Don't wear anything" or "Whatever you wear looks good". Good friend and troll, Bai Jingting (白敬亭), left a comment to a fan that said, "Don't wear anything", saying, "Delete it. Let me post it." Jackson Wang responded back to him and said, "What do you want to do?".
Jackson Wang Reveals Meaning Behind His Tattoos

Jackson Wang Explains Why He Hasn't Pursued Acting Yet
This is not the first time Bai Jingting commented about Jackson Wang's wardrobe during the course of their friendship.
Exhibit A
Bai Jingting had said, "Ge (older brother) has helped you patch up your pants.", referring to the holes.
Jackson Wang Seemingly Clap Backs at Rumors He was Partying with Female Influencer at a Club in Rap Verse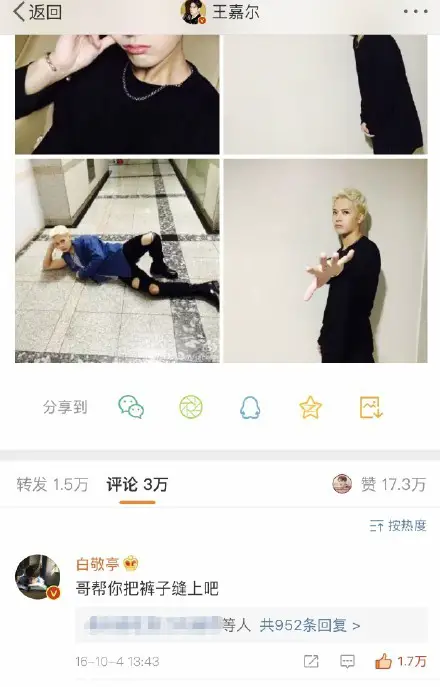 Wang Feifei Reminisces Meeting Jackson Wang During His Trainee Days
Exhibit B
Bai Jingting left the following comment for this IG post from Jackson Wang: "Is this the reason why you're not wearing clothes?"
Jackson Wang: "Bro, you try it. Then you'll know how hot this gym is. My clothes are wet and dripping like a wet towel. Of course I'm going to dress like this. There's also a bit of truth to what you said. I admit."
Bai Jingting Befriends Lin Gengxin After Roasting Mark Chao on His Birthday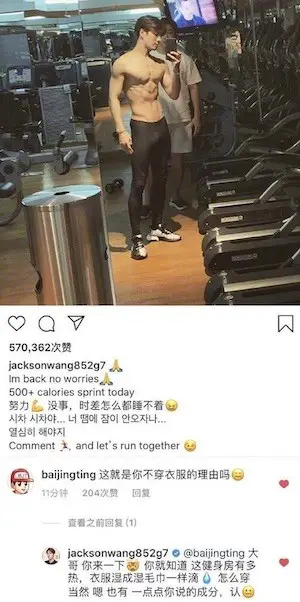 Jackson Wang Consoles "We Are Young 2020" Trainee, Su Er, After He Removes His Make Up in Response to Negative Comments
Exhibit C
Bai Jingting: "Wear your clothes well."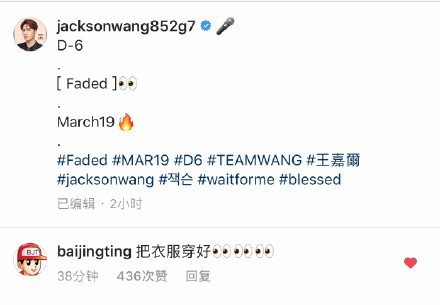 Fans Clarify Rumors of Jackson Wang Allegedly Partying and Holding an Influencer's Hand at a Club
Exhibit D
Bai Jingting: "Why aren't you wearing clothes?"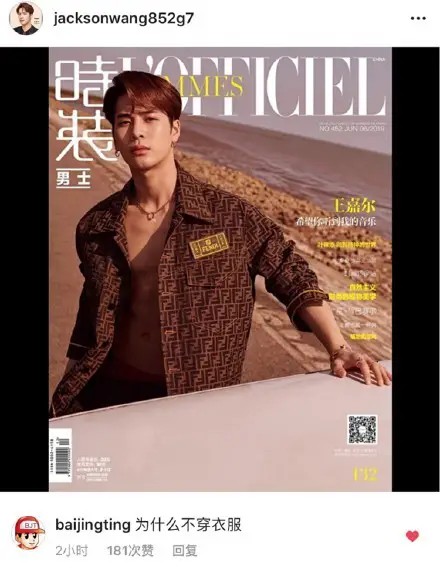 Exhibit E
Jackson Wang got back at Bai Jingting one time. The picture on the left was a picture Bai Jingting posted of himself on IG. Jackson Wang wrote: "Ge, look. I knew once I saw. The sun must also be the reason why you're not wearing clothes. Look how much di (younger brother) understands you."
Bai Jingting responded: "You come and try it then you'll know how fiery the sun is. Of course, I am this pretentious."