Xing Fei (邢菲) and Daddi Tang's (唐晓天) hot new series, "My Little Happiness" (我的小确幸), aired on January 13. Daddi Tang plays neurosurgeon, "Wen Shaoqing", who has been waiting for his childhood sweetheart, "Cong Rong", at the same spot for 20 years. They made a promise as kids to meet up when school started, but "Cong Rong" moved away unexpectedly and alas they lost contact. "Wen Shaoqing" waits for her every year and they finally reunite 20 years later when he discovers "Cong Rong" is actually the new intern lawyer at his hospital.
12 Trivia Facts about Daddi Tang
This is a lighthearted romantic comedy. The storyline is fast paced without too much unnecessary side storylines that usually plagues C-Dramas. There is a second female lead that isn't evil, but she does try to sabotage "Wen Shaoqing" and "Cong Rong" from starting their relationship. While her little plan worked in delaying their relationship, she quickly gives up and realizes "Wen Shaoqing" won't return her unrequited feelings despite being classmates, friends, and colleagues, for so long.
So what makes this series so compelling and a must watch?
Fair Xing Praises Daddi Tang for Being a Really Good Kisser
1. "Situ Mo" and "Fu Pei" get a second chance
The series reunites Xing Fei and Daddi Tang as they co-starred in "Put Your Head On My Shoulder" (致我们暖暖的小时光) as "Situ Mo" and "Fu Pei", respectively. However, the two didn't end up together as Daddi Tang was the second male lead. This time around, Daddi Tang is the male lead and finally gets the girl.
Xing Fei's Ideal Type is "Gu Weiyi" in "Put Your Head On My Shoulder"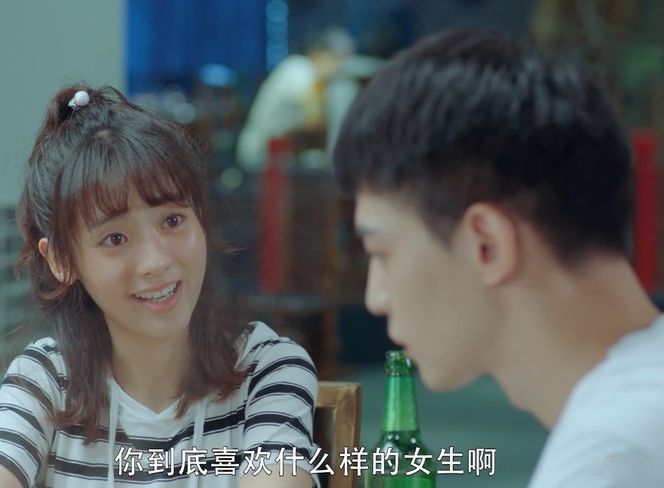 Hu Yitian Shoots His Way into Xing Fei's Heart in "Hello, The Sharpshooter"
2. There are lots of kissing scenes…lots and lots.
"Wen Shaoqing" kisses "Cong Rong" every chance he gets. Daddi Tang is also a very, very, very good kisser.
Xing Fei and Garvey Zhang Recreate "The Prince Who Turns into a Frog" in "Forget You, Remember Love"
3. "Wen Shaoqing" is the best boyfriend
He has been in love with his childhood sweetheart ever since she stood up for him against bullies. He has been waiting to reunite with her since the day she left and remained single all these years. On "Cong Rong's" first day of work, he prepared a pair of slippers for her to change into as she was wearing patent Louboutin heels. He also put bandaids on the back of her heel to help her break into the heels.
These Steamy Kiss Scenes Cut from "My Little Happiness" were Too Hot to Handle
4. "The most adorable height difference"
Daddi Tang towers over Xing Fei at a whopping 188 cm to her 162 cm. Most of Xing Fei's male co-stars are almost a foot taller than her.
Daddi Tang and Fair Xing were All "Oh My God" During "My Little Happiness" Wedding Night BTS Clip
The other male actors in the series are also very tall.
Leon Li Chuan plays "Wen Rang", Wen Shaoqing's uncle – 187 cm
Liu Chang plays "Shangguan Yi", Cong Rong's mentor – 189 cm
Fu Weilun plays "Zhong Zhen", Cong Rong's cousin – 186 cm
Daddi Tang Shows Support for Fair Xing After Sparking Backlash for Telling Fans She Thinks "My Little Happiness" is the "Best Drama Lately"
5. Daddi Tang and Xing Fei are very comfortable interacting flirting with each other in real life.
Many fans are shipping Xing Fei and Daddi Tang after seeing how close they are in real life. They have been good friends since filming "Put Your Head On My Shoulder" in 2018. In 2019, the two met up for a meal. Xing Fei posted a picture from their outing on Instagram and said, "Fu Pei finally treated Mo Mo to a meal."
They already have a couple name, "Fei Long Zai Tian" (菲龙在天), a play on the Chinese idiom, "飞龙在天", which means a "king on his throne", by using their names, "Fei" and "Tian". They already have a CP super chat on Weibo with over 7,000 fans.
Daddi Tang Reveals How He Feels about Beating Lin Yi in Winning Fair Xing's Heart This Time