After years of divorce rumors, Angelababy (杨颖) and Huang Xiaoming (黄晓明), announced they have divorced after 7 years of marriage. The couple made the announcement on January 28, just 3 days away from Chinese New Year. Angelababy and Huang Xiaoming both posted on Weibo, "Thankful for everything in the past, still a family in the future.", and tagged each other.
Their respective studios also posted the same message: "Mr. Huang Xiaoming and Ms. Yang Ying (Angelababy) have decided to separate amicably and end their marriage. The two of them have already gone through the related procedures a few days ago and will jointly raise their child in the future and accompany the child as he grows up. In order to protect both families and to avoid bothering the public with this matter, Mr. Huang Xiaoming and Ms. Yang YIng and both their respective studios will no longer respond to this matter."
Huang Xiao Ming and Angelababy were first rumored to be dating in 2009, but they didn't go public with their relationship until Angelababy's 25th birthday in February 2014. Huang Xiaoming showed up to Angelababy's film set in a luxury car that he gifted to her. They held hands confirming their relationship to the public.
On May 27, 2015, Huang Xiaoming announced his marriage with Angelababy by posting their marriage certificate, which was obtained in the former's hometown, Qingdao; Angelababy reposted it.
On October 8, 2015, Huang Xiaoming and Angelababy held their wedding in Shanghai, which was touted as the "wedding of the century" due to the money spent on the event. It was a star-studded event attended by many celebrities and even became a show as Huang Xiaoming performed BIG BANG's "FANTASTIC BABY" for Angelababy, who is a big fan of the group.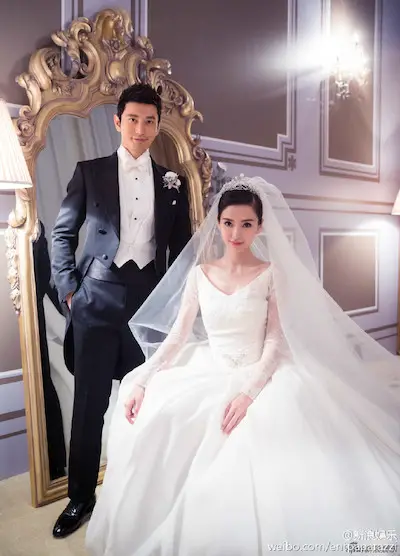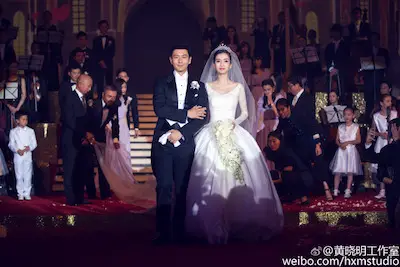 On their first wedding anniversary, October 8, 2016, Huang Xiaoming announced Angelababy was pregnant with their first child. On January 17, 2017, Huang Xiaoming's studio announced Angelababy had given birth to their son, "Little Sponge', in Hong Kong.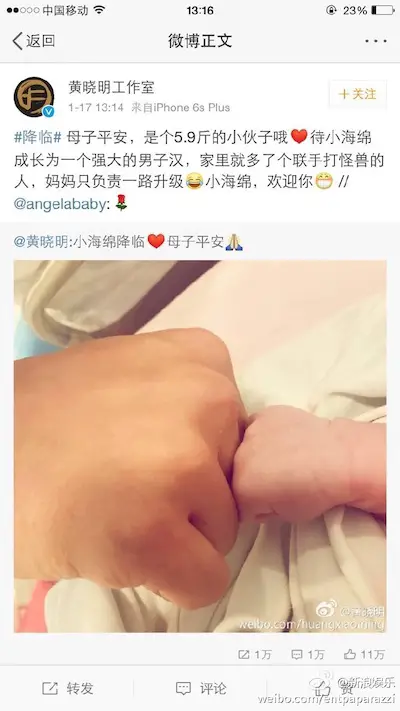 Divorce rumors first started in December 2018 when "an insider" claimed Angelababy and Huang Xiaoming were divorcing due to the latter's tax issues. However, both parties denied it and said it was "fake news". Huang Xiaoming posted a picture of "Little Sponge" and him celebrating Angelababy's 30th birthday on February 28, 2019. On June 3, 2019, Angelababy and Huang Xiaoming attended an event together, in which Huang Xiaoming was seen helping with Angelababy's dress.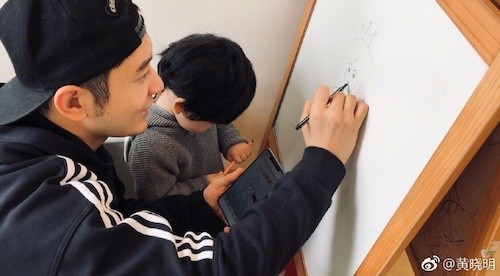 In early July 2019, divorce rumors started circulating again, which was denied by both parties' teams. Huang Xiaoming was seen responding to a fan on July 3 when they left this comment:"I like you and Baby (Angelababy)!" Huang Xiaoming responded back, "Thank you, I also like Baby (Angelababy)."
On November 13, 2019, Angelababy dispelled the divorce rumors once again by publicly wishing Huang Xiaoming a happy birthday, but this also became the last time she posted about it publicly. On January 18, 2020, it was initially reported Huang Xiaoming was absent for "Little Sponge's" birthday party, but it was later debunked when new clips showed he was there with Angelababy and he was dressed as Ultraman. On February 28, 2020, Huang Xiao publicly posted to wish Angelababy a happy 31st birthday.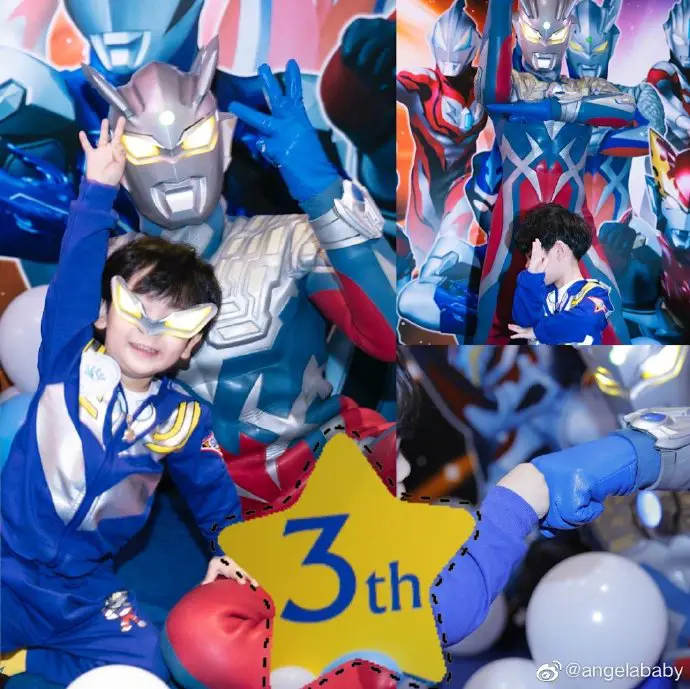 There were no birthday greetings from Angelababy for Huang Xiaoming's 43rd birthday on November 13. The next time Angelababy and Huang Xiaoming mention each other is on January 6, 2021. Old rumors about Angelababy coming between Huang Xiaoming's prior relationship with actress, Li Fei'er, are rampant again as she was one of the members on "Sisters Who Make Waves 2", in which Huang Xiaoming was a host. Angelababy issued a post saying Huang Xiaoming told her he was single when they first met. Huang Xiaoming also posted afterwards denying Angelababy was a third party in their former relationship. Due to the drama, Huang Xiaoming announced he was leaving the show only after two recordings.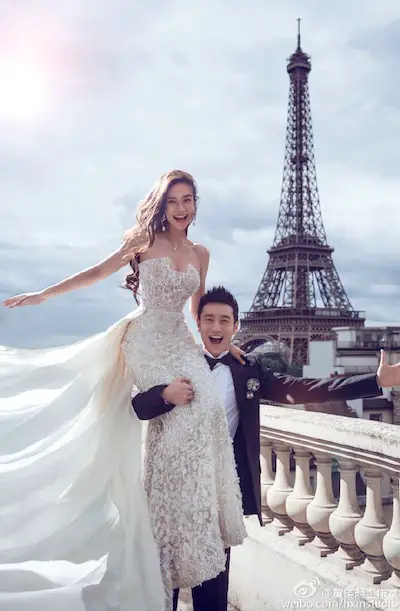 On February 17, 2021, Huang Xiaoming's studio denied he was clubbing with several women during Chinese New Year. There were similar rumors that Huang Xiaoming was seen clubbing in 2015, 2017 when Angelababy was pregnant, and in 2019. On February 28, 2021, Huang Xiaoming wished Angelababy a happy birthday, but she didn't respond. There were no more public interactions from the couple after this post.
On March 2, 2021, Huang Xiaoming and Angelababy were at the same event, but had no public interactions. However, Huang Xiaoming was spotted filming Angelababy when she was on stage. This was their last public event together. On October 13, Huang Xiaoming and Angelababy were spotted with "Little Sponge" traveling together. This was the last time they were seen in public together as a family.