It was a happy ending for Joe Chen (陳喬恩) and Alan Chen (曾伟昌) when they chose to be together on the finale of the variety show, "Meeting Mr. Right 2" (女儿们的恋爱2). While many people wished them well, there were netizens who felt the show was scripted and didn't feel like they were genuinely together. In order to squash those rumors, Joe Chen and Alan Chen both made "love confession" posts today. However, this has triggered some of Joe Chen's fans to "cancel" her as they don't believe Alan Chen is worthy of her love. In addition, they also dug up his "dirt", which raised some questions.
Joe Chen Responds to Fans Quitting on Her After Confirming Relationship with Alan Chen
On December 2nd, Joe Chen posted the following:
"Filming 'Meeting Mr. Right' was to fall in love
I didn't come here for the money.
Thank you to the production crew
Thank you to the dolphin's blessings (The dolphins were not arranged by the production crew either.)

No script, no lines
Thank you for your concern
Love didn't give up on me
Love will not give up on anyone who believes in it"
Joe Chen and Alan Chen Choose to be Together in "Meeting Mr. Right 2" Finale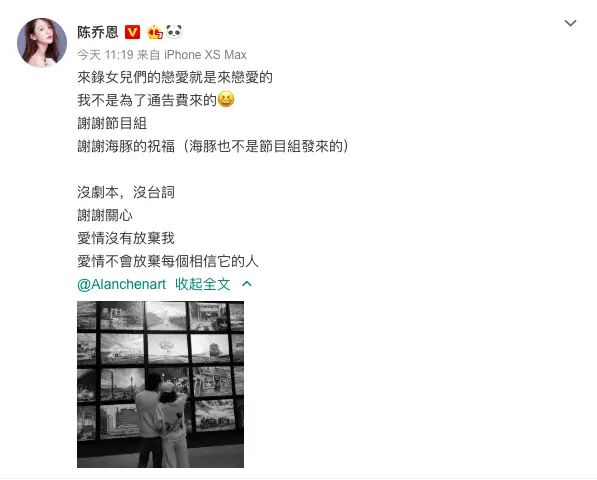 Netizens Bash Joe Chen's Date for Not Being Good Looking on "Meeting Mr. Right 2"
This is what Alan Chen posted: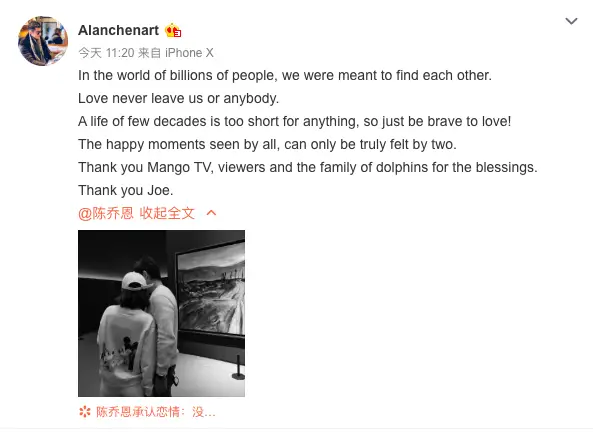 Joe Chen Has the Difficult Task of Working with Jin Han and Chen Youwei in "Hello, My Shining Love"
However, fans started to "cancel" Joe Chen after confirming her relationship with Alan Chen, especially after digging up his past. They started to go through his Instagram account and saw that he followed a lot of chesty women and liked pictures from internet celebrities. He was also seen playing golf with younger women before, but fans discovered he said this on the show before, "I have golf buddies. They're up in there in age, in their 50s." In addition to this, Alan Chen once said on the show that his family is in the health supplement industry. However, netizens looked up his family's company and claim it's actually a MLM business, which is illegal in China.
Joe Chen Responds to Jacky Heung After Wishing Her to Find a Partner
Joe Chen Lashes Out at Netizen Trying to Couple Her with 20 Year Old Actor, Leo Wu Lei
Some of Joe Chen's fans changed their profile pictures to all black and left comments on her love confession saying, "I won't congratulate you, but hope to see you happy. Goodbye!", "Goodbye (Don't say fans won't let her date. It's not like she's an idol. We're not that strict, it's just that this guy isn't worthy.", "Wish you happiness, goodbye.", "Before yelling at fans, please look at the man's conduct.". There were also some fans who defended Joe Chen saying, "You guys are too selfish.", "She's just dating. They can break up if it's not right, it's not like they're officially announcing their marriage."
Joe Chen Shares the Struggles of Being a 40 Year Old Actress and the Names People Called Her
Due to the backlash, Alan Chen addressed all the rumors going around about his behavior.
"I am a simple person and never thought about getting any attention from going on the show. In regards to what the netizens said about me today that I liked internet celeb pics, big chested girls, erotic pole dance girls, these are all misinterpretations. They are all my friends. They all have legitimate occupations.

Joe Chen Reveals She Hasn't Dated for 6 Years in "Meeting Mr. Right 2"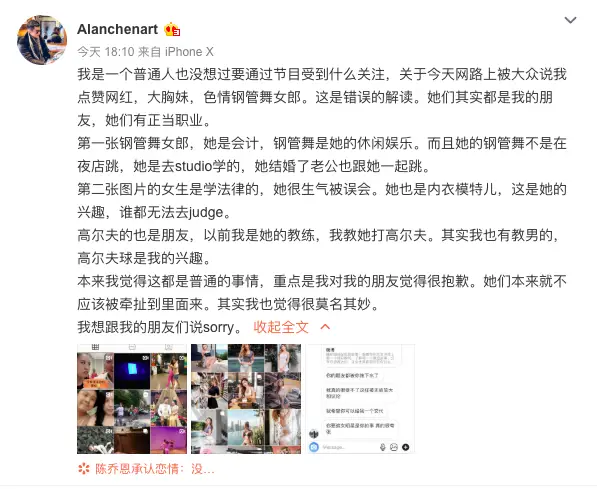 Ming Dao and Joe Chen Revisit "The Prince Who Turns into a Frog" 15 Years Later
The first picture of the pole dance girl. She is an accountant. Pole dancing is her hobby. She doesn't dance at night clubs either. She learned it at a studio. She's married and her husband also dances with her.
Joe Chen Celebrates First Valentine's Day with Alan Chen
Joe Chen Continues Flaunting Relationship with Alan Chen and We're All For It
The second picture of this girl, she is studying law. She is very upset she is being misunderstood. She is also a lingerie model. This is her interest. No one can judge her.
Joe Chen Responds to Pregnancy Speculations After Recent Photos Go Viral
Joe Chen and Alan Chen Debunk Break Up Rumors Circulating from Joe Chen's Cryptic Post
The [girl in the] golf pictures is also my friend. I used to be her trainer. I taught her how to play golf. I actually taught men too. Golf is my interest.
Joe Chen Has Trouble Holding a Conversation with Wang Yibo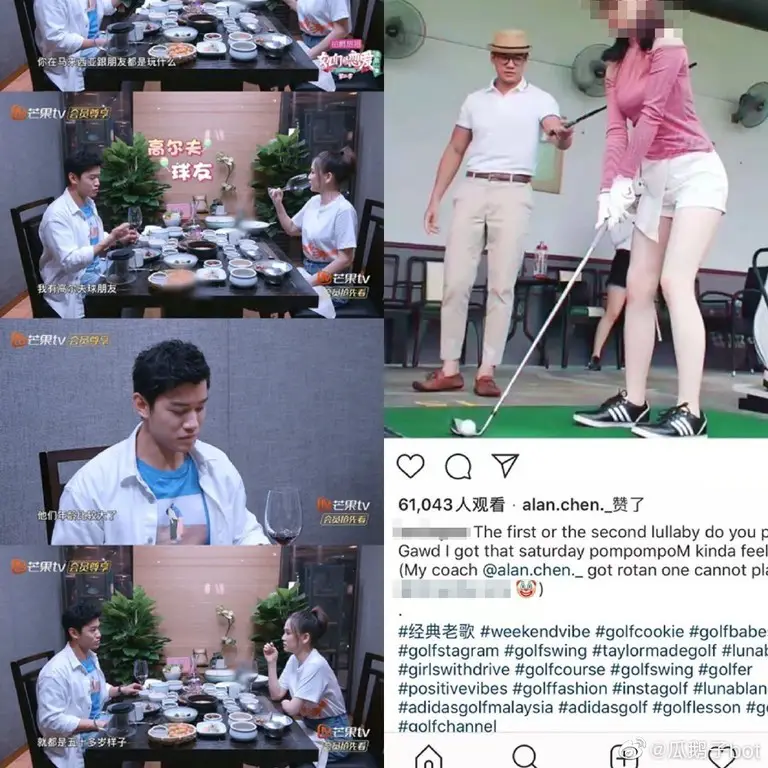 Joe Chen and Alan Chen Celebrate One Year Dating Anniversary
I originally thought all these were very simple matters. The important thing is, I feel very sorry to my friends. They shouldn't have been dragged into this. I also thought this was very baffling. I want to say sorry to my friends."