There have been a lot of controversy ever since there were rumors about the casting of the costume drama, "A League of Nobleman". The series is a drama adaptation of the BL novel, "Zhang Gongan" (张公案), written by female novelist, Da Feng Gua Guo (大风刮过). There were initial rumors Jing Boran (井柏然) and Leo Wu Lei (吴磊) would be starring in the drama adaptation. However, there was controversy brewing when it was rumored Leo Wu wanted to be billed first instead of being on the same level as Jing Boran. The rumor goes further to say that Leo Wu refused to sign the contract if he wasn't the first lead.
Song Weilong Couldn't Hold Back from Crying in Certain Scenes in "Go Ahead"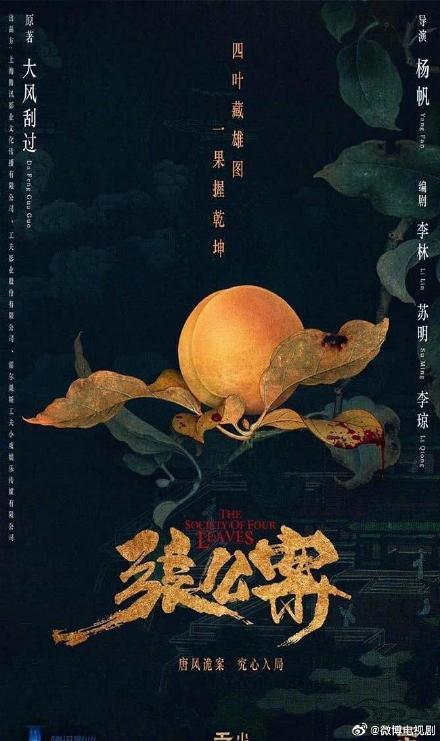 Song Weilong Asked if He is Dating Victoria Song in Real Life
This move reportedly offended Tencent, who is said to be one of the investors of the series. After these rumors came out, netizens noticed Leo Wu was not included in a promotional poster for his series, "Cross Fire". His scheduled live broadcast with Tencent was also canceled without reason, which led some netizens to believe the rumors. At one point, Song Weilong (宋威龙​) and Ethan Ruan (阮经天) were rumored to star in the project.
Song Weilong Rumored to be in New Relationship with Model, Zhao Jiali
Song Weilong and Victoria Song in "Find Yourself" is Giving Everyone Toothaches
The storyline of "The Society of Four Leaves" (张公案) revolves around the Minster of Etiquette, "Lan Jue" (32), who meets the poor scholar, "Zhang Ping" (22). "Lan Jue" witnesses "Zhang Ping's" rise from a poor scholar to a a low ranking official and eventually being promoted to prime minister. The series will also revolve around "Zhang Ping" assisting the Minister of Crime, "Wang Yan", in solving crimes.
11 Trivia Facts about Song Weilong
More controversy happened on August 22 when Yu Zheng had posted a picture of Song Weilong on his IG, expressing his excitement over a big project he secured for his artist. Fans suspected it was for "The Society of Four Leaves". He later backtracked it on Weibo saying he was in talks over a project that "wasn't worthy of mentioning".
Song Weilong and Jelly Lin Refute Rumors They are Getting Back Together
Seven Tan Songyun Addresses Controversy over Familial Love Turning into Romance in "Go Ahead"
On August 24, the author of "Zhang Gongan" made a post saying, "I am opposed to a certain actor portraying "Zhang Ping" because he acted in some series that reached my bottom line." She said there wouldn't be any change just because of her opinion, but she still wanted to state her perspective. She said if this actor is acting in the drama adaptation of "Zhang Gongan", she and her book will be completely split apart from it. When someone asked her if she was talking about Ethan Ruan, she responded that it wasn't him.
Song Weilong Gave His First On-Screen Kiss to Vivian Sung
Yang Zi and Jing Boran Explore Mental Health in Drama Adaptation of "The Psychologist"
A few days later on August 29, there were reports that "The Society of Four Leaves" had started filming with Jing Boran and Song Weilong starring as "Lan Jue" and "Zhang Ping" accordingly. There were pictures of the two together at the blessing ceremony. It's rumored the supporting cast will include Bi Wenjun (毕雯珺), Wang Duo (汪铎), and Liu Xueyi (刘学义).
Jing Boran Disbands "Wang Fu Jing" After Jackson Wang Forgets Their Group Name