The saga between Zheng Shuang (郑爽) and Zhang Heng's (张恒) custody battle took a different turn after Zheng Shuang and her family talked to the media on January 23. Zheng Shuang's father apologized on the family's behalf for the words they said about abandoning the children and suggesting adoption in the audio clip. Zheng Shuang revealed courts documents showing she had filed a lawsuit against Zhang Heng in August 2020 to gain legal custody of the children in Denver, Colorado. Zheng Shuang's mother also revealed alleged chat conversations she had with Zhang Heng admitting to cheating.
On January 26, Zhang Heng's father spoke with NetEase Entertainment and refuted some of Zheng Shuang's family's claims with his own evidence.
Zheng Shuang Reveals 2020 Court Documents Suing Zhang Heng to Gain Legal Custody of Children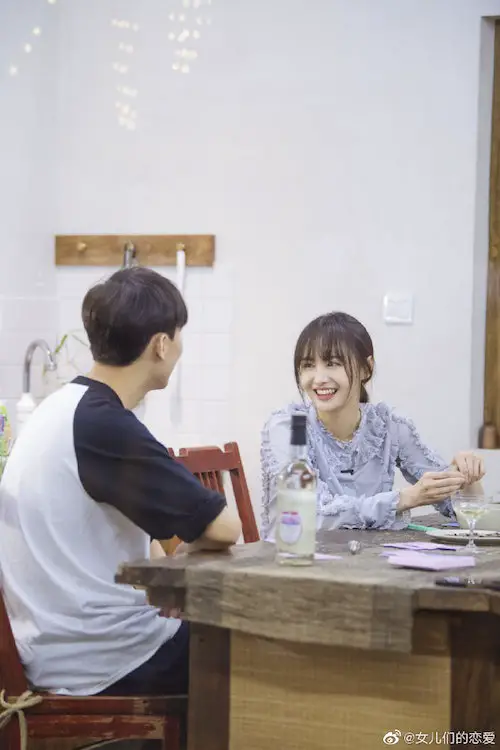 Leaked Audio Suspected to be Zheng Shuang's Farewell Speech on Quitting Showbiz
NetEase Entertainment: What is the current situation of the children?
Zhang Heng's Father: The two children are currently being cared for by Zhang Heng and his mother in the US, but I feel really bad. I see the children's videos and I feel bad because they can't come back.
NetEase Entertainment: Zheng Shuang's father revealed last week in an interview they renovated their Shenyang home in preparation to welcome the births of the next generation. In the audio, Zheng Shuang and her family couldn't control their emotions, which resulted in their extreme outburst. How do you view this?
Zhang Heng's Father: Zhang Heng and Zheng Shuang returned to Shanghai on October 4. We also rushed to Shanghai. Zheng Shuang notified us to meet her and her family on October 6, which was later changed to October 8. Afterwards, Zheng Shuang went to the company's office the morning of October 8 and without Zhang Heng's knowledge, she opened his drawer and safe and took a lot of documents and related contracts.

I also have a lot of uncontrollable emotions. In fact, it's already been over a year, what can I do? When the media interviewed me, did I lose control?

The previous recordings exposed by the media was from October 8. Everyone can clearly hear Zheng Shuang and her parents propose to abandon the children more than once since it's taken shape and can't be aborted, then give them away.

Also, on December 7, I was left with no choice. I went to find Zheng Shuang's father to discuss about the children. The result was the same, that is [they] don't want them and won't let Zhang Heng have them either.
All this about you saying to decorate the house doesn't mean that you can avoid the important matters and hide things.
If you really cared about the children, then how could you propose such heartless suggestions? How could you drag it out for such a long time and not cooperate with the request to properly arrange for the children's lives?
Zhang Heng's father showed a three page hand written contract that was allegedly written by Zheng Shuang while she was in Barcelona, Spain on October 2, 2019. Zhang Heng's father said Zheng Shuang's contract required them to pay her 35.56 million RMB.
Zheng Shuang Allegedly Listed as the Mother of Her Ex-Boyfriend, Zhang Heng's Two Children on Birth Certificates
Zheng Shuang and Her Father Address Surrogacy, Abandonment Recording, and Exposes Zhang Heng for Cheating
Zhang Heng's father also showed an alleged screenshot of Zhang Heng texting Zheng Shuang on January 19, 2020 asking to settle their case. Zhang Heng is allegedly saying he will try to pay the amount she asked for to the best of his ability and agrees to her 15 demands. He said he loves her, but to a limit and that he didn't hold back at all when he loved her. His last text said, "Please…have some humanity. Protect the two chidlren who should be protected."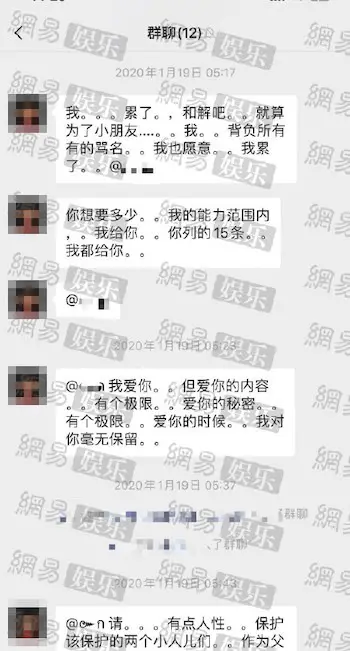 New Recording Allegedly Shows Zheng Shuang Calling the Pregnancies a "Mistake" and "Giving Away the Children Would Be a Good Thing"
NetEase Entertainment: There are news that on the day of the recording, you and Zheng Heng's mother went to Zheng Shuang's family to apologize. Is that true? Zheng Shuang's side exposed on several occasions about Zheng Heng cheating. Can you respond to this?
Zhang Heng's Father: About the so-called apology, on the afternoon of October 8, Zhang Heng's mother and I went to Zheng Shuang's home hoping to discuss resolutions for the issues. We went because Zheng Shaung and Zhang Heng had already broken up.
As for the specific quarrels between their relationship, I really don't know and don't want to say too much.
Alleged Recording Suspected to be of Zheng Shuang and Her Parents Suggesting to "Abandon, Give Up Babies for Adoption" with Zhang Heng's Father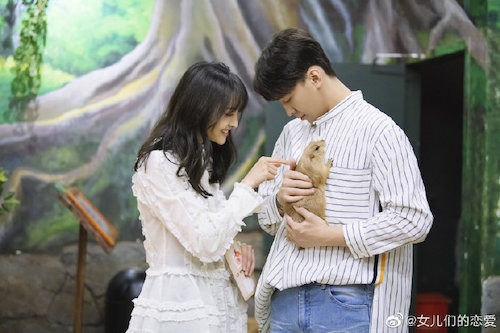 The Aftermath of Zheng Shuang's Surrogacy Scandal: Loss of Endorsements, Scolding by Government, Boycott By Producers, and More
NetEase Entertainment: Zheng Shuang's family expressed since the children were born, they've been searching for their whereabouts. Around July, August 2020, they sued Zhang Heng over the children's custody. Since the children were born until now, is it true Zheng Shuang's side hasn't been able to contact the children? Have there been any of her relatives or friends who visited the children before?
Zhang Heng's Father: Since before the children were born, during their birth, after their birth, there hasn't been any point in time that she wasn't able to contact the children. Surrogacy in the US is not child's play. As the children's biological mother, if you wanted to contact the children, would you not be able to?
The truth is it was really hard to contact her during the process. In fact, when we were able to contact her, the other party never asked anything about the children's situation.
Zhang Heng's father shows an alleged screenshot of him trying to contact Zheng Shuang since December 22, 2019, but found out he was blocked. On January 4, 2020, Zhang Heng tried to text her saying, "They are already born."
Li Chuan Uses His Pet Shiba Inu's Account to Respond to Rumors Zheng Shuang was Cheating with Him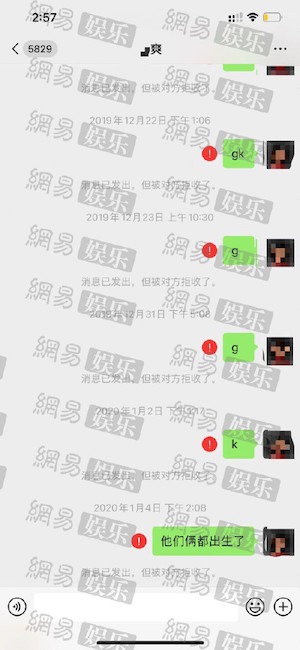 Zheng Shuang Reveals Reason for Her Extreme Weight Loss
In addition, in order to make Zhang Heng agree and coordinate with her to give the children away to the third party at the time, Zheng contacted the surrogacy agency and asked them to help her give the children away. The surrogacy agency sent an email asking Zhang Heng and Zheng Shuang's views because both parties' agreements are required to proceed further.
It is Zheng Shuang who is suing Zhang Heng for the case in the US. The official petition requires to input Zhang Heng's contact information and address. If [they] really didn't know how to get in touch, then how does the petition have this information? This is all self-explanatory.
Zhang Heng's father shows an alleged email dated on October 10 that was sent to Zheng Shuang and Zhang Heng asking if they wanted to proceed with sending their children to the adoption agency. The October 19, 2019 email is allegedly of Zheng Shuang forwarding the email to Zheng Heng asking him to respond with his answer to the original email by October 21, 2019, but "if there is no response, then that means you tacitly agree to proceed to the next step."
Zheng Shuang Explains Why She Doesn't Like Her Character, "Bei Weiwei", from "Love O2O"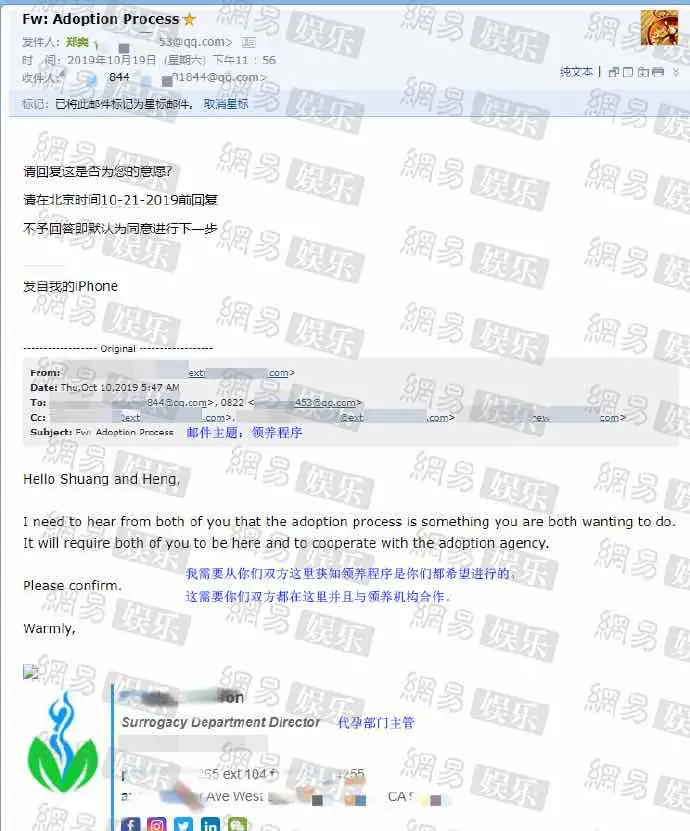 Tiger Hu Throws Shade at Ex-Girlfriend, Zheng Shuang, For Her Comments about Shanghainese Men
NetEase Entertainment: As the children's father, why did Zhang Heng ultimately decide to publicly reveal all these matters on the internet? Why hasn't he come forward at the moment and why hasn't he spoken up again?
Zhang Heng's Father: Revealing it on the internet means exposing your own privacy in front of everyone. It has a lot of risks in public opinion. He didn't want to speak up previously because of the children.
However, he was practically trending twice a month in the past year. These false stigmas might have broken through his bottom line under the the long term torment he experienced. So he couldn't take it anymore. Afterwards, he spoke up only because he couldn't hold it in anymore and also didn't know what else he could do.
As for why he didn't speak up anymore, he writes [the posts] on his Weibo. He makes the decisions, but we urge him to restrain himself or else he will fall into into the endless verbal battles. What significance is there for us and the children [if that happens]?
Zheng Shuang and Zhang Heng Face Each Other in First Custody Hearing in Denver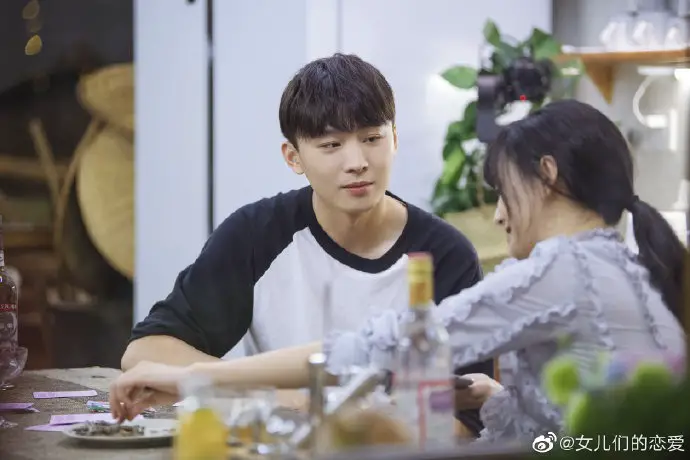 Zheng Shuang Thinks it Might Be Better if She Didn't Date Her Manager Boyfriend, Zhang Heng
NetEase Entertainment: There are rumors Zhang Heng ran into issues with his visa. Has the issue with his visa expiring been handled already?
Zhang Heng's Father: Zhang Heng has already applied to extend his visa for a second time. During the process, he looked for a lot of different immigration lawyers. The explanations he got for the problem are all different. He had also previously gone on the internet to find related cases. He's now waiting for approval on his visa extension from the immigration department.
NetEase Entertainment: Is Zheng Shuang's side already fighting for the children to return home?
Zhang Heng's Father: Our family will fight to win the lawsuit. I don't know about the other things. I can't respond on other people's behalf.
NetEase Entertainment: This incident with surrogacy and abandonment has caused a lot of wide range discussions in society. What is Zhang Heng's attitude towards surrogacy now?
Zhang Heng's Father: He is very sorry and regrets his very immature decision at the time. He also expresses that he will definitely bear the responsibility of a father and continue to raise these two children with all his heart.