Back in February, Xiao Zhan (肖战) and his fans were crucified when a portion of his fans reported a fanfic called "Xia Zhui" (下坠), that coupled him and his co-star, Wang Yibo. In addition to the fanfic, they had also reported American fanfic site, Archive of Our Own (AO3), LOFTER, and Bilibili to the official authorities for explicit content. On February 27, people affected by the reporting decided to retaliate against Xiao Zhan by boycotting his endorsements and work and became his anti-fans. This was the start of a smear campaign that was later known as the "227 incident".
Xiao Zhan Continues to Suffer Backlash from the AO3 Controversy
The past
On February 29, AO3 access in China was officially blocked. There were reports of creative work taken down on LOFTER and Bilibili as well. Though some users said they were still able to access AO3 using VPN, it didn't quell the anger of those affected. Many creative communities believed the shutdown of AO3 in China was a result of Xiao Zhan's fans doing. Xiao Zhan issued an apology on March 1, but still received a lot of criticism and hate for not addressing the incident immediately.
Xiao Zhan Addresses AO3 Incident and Talks about His Relationship with Fans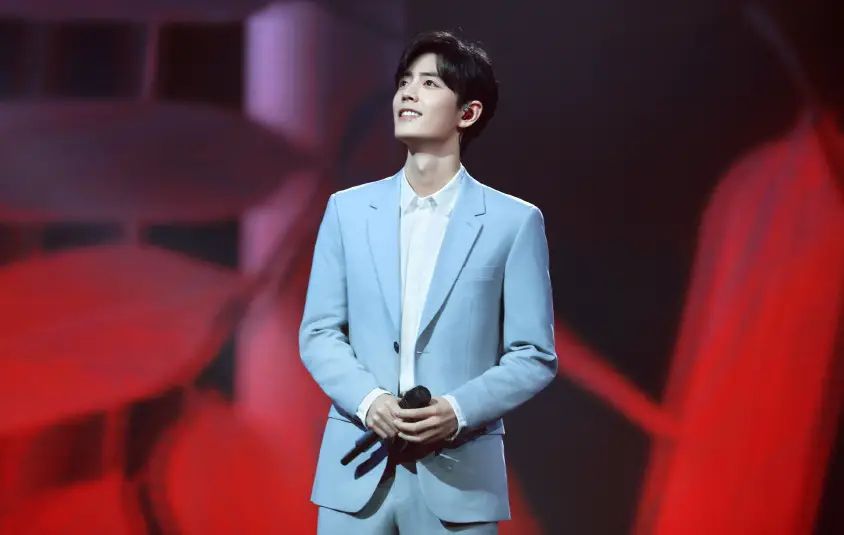 Xiao Zhan Wants His Fans to First Focus on Living Their Life Well
The aftermath
During this time, Xiao Zhan remained a low profile and didn't engage in much work activities despite the entertainment industry had already resumed operations. His updates were few and far between until he released an uplifting single called, "Made to Love" on April 25. By this time, it seemed like the hatred and attacks from his anti-fans had subsided a bit. However, on April 28, rumors were circulating he was invited by He Jiong to be a guest on the variety show, "Back To Field". It was met with a lot of opposition and threats to boycott He Jiong if they proceed with it. Xiao Zhan denied the rumors and urged people to not hurt others.
On April 28, his studio refuted accusations Xiao Zhan had lied about making donations. They also issued a very bold statement against the person who started the rumors: "You must take responsibility for each word you say."
Xiao Zhan Releases Inspirational Single, "Made to Love"
Xiao Zhan Responds to Opposition Over Rumors He Jiong Invited Him to Guest on "Back to Field"
The journey to a new beginning
On May 6, an interview Xiao Zhan did with the Economic View was released. While he didn't directly refer to the AO3 incident, he apologized to those who were impacted by it. He also explained the relationship with his fans is more of equals and didn't agree with the word "managing" when it came to interacting with his fans. After the interview came out, the overall public response seemed positive. The director of "The Untamed", Chan Kalam, had reposted the interview and praised Xiao Zhan. A few days after the interview, Xiao Zhan was doing charity work to help revive Hubei province, where Wuhan is located.
Xiao Zhan Voices His Stance on Fans Rallying to Support Him
Heated Debate Amongst Netizens Over Rumors of Xiao Zhan, Zheng Shuang, and Ju Jingyi Starring in New Drama, "Chun Ri Yan"
As Xiao Zhan was starting to gain back some favor from the public, he was in the news again when it was reported a few kindergarten/elementary school teachers had rallied their students to show support for Xiao Zhan. While this seemed innocent, it was still a sensitive period. Xiao Zhan's public image was treading on eggshells. Once again, he issued a statement on May 10, telling fans to put their lives ahead of chasing celebrities. He told his fans he didn't need them to rally support for him.
Chinese Actor, Xia Fan, Makes Mysterious Post Attacking Xiao Zhan
On May 20, it was revealed Xiao Zhan was working with a law firm to start an official investigation on the illegal use of his name to spread information on the internet. This is a culmination of all the slanderous rumors against him over the past few months.
What Happened to Xiao Zhan's Guest Appearance on "Youth Periplous 2"?
"The Untamed" Director, Chan Ka Lam, Speaks Up for Xiao Zhan After He was Awarded "Most Disappointing Actor"
It seemed Xiao Zhan was gearing up to start working again as he was spotted filming for variety show, "Youth Periplous 2" as a guest. His studio even uploaded a video of "a day in his life" on June 9.
Xiao Zhan's Studio Issues Apology and Takes Blame for Not Guiding His Fans Well
How did Xiao Zhan get involved with LOFTER?
However, on June 12, his lawyer issued a statement denying Xiao Zhan nor his team were involved in LOFTER being taken down from app stores. She wrote: "Regarding Lofter's (app) current situation, it has no connection with Mr. Xiao Zhan and his team. The people who are fabricating and spreading rumors, instigating and organizing personal attacks against Mr. Xiao Zhan, and engaged in behavior disrupting Mr. Xiao Zhan's business activities are suspected to have committed a criminal offense. As I was appointed to be Mr. Xiao Zhan's lawyer, we will collect all the relevant criminal evidence and cooperate with the police bureau to combat cyber criminal behavior and bring criminals to justice!"
Xiao Zhan Writes Open Letter to Himself for 29th Birthday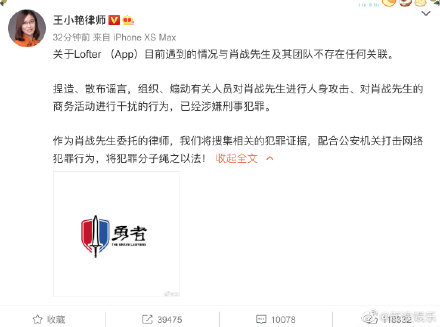 How did Xiao Zhan get dragged again? It was reported the LOFTER app was taken down from the Android app store on June 6 and removed from Apple's app store on June 7. It's not clear what the reason is, but netizens started accusing Xiao Zhan's fans as the culprits. The accusations state they were using a software to track down erotic content on LOFTER in preparation to report it. In addition to that, they were accused of collectively leaving malicious comments and content on the popular tags on LOFTER and publicly incited people to flood the trending LOFTER tags. On June 6, it was reported there were links to erotic pictures under trending LOFTER tags. There is no concrete evidence and could very well be the doing of anti-fans.
Many netizens have been lamenting over the loss of LOFTER using the hashtag, "LOFTER taken down forever" on Weibo. Some people even suggested to remove Xiao Zhan and BJYX (fandom name for Xiao Zhan and Wang Yibo CP fans) tags from LOFTER.
The app apparently still works on existing devices. It just won't be available for download on new devices or work with new phone numbers. Even then, many considered it a big blow to the creative community. LOFTER issued a statement on June 12 stating: "Everyone, there's no need to panic and no need to worry either. With you guys here, LOFTER will always continue operating! Didn't you guys say it? We are backed by big factories with enough resources and support. We still have a lot of things to do! We will also speed up the adjustments and upgrades. We believe it'll be very soon until we are listed again to welcome new and old friends alike!"

In an internal note to LOFTER users, they confirmed the company ran into some issues, but assured current users wouldn't be impacted. They urged them to continue using the app normally. LOFTER also said they would be undergoing an internal investigation on the content to ensure the LOFTER community could continue safely developing.