It has been almost 4 months since the "227 Incident" and it seemed like things were starting to look up for Xiao Zhan (肖战). On May 22, it was reported Xiao Zhan flew to Sanya, China, to guest on variety show, "Youth Periplous 2" (青春环游记2). There were fan pictures of Xiao Zhan at the airport and even leaks of him seemingly filming for the show. A picture of Xiao Zhan with the cast of "Youth Periplous 2" was even circulating online. Fans have been anticipating his appearance on the show because it has been awhile since he has been on any show.
Xiao Zhan's Lawyer Denies His Involvement with LOFTER Being Taken Down
Xiao Zhan Addresses AO3 Incident and Talks about His Relationship with Fans
The first episode featured Sanya, but Xiao Zhan was nowhere to be seen. So fans figured he would be on the second episode. When the second episode aired on June 13, the filming location had already shifted to Guilin. Xiao Zhan was not in any scenes either. There were speculations that Xiao Zhan's scenes were cut out. In next week's episode of "Youth Periplous 2", the cast has already traveled to another city, Yangshuo County. It looks like any chances of Xiao Zhan's appearance on the show are slim.
Xiao Zhan Voices His Stance on Fans Rallying to Support Him
Xiao Zhan Continues to Suffer Backlash from the AO3 Controversy
Xiao Zhan Releases Inspirational Single, "Made to Love"
Xiao Zhan Responds to Opposition Over Rumors He Jiong Invited Him to Guest on "Back to Field"
It's uncertain what caused Xiao Zhan's scenes to be removed. On May 29, there was already a rumor saying Xiao Zhan wouldn't appear on the show. The person claimed, "They probably won't promote Xiao Zhan later on. He won't be recording in the later weeks either. The show has already edited the first episode without Xiao Zhan as a backup. Let's see what they air in the end. This show can't withstand it as the TV station, the sponsors, and the artist are all under a lot of pressure." There were also rumors that he was supposed to be a permanent member but then got relegated to being a guest and now his scenes are removed.
Heated Debate Amongst Netizens Over Rumors of Xiao Zhan, Zheng Shuang, and Ju Jingyi Starring in New Drama, "Chun Ri Yan"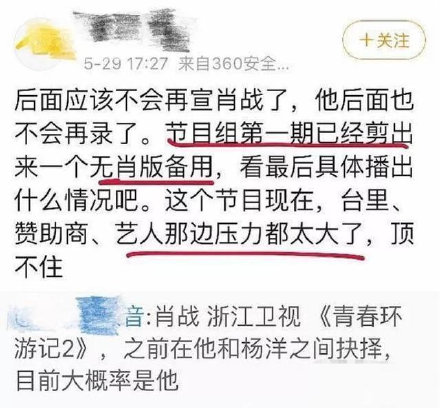 Xiao Zhan Wants His Fans to First Focus on Living Their Life Well
Many have argued that Xiao Zhan was never officially announced as a guest, so fans shouldn't be upset. Actor, Sha Yi, who was a guest on the first and second episodes, was formally announced prior to the first episode airing on June 6. There was one rumor claiming Xiao Zhan's scenes would appear in an unaired special that would be released online at a later date.
"The Untamed" Director, Chan Ka Lam, Speaks Up for Xiao Zhan After He was Awarded "Most Disappointing Actor"
Fans were understandably upset and were bombarding ZJTV with complaints about them stringing Xiao Zhan along to draw interest for the show. What's alarming is that there is actually a hashtag called "Boycott Xiao Zhan's Variety Shows, Movies, and Television Works", which has already been read over 450 million times.
Xiao Zhan's Studio Issues Apology and Takes Blame for Not Guiding His Fans Well

Xiao Zhan Writes Open Letter to Himself for 29th Birthday
This is on top of the recent controversy where Xiao Zhan and his fans were accused of causing the Chinese app, LOFTER, being removed from app stores on June 6. Some netizens alleged Xiao Zhan's fans flooded the LOFTER tags with adult and explicit content, which caused the app to be removed. There is no concrete evidence and it could very well be the doing of anti-fans. Xiao Zhan's lawyer issued a statement on June 12 denying him and his team's involvement in LOFTER's current situation.