It has been a little over 3 months since Xiao Zhan (肖战) became the target of an online wide smear campaign that resulted from the AO3 scandal. During this period, he was often criticized for not addressing the issue directly and not "managing" his fans well. Xiao Zhan finally addressed the incident in an interview with Economic View on May 6 and talked about his thoughts on maintaining a relationship with his fans.
Xiao Zhan Releases Inspirational Single, "Made to Love"
DO NOT REPOST OR COPY ELSEWHERE
Interviewer: On April 25, you posted this on Weibo: "Whatever happened in the past will be engraved in my memories. Thankful for all the well intended criticisms and pointers for improvement. Maturity is part of the journey." After this was posted, it attracted a lot of attention. There were a lot of different interpretations online. When you posted that Weibo, what were your most genuine thoughts?
Xiao Zhan Continues to Suffer Backlash from the AO3 Controversy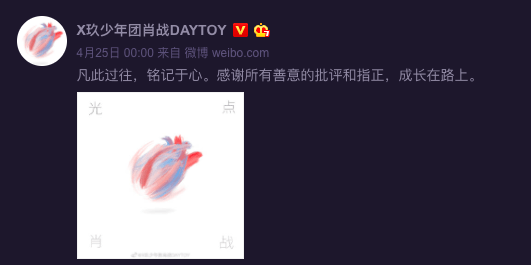 Xiao Zhan Pens Heartfelt Post about the "AO3 227" Incident One Year Later
Xiao Zhan: When I was 23 years old, I was a normal person who entered the entertainment industry by chance. I think bearing this sense of responsibility is unprecedented. To me, it was greatly unprecedented. This is a transformation of identities. The most important thing to me is the transformation in mentality. My expectations of myself has always been to constantly improve, to always be in a state of learning.
Some time ago, there was some controversy related to me that happened. In fact this controversy happened during the most crucial period when the whole country was fighting the outbreak. Actually, when I was at home in self quarantine at the time, I felt very uneasy and regretful. If it's because of such controversies that have impacted netizens and given them trouble, I want to sincerely say I'm sorry to them right here.
Tan Lina's Company Responds to Her Wearing a Counterfeit Version of Xiao Zhan's Outfit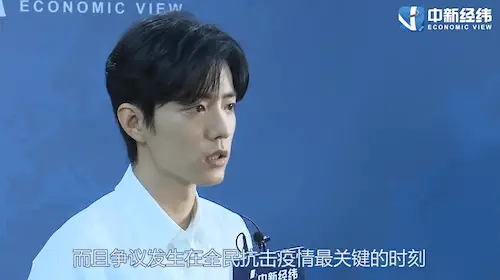 Xiao Zhan Reacts to Being Perceived as Fake and Reading Comments about Himself
Interviewer: On Weibo you also mentioned "Thankful for all the well intended criticisms and pointers for improvement." What are those criticisms and pointers actually referring to?

Xiao Zhan: Since I debuted to now, well intended criticisms and pointers for improvement have never discontinued. In the beginning from being a normal person going on stage, having to dance and sing, at that time, I've never had any professional training in dancing. As for singing, I didn't systematically practice it either. At that time, whether there were a lot of friends, or elders, or netizens, they all had pointed out a lot of well-intended criticisms and pointers for improvement. I personally welcome it very much because I feel like these kind of pointers will allow me to improve.
Of course there are some malicious comments, especially some rumors and slanderous comments. I think it wasn't just directed towards me. They were troubling a lot of my friends and even my family. They did some hurtful things to my family.
Chinese Actor, Xia Fan, Makes Mysterious Post Attacking Xiao Zhan
Interviewer: When you first saw these malicious rumors and slanderous comments, what were you feelings? Would you feel very wronged?
Xiao Zhan: Actually, it's not about feeling wronged either. I think it's more about not being able to figure it out.

Interviewer: When you couldn't figure it out, what did you do to resolve some of those emotions?

Xiao Zhan: It was like a while ago, a friend sent me a text to enlighten me. He said a phrase to me that I thought was especially good. He said "When you're serious, go to work. When you're confused, go read. When you're alone, ponder. When you're sad, go to sleep." I feel this phrase greatly summarized my situation during these past few months. Just like I said before, a lot of times I was pondering, reflecting on whether or not I was sensible when was I younger, that I expressed some not so good comments. I was around 19 or 20 at the time, I remember I just started using Weibo. I completely didn't realize that on such a public platform, leaving comments on someone else's Weibo and then expressing some inappropriate views. I think I must've created some harm and impacted them. So today, I especially want to apologize for the impact that resulted from my inappropriate comments in the past and I want to say sorry to the people I've hurt because of some of my views.
Xiao Zhan Writes Open Letter to Himself for 29th Birthday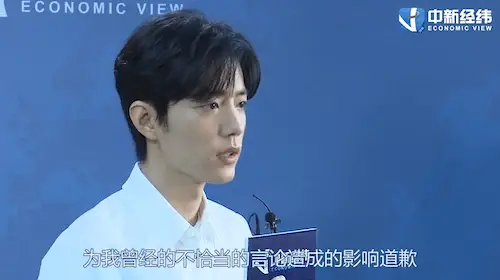 Xiao Zhan Voices His Stance on Fans Rallying to Support Him
As an artist, as a public figure, after receiving everyone's attention, I personally experienced that the more attention you get, the more responsibility you have. So I hope my path going forward, I can release more of my energy and good intentions, be worthy of everyone's attention and love. Also, another point is to always have a grateful heart. This was what I was taught by my family since I was young. Just quarantining at home this time, I saw a lot of news. What touched me the most was a mother, she put down her child and tearily told him, "Mama is going to fight monsters now." She wants the child to live in a really perfect world. She used her own motherly love to separate the bad things. So I really want to say I'm grateful for each person who are fighting hard in their position and taking serious responsibility.
Yuehua Entertainment Denies Anti-Xiao Zhan Fan is Their Staff Member and Part of Wang Yibo's Team
Secondly, as an artist, whether it's being an actor or a singer, I need to constantly elevate my acting skills, practice my singing abilities, hone my acting skills and present a good project to give back to everyone. Even though since my debut, it seems like I don't have any memorable projects or results to show for it, but I will continue to grow. I want to continue challenging different roles and sing even better songs for everyone. To me, this is what "maturity is forever part of the journey".
Xiao Zhan's Lawyer Denies His Involvement with LOFTER Being Taken Down
Interviewer: Because you were a normal person before, it seemed like after getting popular with "The Untamed", your fanbase seemed to have grown a lot overnight. What type of experience is it to have so many fans?

Xiao Zhan: From being a normal person to being a public figure, receiving so much attention and love, I really feel very lucky. I don't even know who they are. I don't know who they are specifically, where they're from, how they look, but once I found out so many people were supporting me and using their own power to do charity in my name, spreading this love and power to everyone, I really felt the power they gave me. Like I said before, I really hope I can do even better so I can be worthy of their fondness.
Hong Kong Actress, Do Do Cheng, Praises Xiao Zhan's Performance in "The Untamed" and Reveals Her Affinity with Him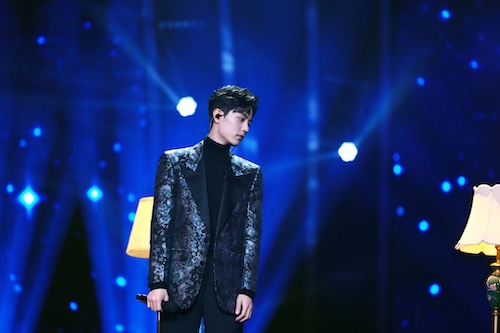 Watch the video here: https://www.weibo.com/tv/v/J0IRYroKi?fid=1034:4501723683684367
Interviewer: I believe having so many fans will bring some worries. Just like now, there is a popular saying that "idols should manage their own fans well". What are your views on this?
Xiao Zhan: Yes, this word has been revolving around me these past few months. I have seriously pondered about this. I also discussed this word with my staff members. First off, I don't agree with this word. Speaking for myself, I don't agree with it. Because I feel people who support me and those who love me, we don't have a boss/employee relationship. "Managing", this word, I don't think our relationship is that of a boss and employee. Moreover, I think our relationship is more of equals.
Xiao Zhan's Manager Denies Being Mastermind Behind AO3 Scandal
As an artist, as a public figure, for myself, I need to do my job well, perform my roles well, sing my songs well, treat my projects seriously, use my actions to do some positive things, to guide the people who love me. I think this is truly what I need to do and is also what I've been wanting to do and what I am doing right now. So to the people who like me and support me, I hope they won't do anything so extreme that would hurt others, hurt themselves. I hope they can protect themselves well, love themselves, live their life well. This is the most basic. If there is a chance or possibility, whether it be through work or studying, we can use our actions together to do even more to help others and do more meaningful things for this society.
What Happened to Xiao Zhan's Guest Appearance on "Youth Periplous 2"?
"The Untamed" Director, Chan Ka Lam, Speaks Up for Xiao Zhan After He was Awarded "Most Disappointing Actor"
Interviewer: What do you advocate your fans to do to make this world a better place?
Xiao Zhan: I think doing charity work is actually what a normal person should fulfill as their civic duty. Especially public figures like me, who receives attention from everyone, should bear more of this civic duty. Actually, while quarantining at home during the outbreak, I was just like everyone else. I was following the progress of the outbreak everyday. During this time, I also used a bit of my power to help everyone, rally everyone. That charity project team was actually started by my fans with the help of my team to support the promotional site. We want to use a small platform to spread a little bit of my good intentions. In fact, I think doing charity has always been a long term thing that requires persistence to continue on. In the future, I will also personally participate in such events. Of course, if it can influence even more people to participate, then let us all use our ordinary heart to do an ordinary thing.
Xiao Zhan's Studio Issues Apology and Takes Blame for Not Guiding His Fans Well
After the interview aired, the director of "The Untamed", Chan Ka Lam, left a comment on Xiao Zhan's post regarding his interview with the "Economic View".