Episode 2 of Youku's "Street Dance of China 3" (这!就是街舞3) proved to be "lit" with all the explosive performances from the leaders and the dancers. Aside from Wang Yibo, Lay Zhang (张艺兴) also received a lot of compliments on his krumping performance in the episode. It also caught the attention of celebrities such as Lyric Lan Yingying (蓝盈莹) and Jin Chen (金晨), who are both currently competing on MangoTV's "Sisters Who Make Waves" (乘风破浪的姐姐), a survival show for female artists aged 30+ competing for a spot in a girl group.
Wallace Chung Talks about Working with the Other Leaders on "Street Dance of China 3"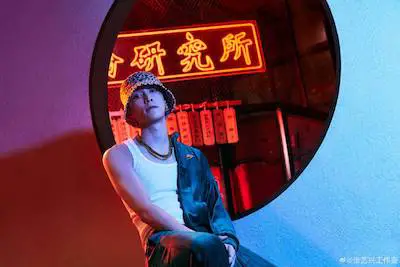 What Does it Take to be a Trainee at Lay Zhang's New Company, Chromosome Entertainment Group?
Lyric Lan saluted Lay Zhang with the English lyrics from his song, "LIT". Lay Zhang left a comment on her post, saying, "Hi, Lan Yingying laoshi. Thank you for helping me type the lyrics. If you're interested in krump, I can communicate with you next time." Lyric Lan responded, "Great! hahaha".
Lay Zhang: You Can Ridicule Me, But Don't Ridicule Hard Work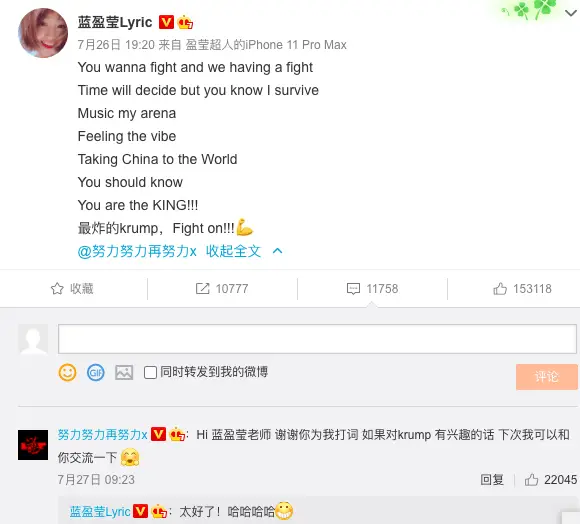 Lay Zhang Gives Savage Response on Why He Initially Refused to Join "We Are Young 2020"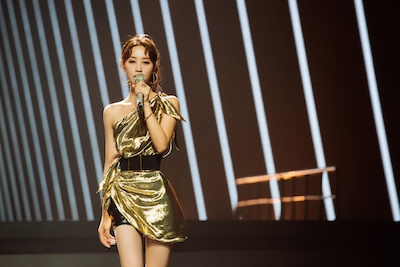 Lyric Lan Clarifies Dating Speculations with Li Xian
Jin Chen's post read: "Yixing's hat trick is so cool! The energy from a sheep's hammer is really strong. Looking at it has made me crazily shake my head in the car! I also want to dance until the floor has a pit!"
Juck Zhang Denies Cheating Allegations with Jin Chen and Deng Yuli while Dating Girlfriend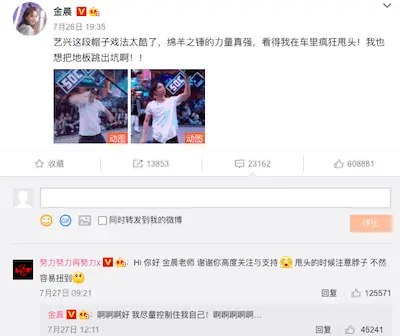 Jin Chen Responds to Netizens Saying She is Hyping Up Dating Rumors with "Gossip Girl" Co-Star, Juck Zhang
Jackson Yee and Lay Zhang Defend "We Are Young 2020" Trainees Being Called "Hui Guo Rou"
Lay Zhang's comment said, "Hi, hello Jin Chen laoshi. Thank you for your high degree of interest and support. Pay attention to your neck when you're shaking your head or else it's very easy to sprain it." Jin Chen responded back, "Ahh, okay. I'll try my best to control myself! Ah Ah Ah Ah".
Lay Zhang Proudly Shows Off EXO to Other Contestants on "CZR II"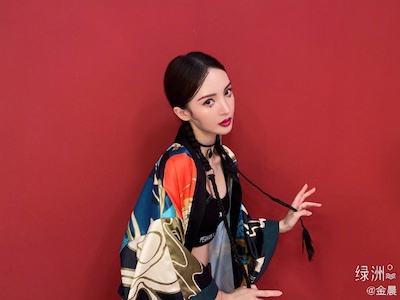 Lay Zhang Recounts Healthy Competition with Kai During EXO's Trainee Days
Jin Chen's comment about the pit was referring to a post from Lay Zhang's studio about their boss creating pits in the floor from his krumping. As it turns out, Lay Zhang had only learned for 6 months according to his krump teacher.
Jin Chen Decides Not to Continue Dating Zhang Jike on "Meeting Mr. Right 3"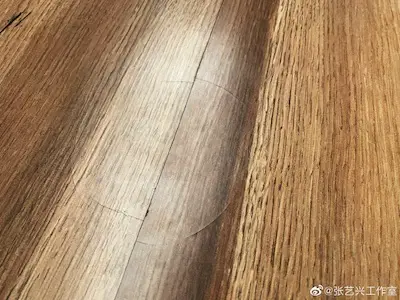 "Street Dance of China 3" Crowns New Champion, Keven Yang Kai, from Wang Yibo's Team "Yibo Wang Zha Boom!"