Ever since "Go Go Squid!" (亲爱的热爱的) aired, Li Xian's (李现) popularity has soared tremendously, cementing his "male god" status. His Weibo followers grew from 4 million to 14 million as of the writing of this article and is continuing to grow by the minute. His name or character, "Han Shangyan" is practically trending on Weibo everyday. Fans love him so much that it was reported a female fan bought "Han Shangyan's" house from the series. Another male fan bought 800 pairs of jeans to recreate a picture of his face. With his new found popularity, "Xian girlfriends" naturally want to dig up Li Xian's past, especially his ex-girlfriends. When the Li Xian fever first started, the topic "Li Xian's ex-girlfriends" was even trending on Weibo.
What Does Wang Anyu Have in Common with Li Xian?
Li Xian Yelled at by Sasaeng Fans
Elaine Zhong Chuxi
Ever since Li Xian started out as an actor, he has been rumored with four women. The most popular one out of the four is actress, Elaine Zhong Chuxi (钟楚曦). Their interactions started in 2014 when Elaine Zhong Chuxi posted a picture on Weibo asking, "Do you guys think straight hair looks good?" Li Xian commented, "It's so pretty that there's no way to look directly!" Unfortunately, that post is no longer able for viewing on Elaine Zhong Chuxi's Weibo, but netizens were able to save a screenshot.
Li Xian wasn't the First Choice to Play "Han Shangyan" in "Go Go Squid!"
Li Xian Grilled By His Elders on Why He isn't Dating Yet
The most memorable interaction was a picture of Chinese actress, Tang Wei's (汤唯), red carpet look. Li Xian tagged Zhong Chuxi in the comments and said, "Your female goddess' breast shape is the same as yours." This comment attracted a lot of netizens' attention.
Netizens Unhappy about Rumors of Li Xian Being Paired Up with Angelababy in New Series
Li Xian Reveals His Ideal Type and Female Goddess
It's rumored Li Xian would often go to Elaine Zhong Chuxi's school to see her when they were still students and even wrote her love letters. However, the two started getting busy with their respective careers. Elaine Zhong Chuxi started getting popular after the movie "Youth" (芳华) and Li Xian got popular with "Tienstin Mystic" (河神). Afterwards, there was no more public interaction between the two. Elaine Zhong Chuxi also deleted all the Weibo posts related to Li Xian and posts prior to April 2015.
Top 15 Reasons Why Li Xian is Ideal Boyfriend Material
Shang Yuxian
The second rumored girlfriend is Shang Yuxian (尚语贤). She played Kris Wu's (吳亦凡) girlfriend in the movie, "Mr. Six" (老炮儿). The rumors only started when netizens noticed Shang Yuxian's friend left a comment in Li Xian's post. However, the posts were later deleted.
Netizens Have Crowned Li Xian as their "July Boyfriend"
Yang Zi and Li Xian Gave Each Other Unscripted Kisses in "Go Go Squid! BTS Video
Zhang Qiaoer
In 2017, Li Xian was seen going in and out of the same apartment complex with a long haired girl. Netizens later scouted her out and discovered her to be Zhang Qiaoer (张乔耳). She majored in Broadcasting at the Central Academy of Drama. Li Xian never responded to the rumors.
Why are Fan Girls Fawning Over Li Xian, the Male Lead in C-Drama, "Go Go Squid!"?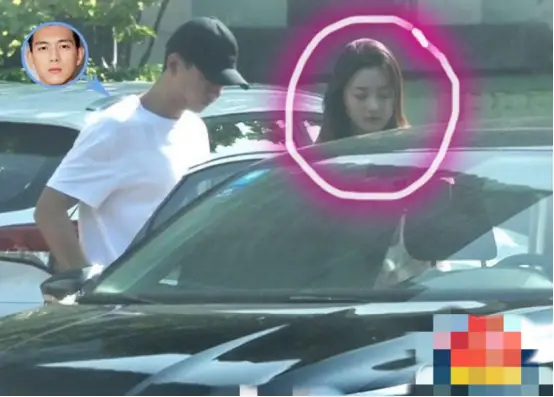 Cici Wang Zixuan
Netizens Suspect Li Xian and Cici Wang are Dating
When "Tienstin Mystic" (河神) aired, many fans shipped Li Xian with his co-star, Cici Wang Zixuan (王紫璇). Outside of the series, they have a lot of interactions and fans started to notice "evidence" of the two dating.
Cici Wang Claps Back at Haters After Being Accused of Using Li Xian to Promote Herself
Credit: Weibo, Sohu (1, 2), Li Xian IG